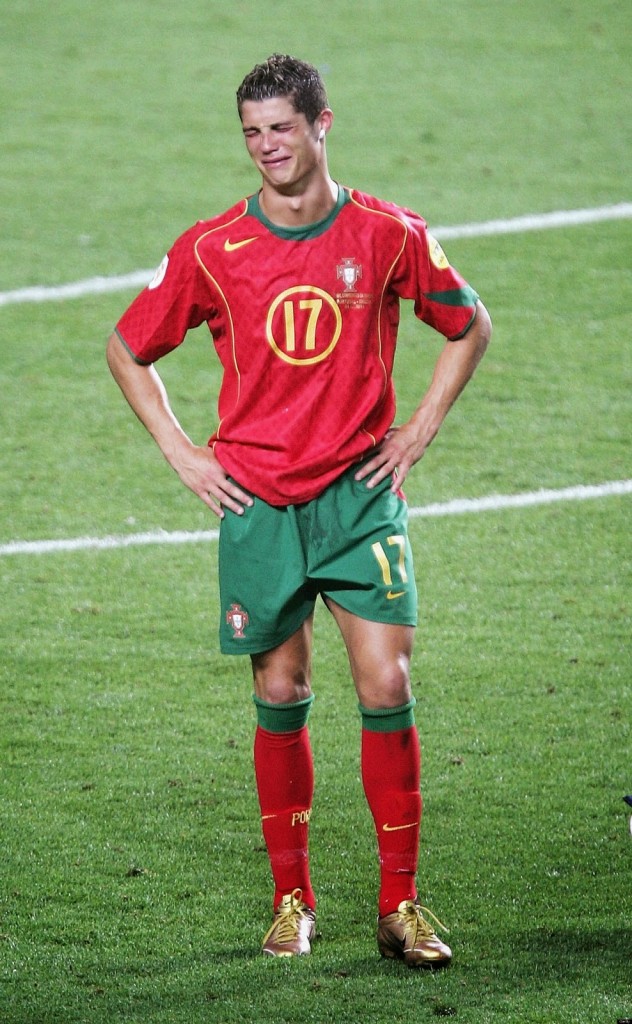 In truth, for Team U.S.A. that may be the wrong question.

It's certainly been an interesting first week at the World Cup. Host Brazil has looked indifferent in their first two matches and clearly isn't the same sort of star-studded supersquad we've seen in the past, but given that every match they play is 14 vs. 11 they're still heavy favorites. Germany has looked like the best team in the tournament, but the rest of the European sides have been rather upside-down, with most of the traditional powers unimpressive and upstarts on the rise. England has played their best World Cup football in many years and been ousted for their trouble, and most shockingly Spain has seen their run atop the football world come to an ignominious end. Likewise in Latin America there's been surprising play from unexpected sources while the giants have shown worrying signs.
Primarily, of course, I'm concerned with the fate of Team U.S.A. and Japan. The latter is pretty much cooked, having played two unimpressive matches in losing to Ivory Coast (blowing a late lead in the process) and especially, in a scoreless tie with a pedestrian Greek squad that was a man down for most of the game. Japan's lack of finishing prowess and, frankly, attacking intent was exposed when the Greeks parked the bus and Japan seemed unwilling and unable to shift it. It didn't help that star attacking midfielder Kagawa Shinji was inexplicably benched until late in the match – yes he's having an off year, but the side was clearly far more dangerous after he was on the pitch. Japan isn't eliminated but they're a longshot to advance, and frankly they deserve to be – they've been one of the biggest disappointments of the tournament.
The Americans, though, are very much alive – part of a CONCACAF contingent that's exceeded expectations more than any other federation so far. Costa Rica has already advanced after two upset wins, and Mexico can do so with a point against a dangerous Croatia squad (or unlikely help). The Americans have played but one match, but it was a cracker – a thrilling 2-1 win over a Ghana team that dominated the ball for most of the match, avenging losses at the last two World Cups. The U.S. didn't play their best game but three points is three points, and with Germany and Portugal awaiting in their "Group of Death" (in truth, the group featuring Spain, Holland and Chile was even tougher) they needed every one of them. As things stand, thanks to Germany's 4-0 humiliation of Portugal the U.S. can nearly ensure that they'll advance with a tie against Portugal on Sunday.
There are problems, however, even above and beyond facing the World's #4-ranked team and arguably its best player (I'd argue otherwise, for the record). Striker Jozy Altidore and central defender Matt Besler both injured hamstrings against Ghana. Besler's replacement John Brooks scored the huge goal off Graham Zusi's corner to win the match, but the U.S. was clearly better with Besler in the game – and they'll need him against Portugal if he can go. Altidore is definitely out – I'd guess for the tournament – and that leaves coach Juergen Klinsmann with a difficult decision. He turned to young Icelandic-American striker Aron Johannsson in the Ghana game, but he did little in his time on the pitch.
Altidore is hardly an elite player, but he does offer pace, strength and the ability to control the ball in a way none of his potential replacements can. This injury, of course, makes the exclusion of Landon Donovan – not to mention Eddie Johnson – from the squad that much more of an issue. It's not as though Donovan is the same type of player Altidore is, but inserting him on a wing and using Dempsey as a "False Nine" would probably have been Klinsmann's best bet. Johnson, for his part, is another guy who's scored a ton of goals for the national team and probably comes closest to Altidore's ability to hold the ball in the opponent's end. There are many theories as to why Donovan was excluded – personal bias being the most obvious, and it's been plausibly suggested that Klinsmann had a secret deal to select 18 year-old Julian Green in exchange for him choosing the U.S. over Germany, or that he was simply bagging the 2014 tournament and trying to build for a more realistic chance in 2018.
I've felt from the beginning that Donovan's exclusion was a mistake, and certainly feel so more than ever now – but that's water under the bridge, and the question now is how to proceed. Germany seems likely to beat Ghana, and given Portugal's hopeless goal-differential problem a tie here would effectively guarantee the US a spot in the Round of 16 if Germany does their part. Not only that but even if the Americans harbor dreams of winning the group, goal-differential means they'd have to beat Germany in their final game whether they tie or beat Portugal.
So you have a situation that for me is counter-intuitive – the U.S. really has no reason to try and win this game, yet the easiest way for them to lose it would be to sit back, let Portugal control the ball and let Cristiano Ronaldo run at them all night. The possibility always exists that Portugal could not show up – the team and its star have a history of quitting, Ronaldo is battling tendonitis in his left knee, and after their blitzkrieg at the hands of Germany their mental state is surely on-edge – but while you can certainly try and smack them early, you can't count on that. You have to assume Portugal plays with desperation, and if they do they're going to give you a lot of chances. They'll be missing central defender Pepe (red card) and left back Fabio Coentrao (injury). Their goalkeeper Rui Patricio is shaky, too. Defensively, this is a team that's there for the taking – you simply cannot park the bus and hope for the best.
Hopefully, we won't. Klinsmann is supremely experienced in the subtleties of World Cup football, and by nature inclined to an attacking style. The best defense for the U.S. is clearly a good offense, but the question is, what lineup do you use to mount it? One thing I know – I don't like Johannsson in the lone striker role. If Klinsmann intends to keep the same 4-4-2 formation he used against Ghana, with Dempsey as a recessed forward, he'd be better off with MLS star Chris Wondolowski in the lone striker role. He doesn't have much in the way of speed or ball skills, but he has a knack for finishing in the area. Klinsmann could also shift to a 4-5-1, using the same 4 midfielders he did against Ghana and adding Graham Zusi or even set-piece wizard Brad Davis to the starting lineup, leaving Dempsey alone up front and using the extra midfielder to try and keep more possession and slow down Portugal's attack.
I wouldn't do any of that, though. I like Wondolowski as a bench option if you need a goal late, and I don't like the notion of Dempsey as a lone striker, especially hampered with a broken nose. I'd keep the same 4-4-2, but switch Dempsey and Johannsson – play Dempsey as the true striker and Johannsson as the withdrawn forward where his ball skills can be of more use. Johannsson is a young player and finding the role where he's most comfortable is crucial – and I think this is the most comfortable spot for him right now. I do believe the U.S. needs Zusi on the pitch, though – he's inconsistent but a dangerous man on the wing, and pretty solid in set pieces (as witness his corner that set up Brooks' game-winner against Ghana). If Zusi does start along with Johannsson, that would likely mean young midfielder Alejandro Bedoya won't. He played quite well against Ghana for the most part, but he's not 100% after tweaking his hip and would likely be subbed out for Zusi at some point in any event. I'd go with Zusi from the opening bell, though Klinsmann might choose to play both midfielders and use Dempsey as a lone striker.
Of course, probably more important than any of that is Michael Bradley playing much better than he did against Ghana. He was better than some are saying in that match, but not as dangerous as he normally is, and he's the key man in setting up the U.S. attack. But Bradley's presence is a given – he simply has to produce. The decision Altidore's injury forces is the crucial one for Klinsmann, and evidence of what a fascinating strategic puzzle soccer is – there are so many different ways a coach can go in terms of formation and position. Whatever Klinsmann decides, hopefully the American side will manage to get that crucial point – and in this case, the best way to get it is to play like you need three.