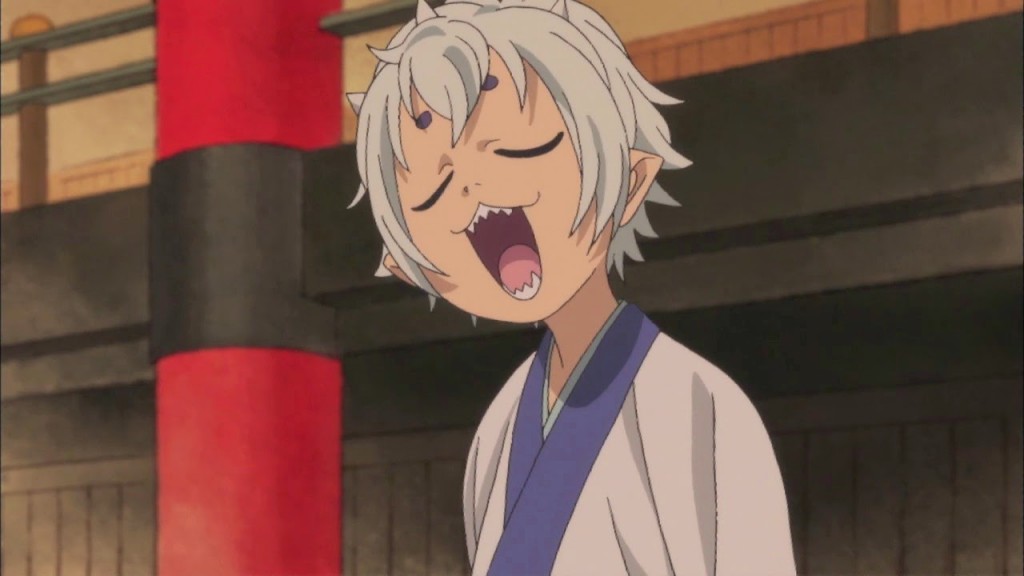 I never would have believed it.
I'm trying to think back on the last time a show I had in the final mix for my top series of the season was also the top seller – it would have to go back at least to AnoHana in Spring 2011, and I'm quite certain that actually was the #2 seller that season. At the very least it's been a long time and an extreme rarity.
Anyone who's followed LiA for a while knows that commercial success and my tastes in anime are rarely on speaking terms. I have a long and august track record of backing commercial losers, with only rare deviations. Of late one of my favorites, Yowamushi Pedal, has been one of those exceptions, though it never ranked as the top seller for Fall 2013 in any given week. But Hoozuki no Reitetsu has quite simply blown the competition out of the water.
The numbers are pretty astonishing. Volume 1 sold 7856 Blu-rays and 7585 DVDs for a grand total of 15,441. It doesn't stop there – there actually two more versions of the release that will likely chart on Thursday, driving the numbers up further. As well, because of the 4-week delay in the V.1 release Volume 2 – without an event ticket – was released at the same time and did 5616/6138 for 11,754, with at least one and probably more versions sure to add to that on Thursday. For a series with Hoozuki's demographic mix those are far below normal drop-offs from the first volume with the ticket.
Perhaps the most amazing thing to me is that Hoozuki topped Volume 1 sales among all series by more than 2-to-1 over second place Mikakunin. The Stalker numbers were predicting 5-digit sales, and given Hoozuki's heavily female demographic mix it was expected to exceed Stalker (most such shows have large in-store sales, which Stalker doesn't account for). But to be honest, I just couldn't bring myself to believe it until the hard numbers came in. It just didn't add up – how could this weird little comedy possibly be the overwhelming commercial success of any season, even a weak one such as Winter 2014?
To be honest, I haven't a clue. For all the great shows I've loved that have bombed, how could quirky, literate Hoozuki no Reitetsu be the one to shatter the precedent? We know based on surveys, the BD/DVD split being almost even and the strong over-performance of Stalker that the buying audience is mostly female. But there are many such shows, and very few of them ever go to the head of the class like this – never mind one as unapologetically strange as Hoozuki. This is without question one of the most mystifying, inexplicable and rewarding things I've seen come down the pike as an anime fan. "Oh-gyah!" indeed…
The practical upshot of all this of course is that a second season of the anime is a virtual certainty now, and probably quite soon as well. Can't be too soon for me – that, too, has been an extreme rarity for shows I've liked this much.