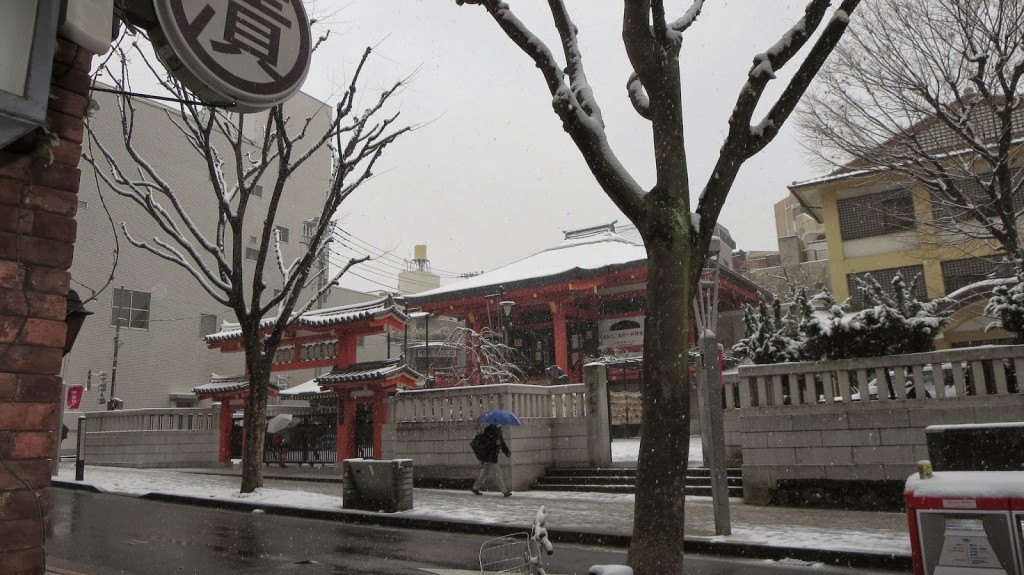 The Japan Meteorological Association issued its first Heavy Snow Warning for Tokyo in 13 years today. I feel really lucky to be here for this, because I love snow. I love the way it looks, the way it sounds when shoes crunch down on it, everything about it. And it's not just a matter of having lived in coastal California for a decade – I loved it even in Chicago, where it was a regular (though rarely as regular as this Winter) occurrence. Snow soothes my soul – it makes me happy, and makes me feel at peace. Why? Who knows. That's just how I'm wired. I know it's an inconvenience and makes driving dangerous and all that, but the heart wants what it wants.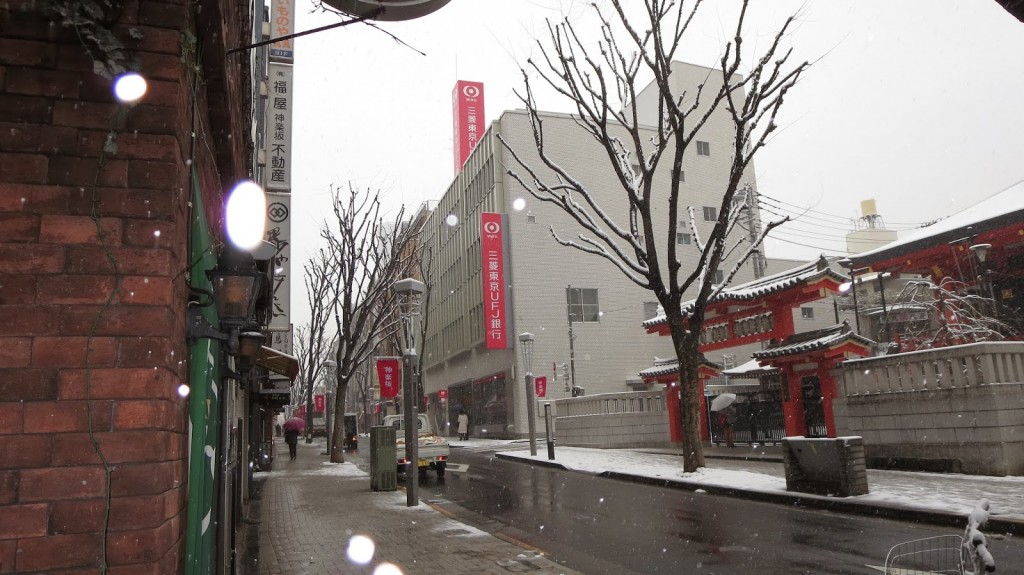 I've just spent about three hours walking all over Bunkyo and Chiyoda, through the streets of Kagurazaka to Yasakuni Jinja (it's a shame the place is so controversial, because it's gorgeous), to Kitanomaru Park, through to the Imperial Palace and back through Jinbocho to Kudanshita. Cold? Yeah – windy, too – but fantastic. Tokyo is like everywhere else – a coat of snow does wonders for its aesthetics. My routine (which I've gotten to use all of two times) is to walk down to the coffee house across from the Bishamonten Temple in Kagurazaka, sit at the window and sip coffee as I watch the flakes swirling outside. Pure bliss.
Tokyo doesn't get much snow – one or two days a year on average, maybe an inch or two total. It's always fun to walk the streets in snow, counting pairs of inappropriate footwear. The city has no snow plows, and the folks here (especially the younger) just don't seem to know how to deal with the stuff. But even the hard-as-ice Tokyo reserve begins (ironically) to thaw a bit when there's real snow, and you even get occasional eye contact or a greeting. In my neighborhood a toddler was walking with his mother, wide-eyed at the strange phenomenon happening, and bellowed an enormous "Konnichiwa!" when he saw me all bundled up.
We may get about 20 CM of snow before it's all said and done if the forecasters are right (which they rarely are here, in my experience), though they've been saying it will change to rain later. The thought of all this beautiful snow that nature so patiently built up being washed away by an hour of cruel rain breaks my heart, but right now it sure doesn't look like it's getting ready to change – these aren't the big butterfly-sized flakes you get when the rain/snow line is close. In the meantime enjoy a few pics and videos. I had a suspicion the pond garden behind Yasakuni Jinja would be amazing in the snow, and it certainly was.