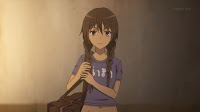 I must confess that the second episode of
Kami-sama no Memo-cho
didn't interest me as much as the first one did. It seemed to lack a certain snap that the premiere had, somehow – the entire episode had a more generic feel to it, and I found myself drifting during much of it.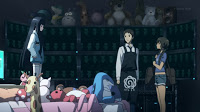 That's not to say I disliked it. It was interesting to see the Yakuza be a central player in an anime, which doesn't happen all that often (although there have been some high-profile exceptions). The new case is a pretty classic modern detective story – man on the run from the mob leaves a huge wad of cash with his daughter and disappears. The daughter, a half-Japanese/half-Thai girl named Meo, shows up at Alice's doorstep desperate for help and alone, her mother having already passed away.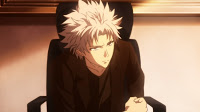 I wasn't especially taken with Meo, despite her surface resemblance to Steins;Gate's Suzuha, who I like a lot. She was certainly kawaii but it was a going-through-the-motions kind of cuteness, a very generic character I thought. The Yakuza characters were more interesting, as we waded a little into the inner workings of the Kishiwada Group. If Narumi had any doubts that he was mixed up in a dangerous game this should certainly dispel it, and in fact he was warned off the case by Alice's contact within the group, Yondaime (Ono Daisuke).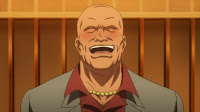 I also wasn't as enthused about Alice or Narumi this go-around. Alice didn't have any really interesting nuggets of dialogue as she did in the two-parter, and the gags about her reluctance to bathe and odd taste in food proved themselves to be best-suited as one-timers. She's interesting, but I need to see her grow beyond being the curiosity – which was enough to make her interesting for an episode or two – to the real person. As for Narumi, while the surface resemblance to Mikado-kun from Durarara! is there, he hasn't yet shown the steel spine underneath the mild exterior yet. Narumi is the innocent lamb among the wolves now, but Mikado was always a wolf in sheep's clothing. Narumi – apparently hiding no major secrets as Mikado did – is going to provide much of the character development in the way he changes in response to what he sees.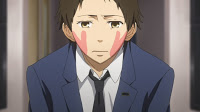 So, in summation, decent mystery (to be continued) but not a lot of dynamism in the characters this week. Here's hoping the premiere is more typical of what this series will ultimately be. And lastly – why did they get rid of "Colorado Bulldog"? That was a great choice for an ED, I thought, and certainly stood out.