These high school training camps are dangerous places, apparently – and for more than just wedgies.

I noted last week that we saw the twin towers of the sports anime schedule, Yowamushi Pedal and Ace of Diamond, bringing us their training camp arcs simultaneously. Not satisfied with that, Diamond even used the same joke in this episode that we saw in Yowapeda – the MC almost drowning in the bath while his two first-year friends did nothing because of their near-catatonic state. I don't think for a moment that it's anything more than coincidental, but I guess it shows that sports manga is a pretty small world, after all.
Lest anyone think this brutal training camp notion is either a peculiarly Japanese or even manga thing, we had more than a few cases in the United States of high-school kids dropping dead because their coach made them overwork themselves in summer heat to the point where their bodies simply shut down (usually with American football players), though that resulted in most states imposing some restrictions on just how much abuse high school coaches could inflict on their kids.
If there's a saving grace to what's going on in Diamond no Ace it's that it isn't full summer yet – that's the time for the games that really matter – but it's clear this camp is about testing the players' mentally as much as physically. Or, if you like, breaking down the first-year players mentally and seeing if they have what it takes to survive. There is training going on, and Sawamura and Furuya desperately need it – but very little actual pitching. Furuya is certainly the better natural hitter and fielder – he's "basically made of pure baseball talent" in Miyuki's Chris' words – but it actually seems to be Sawamura who's taking to the fielding lessons faster than his rival.
It's the third freshman, Hariuchi, who gets a good deal of focus in this episode. The relationship between he and his brother is indeed a complicated one, and I don't think we've seen any indication yet that the older brother can actually bring himself to be supportive to the younger. To give Ryousuke the benefit of the doubt (probably too much so), perhaps he thinks the aloof and mocking face he shows Haru-chin is the best motivation to drive him forward. Hariuchi has been the golden boy of Daiya bo A so far, and this is really the first time we've seen him struggle – clearly, he's not at the same level of endurance as his sempai (the finale of the fielding drills Kataoka throws at his kids is truly brutal to watch). Nor should he be – but it is a full-on reminder that everything isn't going to come as easily for him as it did for the first 14 episodes.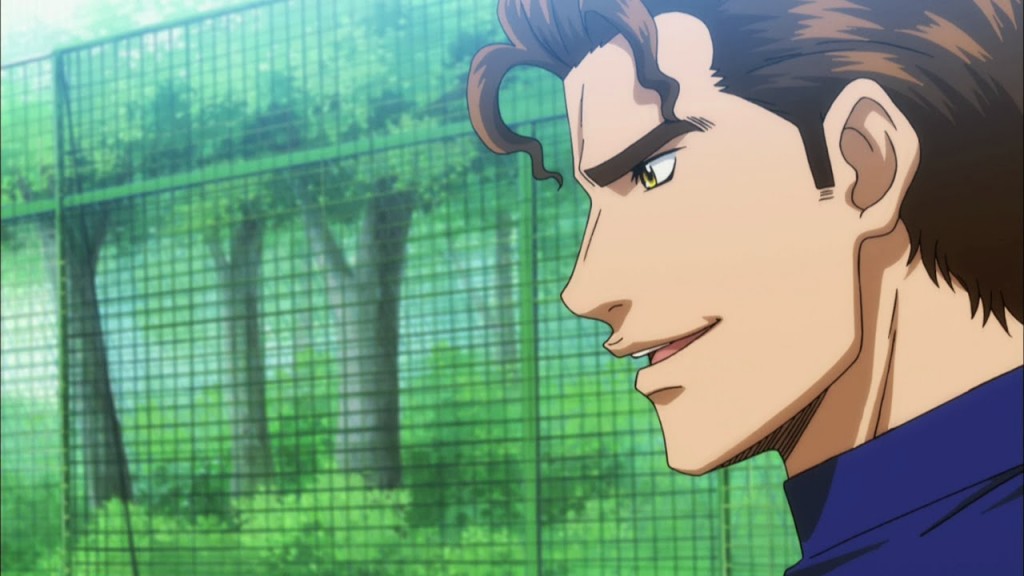 There's also an interesting dynamic going on with the catchers. That Eijun prefers Chris is a given, but he'll accept Miyuki as a full partner soon enough. But there seems to be a genuine strain between Miyuki and Tanba, and it's clear Miyuki isn't pleased his senior is effectively circumventing him by working on a forkball exclusively with Miyauchi (who remains the second catcher in Chris' absence). Tanba admits flat-out (to himself) that he "doesn't like" Miyuki, and Miyuki expresses pretty clearly that he believes for a pitcher, everything builds off establishing the fastball – and that he doesn't believe Tanba has faith in his. This could be a developing storyline in the weeks ahead – we've already seen what a huge emphasis this series puts on the teaming of the pitchers and catchers. Of course there's also the forgotten man, second-year Kawakami – the sidearm pitcher who my gut tells me is going to play a bigger role in the Koshien buildup that anyone suspects at the moment. And he, for the record, seems to mesh with Miyuki just fine.
The stage is set now for the practice games that will end the week-long camp – with Furuya and Eijun splitting time in the Saturday game, and the veterans throwing both sides of a doubleheader on Sunday. Kataoka admits he just wants to see how they all deal with getting hammered because they're fatigued, but still, this is a major moment. It's pretty amusing that the first-years are astonished that Miyuki offers no prep time the night before, and he simply shoots them down with "What's the point in preparing when neither of you know how to throw breaking balls?" That will have to change soon enough, and it seems first for Furuya. And he needs to change first, because even if his arsenal is more powerful than Eijun's, it's also more predictable – because not even he knows where it's going, Eijun can skate by for a while longer throwing what amounts to one pitch that never behaves the same way twice.