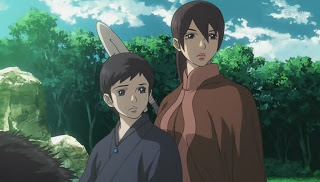 Is that unambiguous enough?
Since I'm topping old series recommendations for the new year, why not the ultimate recommendation for the ultimate anime? Original post date 7/3/2010.
I've watched an awful lot of series, movies, OVAs. Been impacted by many of them, moved by many, changed by a few. Certainly consider Evangelion the most important of them all, in terms of the impact it had on the genre.
But for me, the greatest of them all is a woefully under-appreciated series from 2007 – a gem from Production I.G. (the best studio in the biz over the last five years) that premiered to a fair amount of hype but generated mediocre ratings. It's based on the first of a hugely popular 10-volume series of YA novels by Nahoko Uehashi, a Japanese professor of anthropology, and it's called Seirei no Moribito. Loosely translated, this means "Guardian of the Sacred Spirit".
It's hard to do a series like this justice by trying to describe what happens. Broadly, it's the story of a female bodyguard named Balsa – a warrior of unmatched talent with the spear, nearing thirty and living the life of a loner and vagabond traveler. Through no will of her own, her fate is tangled with that of Chagum, the 11 year-old Second Prince of the fictional empire of Yogo (which seems a lot like Korea). The anime takes the novel's story of these two people and expands it greatly, developing them with almost unparalleled patience and care over the course of 26 episodes. There are other excellent characters – all of them are memorable, and none of them are one-dimensional place-holders – but really, it's these two remarkable people and the bond between them that elevates this story above and beyond all challengers. The fantasy world Uehashi creates reflects her background as a Cultural Anthropologist – while undeniably a fantasy, this also feels like a beautiful re-telling of Asian history, complete with subtle and powerful political commentary of the plight of indigenous peoples.
There are contradictions here. This is not an action series – in fact, "not enough action" is the most common complaint against it. Yet, the combat sequences are probably the best of any TV anime – impeccably choreographed and animated. Check out a few examples:
It's not just the action sequences. The animation is tremendous across the board – and unlike so many longer series, remains uniformly stellar throughout. It's cinematic in quality, acknowledged even by many detractors as the best of any TV anime. The soundtrack is remarkable, as well – legendary composer Kenji Kawai provided the BGM and inset songs, including the haunting and unforgettable "Nahji no Uta". While the OP is somewhat overwrought and forgettable, the ED is gorgeous both visually and lyrically – a message from Chagum to Balsa, a bookend to the OP's being a message from her to him.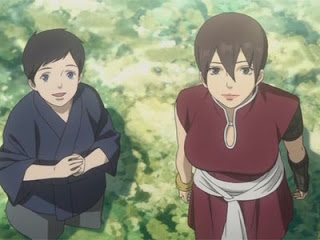 Director Kenji Kamiyama is a legend himself – he of Ghost in the Shell: Stand-alone Complex fame. He adapted Uehashi's novel and bettered it in every way, then directed it in true auteur fashion. Moribito feels like an anime that was made exactly the way Kamiyama and the creative team at I.G. wanted, with no concessions to commercial concerns. Entire episodes are given over to character development, to exploring the subtle changes to the relationships between Balsa, Chagum, the healer Tanda and shaman Torogai – he her childhood playmate and she a teacher and spiritual adviser to the young Balsa. Without question, the anime suffers for this in terms of its popularity – yet, how many hundreds of series did make those compromises? How much more valuable is it to have one for posterity that did everything for reasons of artistry, and damn the consequences?
So, sum it all up – why do I love this series above all others?
I respect and admire any story (be it anime, novel, film or other) that stays true to it's characters. Seirei no Moribito was faithful and honest here, and every development in the last act was earned by hard work in the earlier acts. Every character in the story behaved in a manner that was true to themselves. The four characters at the heart of the story feel incredibly alive and real – even Torogai, who seemed like a walking cliche (if a well-rendered one) at first blossoms into a full, complex and endearing figure. Tanda is a nearly unique character in anime – he is sensitive, kind, thoughtful and loyal – in many ways the "wife" in his relationship with Balsa – but in no way is he less than honorable and formidable. He is quietly brave, physically tough when he needs to be, and while never free of frustration at his relationship with Balsa, never selfish. He grows into his role as Chagum's confidant and father figure and thrives as part of his new family.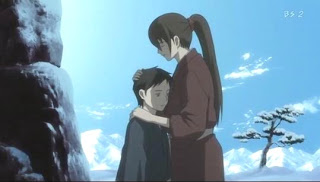 But essentially, this is a story of two rich, indelible, believable, sympathetic, beautiful and unique characters and how fate brings them together. The growing love between them is the engine that drives the story and the reason those middle eps had to play out as they did – slowly, honestly, and completely true to the story and the characters. Balsa is a true heroine – a fierce, stubborn warrior who is nonetheless no mere stand-in for a male lead. She's completely believable as a woman as tough as any man, but indisputably a woman – complex, damaged, layered, difficult at times but always endearing. Chagum shatters every cliche of the child lead – he's spoiled at first without being obnoxiously so, mature beyond his years without being annoyingly precocious. He cries when he needs to, feels self-pity when his strength fails him, but always pulls it together to do what needs to be done. He is noble in the true sense – noble of character, not of birth.
In the end, Seirei no Moribito is as close to perfect as any anime has ever been – certainly any of this length. It's incredibly smart, incredibly moving and utterly respects the intelligence and sensitivity of its audience., It's worth an investment of your time and your emotion – trust me, both will be paid back with compound interest. Get to know these people, and the richly created world in which they live.
One last note: I was sufficiently inspired by this brilliant story that I felt compelled to author a rather lengthy companion piece, which combines elements of the series and the first two novels. If anyone would care to check it out, you can follow the FF.net link in the "links" section or just go here: