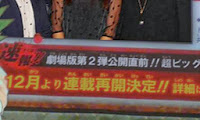 Update #3: ANN joins the "nothing to report in WSJ 50" parade, so it isn't looking good. It looks like "I've seen false reports simply get recycled over and over until everyone just assumes it's trueb" was more predictive than I'd hoped. There could still be something in the offing next week, but obviously this is discouraging.
Update #2: The drama continues… CR is now reporting seeing nothing in the upcoming issue of SJ that points to the 12/13 return for H x H. It may be a while before we know what's really happening here.


Update: Here's what we know as of now… Based on past history it seems very likely that the story itself is legit. We've seen these sorts of leaks before, and the timing and sources match up with ones that have been borne out. It seems very likely that some sort of manga continuation is coming.
What's far less certain – and we may have to wait for an official announcement to find out – is what sort of continuation this is. With the movie due in December it could very easily be another one-shot tie-in, but it would also make sense to use that timing to truly relaunch the manga. The most hopeful sign is that the announcement seems to contain the word "continue" which an optimist might interpret to mean something more than a movie tie-in. That seems to be the broad consensus on Japanese sites, though anyone who knows for sure isn't telling.
Multiple Japanese websites are reporting that Hunter X Hunter will be back in WSJ starting sometime next month. I'd like to see something official from Sasaki-san or the official H x H Twitter account at least, only because I've seen false reports simply get recycled over and over until everyone just assumes it's true. Still, there's photographic evidence with pretty unambiguous language and pretty mainstream sites are starting to run with the story, so it seems likely to be legit.
If true, this is certainly a frabjous day indeed. If history is any guide, this might mean that Togashi has finished the next arc and thus the series can go for a while without another hiatus. The manga has about a 35-40 episode lead on the anime, so another 30+ chapters would buy another cour of anime at least once "Chimera Ant" is finished – what we don't know, of course, is whether this hypothetical new material is a continuation of the manga's final chapters, or a new arc altogether – or even another movie tie-in special.
There are a lot of hypotheticals here – the news itself must be verified, we have no idea what Togashi has in mind for the manga if it is, and nothing can be taken for granted as far as NTV's plans for the anime now that it's been exiled to late-nights. But if we're actually getting new manga that's really the main thing – it's been too long, and new manga material is the best way to keep the franchise thriving and popular. Let's hope for the best.
Update: Crunchyroll now running with the story. They have a vested interest.