It's nice when a series turns out to be everything you expected – at least when you expected it to be as good as I did with Golden Time.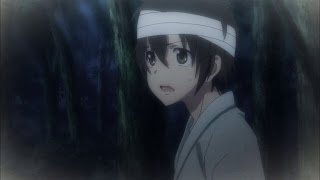 Please don't mistake my one-day delay in posting as an indication of any lack of regard for Golden Time – the fact is, Thursdays are just silly this season (not the first time that's happened). There are six late-night shows I'm either blogging or considering, so in any given week a few of them will get late posts, unless I drop a few of them (which seems unlikely as of now). In any event I like this series to the point where it's pretty close to love, so it's as safe as can be.
For whatever reason this episode leave in a train-of-consciousness frame of mind, so I'll diverge from my usual posting method and give voice to as many fragments as I can:
Why don't we have more anime about the college experience? Surely it's something a great deal of anime fans can relate to, and it's a goldmine (no pun intended) or possibilities for both comedy and drama.
No one in the business does the transition to the ED better than J.C. Staff.
Speaking of which, the OP here is forgettable but I absolutely love the ED – Hochan at her best, and the piano intro an earworm of the first order.
Speaking of Hochan, Golden Time is a great demonstration of why she's one of the best seiyuu in anime history. That she's immensely likeable is a given, but she can played messed up and conflicted girls (and guys) beautifully too.
Banri is an example of the "everyman" main character used correctly. He's an audience avatar, but this is an appropriate place to have one, because Golden Time is very much about opening your eyes to a new world as you enter adulthood. He's also someone who takes the common sense approach most of the time and has genuine empathy for other people.
The area where I live is isn't full of famous landmarks, so it's rare to see it used as the setting for an anime. It's weird but very cool to see the same streets I walk every week with Tada, Mitsuo and Kaga walking them.
Hayashida Nana (Linda) is making more impact per second of screen-time than any character this season. She has some kind of magnetism that's weirdly powerful for me – I can't believe Banri isn't falling for her, because I know I am.
Did anyone else here ominous string music in the background when Mitsuo said "There's no point in us fighting over Kouko"?
Mitsuo and Banri's conversation about feeling sorry for Kouko was spot-on. Mitsuo was right about the impact appearance has on how people are perceived, and Banri was right that he was perfectly entitled to feel sorry for her anyway if he wanted.
Kouko is a complicated and difficult character. I see her problems as largely self-inflicted – she makes herself seem unapproachable because of her obsession with Mitsuo. It's the same core concept as Hikari from Nagi no Asukara – flawed characters are more interesting than perfect ones. She has a chance to have a real character arc in this series, but that doesn't mean we have to like her now.
When Kouko showed Banri the pics on her phone, it was impossible not to notice that by the last few, Mitsuo had completely stopped smiling. The fact is, Kouko is obviously dead-wrong in forcing herself on him above and beyond the fact that it's terrible for her – he has every right to be left alone and no reason to apologize for trying to escape her clutches.
Another reason to love that this is a college setting: the series can have fun with the fact that most college clubs are simply an excuse to get drunk as much as possible.
Note that Kouko remembered Banri's name when they parted after the "cafe au lait bowl" cafe on Sotobori-dori. Not insignificant.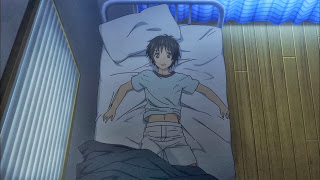 While Golden Time isn't a perfect show by any means, I love the fact that it's taking such a universal theme as the college experience and putting in on center stage when it's been so ignored by anime over the last few years. People are assuming the OP gives away everything, but I wouldn't be so sure – this is a two-cour series and I think it has a number if surprises in-store. Banri's dreams at the end of the last episode and the beginning of this one raise some interesting questions. I'm also assuming that the Tea Club blowout's "2-D-kun" Satou Takaya (Hikami Takahiro) is going to play a major role going forward, and that would give GT an almost perfect balance of gender among the main cast. A college series with an gender-balanced cast of interesting characters? I really never had a chance…