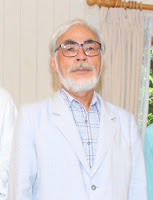 It's certainly huge news when the most commercially successful anime director ever – by far – announces he's retiring from directing feature films.
This is a day we've known was coming for a while, but it's still sad to see Miazaki Hayao announce he's retiring from directing features. It's early yet (I can't even find an English source) so I don't know how far he's left the door cracked open in terms of shorts or TV work, and what role he'll be taking at Ghibli as a producer and writer. That makes Kaze Tachinu his final film, fitting in the sense that it's an idiosyncratic film that no one else likely could even have gotten made. In my view it's not one of his better works (I may feel differently when I've seen it subtitled) but history will be the judge of its place in his catalogue.
It's quite fashionable for serious anime fans to dismiss Miyazaki, who committed the ultimate sin of being popular with the general public, not to mention making mostly works that can be enjoyed by kids. I consider him one if the greatest directors in animation history, and at his best (Castle in the Sky and Mononoke Hime are the two movies that spring to mind for me) virtually peerless. His impact on anime both in Japan and abroad can hardly begin to be estimated.
I suppose now more than ever the "next Miyazaki" chatter will be impossible to ignore, though I think it unlikely anyone else will be as profoundly successful as he was. Especially as his son Goro seems conflicted at best about becoming a full-time director, it seems to me as if Hosoda Mamoru comes closest to capturing Miyazaki's unqiue blend of storytelling, imagination and common touch that can reach viewers of all ages.
What this means for Studio Ghibli – and the anime industry – will take some time to assess. It's still a bit of a shock – Miyazaki-sensei is only 72, and seemingly a young 72 at that, but clearly the best one to decide when was the right time to say goodbye. It's a sad day, and it's probably best to take time to appreciate the Master's work before thinking about what comes next.