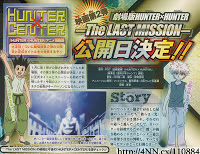 The title: Hunter X Hunter: The Last Mission.

Premiering 12/27/13. Here's the synopsis:
The strongest Hunters that once existed in the Hunters Association were split into "light" and "dark", and each walked down their respective paths. The "dark" side begins moving in order to massacre all Hunters! What actions will Gon take when the many crimes of Netero and the Hunters Association are unveiled…!?
While the title certainly invites speculation, there's no word on whether Togashi is again writing the scenario or whether it represents an attempt to wrap up canon mythology. Stay tuned for more details as they become available.