Based on what I've been reading today, this may be another series where my take and the mass opinion are two ships passing in the night.


Let's get two things established straight away:
I really, really liked this premiere a lot.
I can easily see where the show could go into the ditch, and fast.
The first thing I want to say about Dansi Bunri no Crime Edge is that I think it looks great – visually, this is one of the most interesting premieres I've seen in ages. It's full of interesting cinematography and shot composition, and the character designs are superb. Interestingly, I had a very strong Tengen Toppa Gurren Lagann vibe almost from the opening bell, and, following a hunch, found out that every one of the key visual staff on Crime Edge worked on TTGL (including Character Designer Hirata Katsuzo and all the Animation Directors). Even if I can't put my finger on exactly why, this similarity is inescapable for me, to the point where I'm amazed I haven't seen it mentioned anywhere else.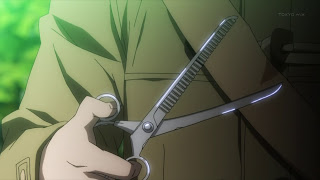 There are plenty of other things I liked about the premiere as well. It's great to hear two voices in lead roles that aren't completely overexposed, and the fact is that these are two seiyuu I quite like – Haimura Kiri is is played by Hanae Natsuki, whose only major role was his winning performance as Wien in Tari Tari. Mushanokoji Iwai is played by Koiwai Kotori, whose only major role was Kigurumi in Joshiraku. They're both excellent, portraying a charming innocence that would be impossible for recycled veterans who we've heard a thousand times, and I like the relationship as well – it's quite unusual, completely free of any of the usual anime tsundere nonsense (or any other tropes, for that matter). You might see a bit of Gosick in the chemistry – and there's a gothic vibe to Crime Edge despite the modern setting – but Iwai seems much more innocent and gentle than Victorique.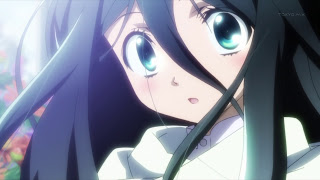 I'm also a big fan of the music, a mix of traditional orchestral pieces and some Celtic tunes from anime veteran Takanashi Yasuharu, all of which suit the dreamy vibe of the material perfectly. It's not conventional anime material, the music or anything else about this strange concoction. The premise sees Kiri as an odd young man who's fascinated by cutting girls' hair, and Iwai as the shut-in with the endless tresses which fascinate him at first sight. It's not exactly easy to discern what's really going on here, partly by design and partly because the exposition is often clumsy. Iwai is apparently cursed (one of the side-effects of which is that her hair cannot be cut) and lives alone, receiving occasional visits and supplies from the Byouinzaka Sisters (Fukuhara Kaori and the super Uchiyama Yumi). They belong to an "organization" of some sort (their name means "hospital hill", though I've no idea if that's significant) and warn Kiri in no uncertain terms that he should stay away from Iwai for his own good – though whether it's the curse he needs be aware of or their organization is a little unclear.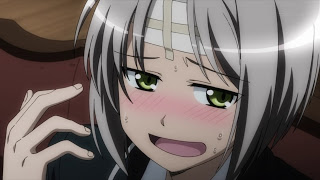 It's an interesting premise, but despite all the good things about the episode the awkward storytelling is a concern long-term. There's one especially clunky moment when Kiri's grandfather decides out of the blue to tell him about his family history, and connection to a serial murderer with a jagged-edged pair of scissors – once of the least convincing pieces of exposition you'll ever see. It's pretty damn important, too, as it's those scissors that finally allow Kiri to cut Iwai's hair, and form the bond between them that looks as if it's going to be the main driving force of the series. We may get into a Gosick-style flow from here, with weekly mysteries to solve and a larger underlying conspiracy which finds Iwai at the center.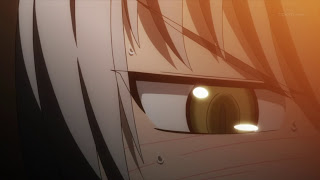 So, in summation, this could very much go either way. The premiere was able to get by on atmosphere and casting, but the narrative will have to be at least competent for the series to be sustainably good. There's no way of telling if that will happen, but I do know this – it's got the atmosphere part down pat. I just wanted to dive into this premiere and immerse myself completely – the music, the visuals, the tone – it was something different and beautiful and quite special. It would be a shame to see all that brought crashing down by clumsy storytelling, but it wouldn't be the first time.