For a minute there I thought I was watching "Bears on the Slope".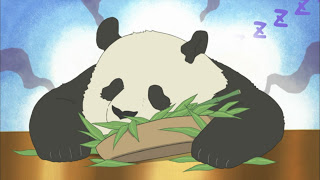 There are many relationships in Shirokuma Café that pack plenty of charm, but the one between Shirokuma-san and Grizzly-san may just be my favorite of the lot. It sounds funny to say considering the premise of this show, but I think theirs is one of the most authentic male friendships in anime – especially among adult men, who rarely feature in anime enough to have a friendship this well-developed. There's an easy familiarity between them that rings very true to life – they act like most of the guys I've known who were close friends since they were kids.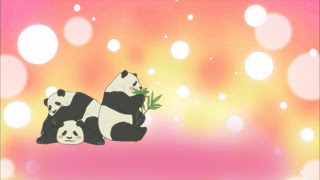 In every male friendship I know of, there's a hierarchy of two – there's always one guy who gets the better of the other when it comes to practical jokes and general trolling. It's pretty obvious what the pecking order is here, but as is so often the case in these relationships there's more to it than meets the eye. This episode was pretty much a celebration of Grizzly-kun in all this tsun-bear glory. For a change it's Shiro-kun who's having trouble sleeping – though in his case it's not because his best friend keeps calling and waking him up. I wouldn't have thought Shirokuma the type to suffer from insomnia but he is quite the thinker, I suppose – and naturally it's Grizzly that Sasako-san thinks of to call for advice. My favorite part of the skit was Panda-kun's remark when Grizzly-kun brings over lavender, scented candles and a music box for Shirokuma – "You're really quite girly, aren't you?" – and Grizzly's reaction. But it's ultimately Penguin-san to the rescue, as not even Shirokuma-san's overactive, restless mind can withstand Penguin's lectures on how to live your life (I would have thought perhaps Rakugo would have been in order).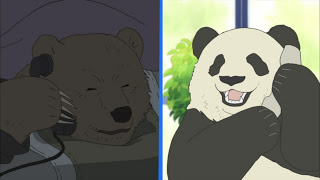 As has usually been the case lately, the second chapter is the warmer – and better – of the two. We have Grizzly-kun hanging around the café because now he's too worked-up to sleep, so he lets off a little steam by shoveling the snow that's piled up around the café (and on the roof). The snow puts Shirokuma in mind of a time when they were in middle school, and Grizzly-kun has his first crush on an older girl named Tsukiko-chan (Kobayashi Yuu, against type). This is the second time we've flashed back to the bears as cubs (we even get a look at shogakusei Panda-kun this time) and in both instances, we see the adult each will become in evidence – and we also see that for all his teasing, Shirokuma-kun cares a hell of a lot for his friend. Grizzly-kun has it tougher than Shirokuma-kun and they both know it – he's scarier, more socially awkward and not as well-liked. The puppy (cubby?) love story involving a lost school badge is nothing all that original, but it's quite sad seeing how isolated Grizzly is apart from Shirokuma – and how Shirokuma tries to protect his friend from the worst of the effects. We also get to hear Nakamura Yuuichi do his Sakurai Takahiro impersonation, which is worth the price of admission all on its own.