This is the sort of series for which the phrase "The plot thickens" was invented.

I've lavished a lot of praise on this series over the first 13 episodes, which is fine because I think it's deserved all of it. But I'm still finding myself struck by new things that impress me about the series every week. I think that's because Shin Sekai Yori isn't a one-trick pony – it very much plays like the novel it is, something of real heft and complexity (see Seirei no Moribito for an even better example of this effect). And one of those things that struck me as I watched this ep was that I'm hard-pressed to think of another anime that's done a better job handling the pace of the exposition. This is a big story with an incredibly complex world-building process, and it's been laid out such that it's very coherent and understandable for the audience, while at the same time we're given enough new information every episode or two to keep us from feeling frustrated. Doing so in an entertaining fashion is the single-most important thing – and this show certainly does – but with this kind of story, the importance of exposition can't be overstated.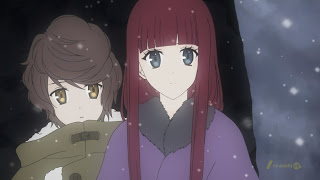 The other thing that really jumped out at me this week was that for a fantasy story of this nature, SSY is incredibly believable. As always that starts with the characters, and this show follows the too-rarely used but almost foolproof method of introducing and developing the characters as people before landing them in the middle of the plot. But there's more to it, and I think it relates to the careful construction of the mythology. The series is seemingly being told as a remembrance by Saki, and the feeling is that we're watching a historical fiction. There's no sense than SSY is winging it, tweaking the mythology as needed to kick-start the plot – rather, the sense is that we're watching the characters live out a story in a world that already existed. That's a remarkable achievement for a premise like this, where every episode brings us new kernels of information that are, by the standards of "realism", very far-fetched. Let's leave aside the symbolic side of the story for the moment – we'll get to that – though there's no doubt that helps to ground things in reality too.
As is so often the case with this series, we're told things that are obviously critical revelations, but there are pieces missing that prevent us from putting everything in context before we're intended to. As we pick things up Satoru has headed back to the village to try and talk the group's way out of trouble, and unbeknownst to him Saki follows close behind, leaving Mamoru and Maria behind. The power struggle between the Ethics Committee and the Board of Education has never been more obvious, as the latter takes the lead in questioning Saki, using a standard good cop, bad cop method (as is usually the case it's the "good cop" – the Chairwoman – who's the real threat). It's clear immediately that Saki is in deep trouble, and the B of E has a usual method for dealing with troublesome children.
It's hardly surprising that Tomiko-san would intervene here, and as usual she brings with her a wealth of new information. But there's one piece of information we aren't told – why was Mamoru targeted for disposal in the first place? The Vice-Chairwoman makes mention of Mamoru's village being on alert, and ordered to stay indoors – the implication being that Mamoru was about to become a threat – but Tomiko takes them to task for the decision to eliminate him. She calls is unwise and unnecessary and scolds them for failing to complete the job, which is her nominal reason for absolving Saki of enough blame to spare her life. But it's obvious that if push came to shove Tomiko would simply have refused to let the Board dispose of Saki, and there's no question she's the one who holds the real power. But absent the hard truth about why Mamoru was targeted in the first place we can't make all the pieces fit yet.
No question, Tomiko gives us quite a few more pieces to work with. Not least among these is that she's 267 years old, and has lived so long because she's mastered the ability to use her cantus to repair her telomeres, the little tasseled ends of our chromosomes that are damaged every time a cell replicates, which eventually results in death (there's some good science behind this plot thread). Just why she and apparently only she has developed this ability we don't know, nor do we know whether she's unable to teach others or simply chooses not to – and if the latter, why (she strongly implies she'll teach Saki, so draw your own conclusions as to which is true). Tomiko credits her power to simple longevity, but there's clearly more to her that's formidable than simply her age. She also tells us that there are "50-60,000 people in the Japanese archipelago", and says that each of them is potentially far more fearsome than a nuclear weapon. Again, there's an implication here that Mamoru is a threat to become a fiend – but at the same time, Tomiko says she'll guarantee Mamoru and Maria's safety if Saki can bring them home. Someone is either lying or operating under a false assumption.
In purely practical terms, the situation is quite clear. Tomiko says that Mamoru and Maria will surely die if they don't return and lays out a pretty unassailable case as to why (given that she's casually petting three tainted cats as she does so lends her words a certain authority). Saki goes off to try and persuade her friends to return, and Tomiko sends Satoru after her for unknown reasons. It's pretty obvious that everyone is this group is special – they're the only children who haven't been regularly hypnotized to leech the free will out of them (wolves are needed to defend the village too, not just lambs) – but also that even Tomiko's powers and knowledge are limited, as she refers to Shun as "the one she had highest hopes for". There's undeniably as ominous note in Maria's statement that "There's no one as kind" as Mamoru, but given Saki's earlier narration I suspect it's Maria who's the dangerous one here – which again loops us back to the question of why Mamoru was targeted in the first place. It's a fascinating mystery, and it gets deeper as each revelation exposes more questions that demand answers. With its elegant plot construction, fascinating setting and identifiable characters whose interactions are fascinating to watch, Shin Sekai Yori continues to carve a place for itself as one of the most complete – and entertaining – series of the past year.