If I know anything, it's that when two trees throw down, you do not want to get in the way.

If by your art, my dearest father, you have
Put the wild waters in this roar, allay them.
The sky, it seems, would pour down stinking pitch,
But that the sea, mounting to th' welkin's cheek,
Dashes the fire out. Oh, I have suffered
With those that I saw suffer. A brave vessel
Who had, no doubt, some noble creature in her
Dashed all to pieces. Oh, the cry did knock
Against my very heart! Poor souls, they perished.
Had I been any god of power, I would
Have sunk the sea within the earth or ere
It should the good ship so have swallowed and
The fraughting souls within her.

The Tempest, Act 1, Scene 2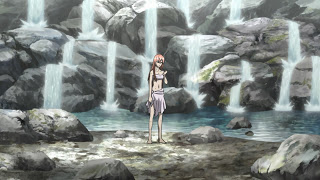 I've waxed (in)eloquent at length about the way Zetsuen no Tempest fits the style of BONES perfectly, to the point where I can imagine no other studio (except perhaps golden-era Gonzo) adapting it. But I haven't talked much about Andou Masahiro, and his role as director is certainly of paramount importance too. He was probably the ideal choice among the BONES stable, having shown with Mukou Hadan that he has an innate talent for anime that's grand and dramatic. Andou fundamentally gets the art of spectacle, and Zetsuen is all about spectacle.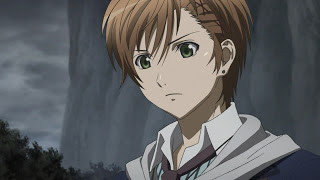 I guess the headline for this week would be that the main characters actually moved, after having been frozen to the spot for the better part of four episodes. In a funny sort of way I'm a bit worried now (and not because of that last voice in the preview – mostly) because to say this series has found a groove would be an understatement. The last arc has been truly magnificent, and I kind of hate to see the show undergo the massive sea change that occurred this week. But then, it's not as if it wasn't inevitable given the parameters of the story. When you're dealing with fantastical entities that can change the fate of the world, plot twists are going to be pretty much par for the course.


I can honestly say I've never seen anything in anime quite like that final sequence. With Beethoven's ethereally beautiful "Tempest" sonata as a backdrop and Aika reading Miranda's speech from the play, chaos and devastation rain down everywhere – including upon our two main characters. What a synergy – Beethoven, Shakespeare, and anime at it's most imaginative and grandiose. If stuff like that doesn't make you glad to be an anime fan I'm not sure what would – there's certainly no other art form in the world that could have given us what we just witnessed. Maybe it's rose-colored nostalgia but it feels as if this sort of soaring ambition was more common in anime once than it is now, where the focus has shifted so heavily towards a very narrow subset of interests and studios have become so much more risk-averse. I'll give full credit to BONES – they may have had some swings and misses lately, but they've never shied away from taking chances.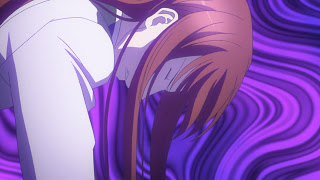 I must confess that my gut still calls me to side with Samon in his eternal battle with Hakaze, though I have no doubt that she intends the best for humanity. In simple fact, both of them are dealing with forces beyond their control in the Tree of Genesis and the Tree of Exodus so it's all relative – it seems to be an exercise in vanity for either of them to think they can control the tree they seek to use to their own ends. But somehow Hakaze's route seems more grounded in arrogance than Samon's, which strikes me as pragmatic – at least from his perspective. It doesn't make a difference if they're wrong, of course – and the jury won't return on that question for a while.


As well, we likely won't know for a good while the truth of Aika's death – if in fact she's dead – and which great entity was behind it. The whole "Mage of Exodus" theory still sounds like just that, a theory – it still seems at least if not more likely that the Tree of Genesis engineered everything to bring Mahiro and Yoshino together with Hakaze. That argument seems bolstered by the fact that it's able to plant a missile on her island (two years in the past, mind you – I wonder if Samon's hidden offering will come into play later) and seems to have disposed of Mahiro and Yoshino now that their role in its grand design has been fulfilled. In fact everything is going to hell in a handbasket – Genesis is breaking out all over, the two Trees are going at it like giant coniferous sumo with flying blades and Samon's forces are under assault – and perhaps destroyed – by the awakening Tree of Genesis, leaving him no choice but to meekly follow Hakaze's instructions. I hate to see him reduced to that, to be honest.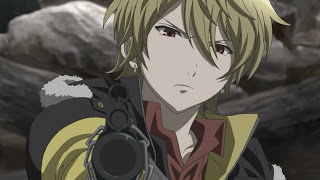 That Mahiro and Yoshino will be saved (by Samon and Hakaze respectively, it seems) is a foregone conclusion, but it's not just about main-character armor – in the end, the two boys will likely be at the center of the plot's ultimate resolution. If I were to guess, I think the story will cast a pox on both the great trees' houses and both warring Kusaribe factions with them, declaring that both sides were wrong in different ways. As interesting as that is, though, in truth it's secondary to watching the grand spectacle unfold – the plot of a great opera is certainly important, but ultimately the magic comes from the act of experiencing the performance as a whole. Zetsuen no Tempest goes into intermission having given itself a very touch act to follow – if it can pull it off, it stands to rank as one of the best anime of 2013.