Since this is the last time I'm going to be able to say it about a TV episode, I'm going to repeat myself one more time – I love Tonari no Kaibutsu-kun.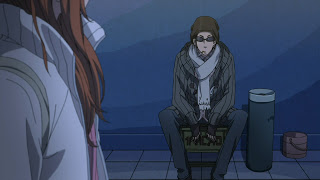 Brains Base just delivers. They deliver with original series, they deliver with adaptations, and they even deliver with anime-original endings of manga adaptations. If there was ever a show that deserved more than one cour, it's this one – but economic realities are what they are. Given the timeless dilemma studios face in this situation, Brains Base and director Kaburaki Hiro did exactly what they should have – left things open-ended but still found a way to touch base with the feelings of all the main cast in a highly entertaining way.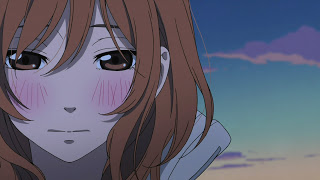 What we have this episode is something of a "best of" episode comprised of entirely new material. I say that because each cast member was shown off being themselves, and the series itself displayed all of its many faces. For my money Tonari may just have the deepest cast of any anime this year, and might be the most balanced show in terms of finding the perfect emotional mix. Here we saw Shizuku being overzealous in her studying, somewhat cold, and brazenly self-analytical. We saw Natsume trying too hard, but for the right reasons. We say Sasayan smiling on the outside at the center of the group, holding his true feelings inside. Even Yamaken (tsundere and delusional) and both groups of extended friends (goofy and outrageously lacking in common sense) were at their best. Most of all we saw Haru being a complete loose cannon, a force of nature that was quite beyond the ability of any of his friends to understand.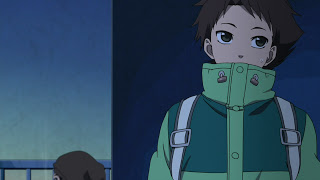 I didn't know this was an anime-original episode at the time I watched it, and I wouldn't have guessed because everything was so much in character. This is characteristic of Brains Base – even with a source material as strong as Natsume Yuujinchou, some of the best eps have been original material. Frankly, I came into this episode expecting to feel sort of depressed – a great show coming to an end too soon, likely without any kind of resolution to the relationship issues at the heart of it. But the magic of Tonari is that it's a show that deals with serious teenage issues in an entirely thoughtful way, yet never crosses the line into maudlin or depressing territory. And more than anything this episode was simply fun – it made me laugh over and over, and smile pretty much nonstop.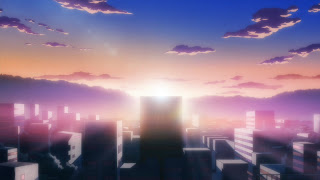 Ooshima's friend Miyama Yuu (Yahagi Sayuri, rapidly becoming one of my favorites) is a perfect example of Tonari in action. She didn't appear at all in the first nine episodes, and did so only as a staring face ("Jii…") in the tenth. She got off a line or two the next week, and this week was fully incorporated into the madness. No character is wasted in this series, no matter how deep into the supporting cast you go – and Yuu mines more laughs per minute on-screen than just about anyone in the show. It's her face, her attitude, and her completely deadpan reaction to the weirdness she inevitably walks into the middle of. Even someone like Jouji, one of Yamaken's retainers – I don't think I could have told you his name before this week, and I don't recall him even speaking – is part of the action.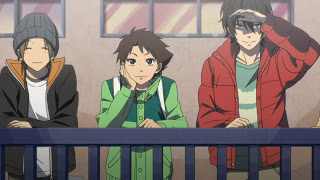 There was something so distinctly Haru about this episode. I loved the way he briefly entered into everyone's orbit, pausing only long enough to confuse the hell of them, forget something and offer a vaguely insulting aside, then was gone. That's Haru in a nutshell – like a force of nature as much as a person, and it's what makes his potential relationship with Mitty such a hard road. Haru has no idea of the impact his reckless and impulsive behavior has on his friends – he simply reacts, in this instance chasing a winter firefly (I strongly suspected the Nagoya explanation was too obvious). He's an incredibly high-maintenance person, and very childlike. Mitty aptly refers to his "innocence and sincerity" and those qualities he has in abundance – in such abundance that he breaches the comfort level of almost everyone around him.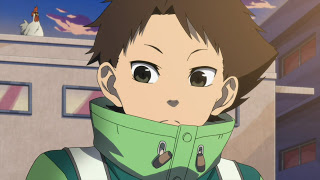 For Mity, especially, this is a hard sell because she's such a control freak about her own life. She needs "ground rules" for everything, even the first sunset of the year – even if it means spoiling the experience for herself. And Haru was born to blow ground rules to smithereens. She openly wonders if she'll ever be able to "look at the boy next to me with honest and sincere affection" – but confesses that looking at Haru's lightning bug was a lot prettier because she wasn't alone. And while it's easy to forget, Mitty was alone when this series started – trapped in a cage mostly of her own making, socially isolated. And it was her encounter with Haru that started her an another path – one that threatens her ordered existence but opens her eyes to a world of possibilities she never knew existed. They're an extremely odd pairing, this painfully self-aware girl and fecklessly erratic boy – but there's no denying that each offers the other something they need in their lives. The question is whether that's enough.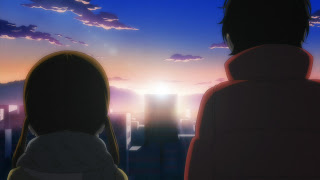 Of Sasayan and Natsume, the best supporting characters in any shoujo romance of recent vintage, there's no more closure than with the main couple – just a frustrating lack of communication and a vague hint of possibility. New Year's fortunes aside, Natsume seems completely oblivious to those possibilities but Sasayan is not – he's clearly very aware of Natsume as a girl, and of his own growing feelings for her. I can't say his reluctance to put himself of the line is unwise – with Natsume seemingly oblivious to his interest and nursing a hopeless fantasy about Mi-chan, this is the wrong time to act. It's certainly frustrating to see from a distance, where a connection between them seems like the most natural thing in the world, but life isn't that simple – and certainly not when you're 16.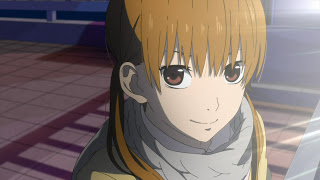 I look at this ending in something of the same light as I do the one from Hyouka – while it lacked the sheer poetic magnificence of that episode, they share a very sympathetic viewpoint. When you're 16, life is anything but certain – it's a seemingly endless string of possibilities that defies categorization and understanding. Everyone copes in their own way. Sasayan smiles and observes, Natsume decides that when trying hard isn't enough she should try twice as hard. Haru demands an impossible certainty and indulges his ephemeral emotions, and Mitty tries to fit everything into a category she can understand and file it away for later. Each of them is simply being themselves, and they've each been remarkably true to themselves for the entire series. It's that consistency that makes them such sympathetic and believable characters, and that's helped make Tonari no Kaibutsu-kun one of the most compelling series of the year.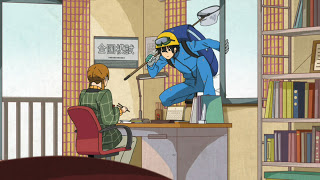 This isn't the last time I'll be writing about Tonari this year. All in all this may be my favorite shoujo romance since Bokura ga Ita, and while the main romance might not be quite as engaging I can say that the overall viewing experience was far more pleasant. It's just a terrific series on every level. Sometimes adaptations fail to live up to a manga's standard, sometimes they succeed by being extremely faithful (like Jormungand) and sometimes they actually make something even better (Minami-ke and Natsume are two good examples). I've been inspired by the anime to read the Tonari manga – only as far as where the anime reached in episode 12 – and while it's excellent, I can tell you that in my view the anime exceeds it. It takes what's a good story on the page and turns it into a great one on the screen by using the tools that anime has at its disposal that manga doesn't – excellent music, a superb cast, and some of the cleverest and wittiest visuals of the year. There's an irresistibly whimsical tone to the anime that's much more pronounced than in the manga, but miraculously the serious issues at the core of the series aren't diminished in any way as a result – the characters are just as compelling, but the overall experience is uplifting and fun.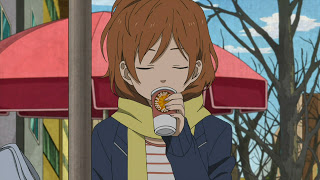 As sad as it was to see Tonari end with so much story still to tell, there is a little good news – an OAD is going to be included with the 12th volume of the manga next year. I'll take what I can get, because unless we see that there was a huge spike in manga sales it's unlikely we're going to see a second season of the anime. I want to be miffed at Brains Base for doing this to me yet again, but the fact that they adapt shows they sometimes can't finish is a reflection of the fact that this is a studio still willing to take chances – one that decides what properties to adapt based not just on commercial potential, but on artistic merit. And I'm thrilled that they took a chance on Tonari no Kaibutsu-kun, that they trusted the audience to find it, and that they did such a brilliant job with the adaptation. Now go out and buy some Blu-rays and manga to show them how much their work is appreciated.