I've never seen an anime romance quite like this one – and I mean that entirely in a good way.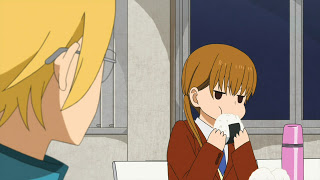 As much as any show this year, Tonari no Kabutsu-kun is the one I'm disappointed to see ending when it is. If ever a show had so much more story to tell than a mere 13 episodes will allow, it's this one – it's a rich and detailed character study that cuts few corners either with the source material or with the character development itself. I suppose there's always a chance of a small miracle and a huge boost in manga sales that would spark another season, but of late Brains Base has made something of a habit of making superb one-cour adaptations that should be much longer, but don't sell enough Blu-rays to make it happen.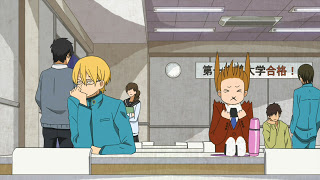 This ep was entitled "Yamaguchi Kenji-kun" (and it was chapter 15 of the manga BTW, which should give you an idea of the anime's pacing) and as you could guess, it largely focused on said Yamaken. As is often the fate of such characters much of his importance is derived from the impact his presence has on the main couple – and it's considerable – but he's more than a plot device by a long stretch. Yamaken is a complex and difficult character to summarize, as is everyone in this cast. But one thing that's become indisputable in my mind is this: he and Haru bring out the worst in each other. If that was ever in doubt it was amply proven this week. Yamaken sees Haru and he can't help but tweak and provoke him, much as he did when they were children. And Haru can't help but take the bait and be provoked – as smart as he is in school, he's incredibly dumb in matters of emotion. There may have been a time when Haru considered Yamaken a friend, but I don't think the feeling was ever mutual – and things between them have never been more charged with the potential for ugliness.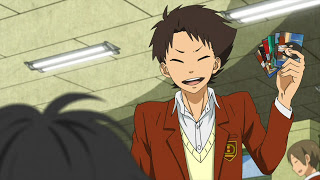 None of the three people involved in this growing triangle is solely responsible for this – Shizuku isn't really responsible at all apart from the fact of her existence – but they're all essential to the dysfunction it creates. What's always been clear is that Haru has been burned by a lifetime of emotional rejection, and we're only now seeing scraps of detail about that. And Yamaken, being far more self-aware than Haru, has clearly seen this too – taking advantage of Haru's gullibility before Mitty entered the picture, and his jealousy now that she has. As for Haru, Yamaken isn't the problem where Mitty is concerned, he is – but Yamaken is the catalyst that brings it to the surface most violently and unpleasantly. And as far as Yamaken and Mitty are concerned, she's the one thing that really rattles his cage – his aura of serene self-assuredness broken every time he sees her and is forced to wonder why he's fixated on her despite how "plain" she is and how he (in his own mind, at the very least, and probably somewhat in reality too) has his choice of girls any time he wants.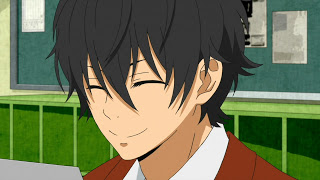 During their late-night chance meeting Haru asks Yamaken "Are you scared of me?" and of course, the unspoken answer is yes – and it isn't without good reason, which cuts to the heart of the problem. Haru is a scary person sometimes – the angry boy who throws cans after petty provocation (this is the third time he's inadvertently struck Shizuku) and makes shocking comments on the spur of the moment. I feel quite confident that Haru would never intentionally do anything to harm Shizuku, partly because I believe he means it when he says so (and that he loves her) and partly because at heart he's simply not that kind of person. But there's a problem in that he'd say such things in the first place, and that he's clearly capable of harming those for whom he feels enmity rather than affection. We still don't know all the ways in which those Haru has loved have hurt him – it's very clear that Yuzan (good to see Sawashiro Miyuki finally getting some work) has done a considerable amount of damage himself – but it's absolutely obvious than he's just not capable of believing anyone can love him and not hurt him, which is at the heart both of his relationship issues with Mitty and his vulnerability to Yamaken.
While Mitty is neither responsible for the rehabilitation of Haru's soul or his blood feud with Yamaken, she's not completely free of baggage in this relationship herself. Yamaken – who certainly understands her better than Haru does – has already put the "why does it have to be all or nothing?" question to her, and it sums up her issues pretty well. Shizuku isn't nearly so different from Haru as it might appear – they're both extremely smart, socially inept (though in quite different ways) and dealing with issues of abandonment. We don't know how Haru's relationship with his mother ended but it's clearly a source of much neurosis for Mitty, but the difference – and perhaps why her frustration is channeled in a more inward and less dangerous direction – is that she still has a close relationship with her father and brother. Haru seems to have no emotional parachute in his life whatsoever – he's been in free fall for his entire childhood until he grabbed onto Shizuku's spider silk.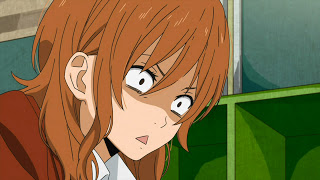 I think Mitty sums up this relationship best herself – "Why is it that we're always out of sync?" Haru always finds her when he's at his most emotionally desperate as if by fate, and reaches out to her in a completely vulnerable and loving manner than touches her at every level – then says the worst possible thing he can. When he says "I want you" and "I've been restraining myself" he doesn't mean sexually – I think even Mitty realizes this after a moment – bur that he's simply incapable of placing his trust in someone he loves without "proof" that they won't burn him. What really needs to happen is for someone to explain to one or both of them just what's so obvious to the viewer, but life usually doesn't work that way, and they agonizingly continue to fumble around in the dark, missing each other every time. I don't know if this is fixable, but I don't join the chorus who dismiss Haru as a bad person or a bad character – in a universe full of uninteresting romantic leads, he's utterly fascinating. And Tonari pulls no punches by trying to simplify him or turn him into a teddy bear – he's more of a grizzly. Haru is a mess, and risky, and damaged – but for me, really fascinating both individually and as part of a relationship with Shizuku.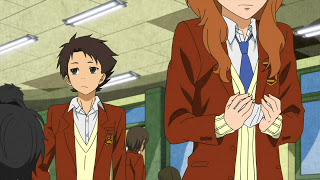 By necessity, this ep was somewhat short on both humor and on the rest of the cast – though there was an interesting bookend with Natsume. She has a very interesting reaction when she sees the photo Sasayan has snapped of Yamaken and Mitty – and not because of them, but because Mi-chan is in the picture. And Sasayan's reaction is even more interesting, as always communicating a lot without words. And we see Natsume at the end, apparently resolved to confess her feelings (I see a soft landing for her here, courtesy of Mi-chan's regard for lost little birds). And we have this friend of Ooshima's, who catches Yamaken in the manly art of self-admiration a couple times during the episode – another reminder than Tonari no Kaibutsu-kun delivers up some of the best facial animations of the season.