Sometimes even in the darkest stories, you can find a glimmer of hope somewhere. So far that isn't the case with Shin Sekai Yori.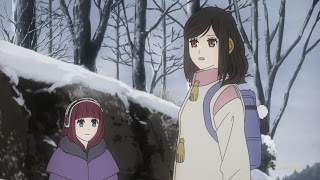 This series continues to be both the most disturbing and most heartbreaking of the season for me. The premise in fantastical, no doubt, but it's been exposited in such a rational and logical manner that it all feels very real – and there are definitely times I wish it didn't. Watching children suffer this way isn't a pleasant experience, but it's undeniably riveting. I'm struck once again by just how pitiless SSY is towards its characters – for a series as emotionally devastating as this one, it's one of the least sentimental I can remember.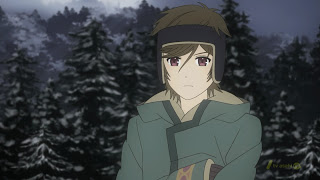 I'm trying hard to come up with a justification for a system which does what this one does to its children, most recently what (apparently) happened to Mamoru this week. In many ways I think this is the fundamental dilemma of Shin Sekai Yori – at one point is the remedy so distasteful that it's best to let the patient quietly slip away? The thing about SSY is that unlike some pitiless series – for example, some of Urobuchi Gen's work – I detect no sense of glee at what's happening to the characters. It feels as if the author is just as sad to see what's going on as we are, and just as powerless to stop it. It feels as if nature is trying very hard to cleanse itself of humanity, and humanity is being forced to become more and more inhuman in order to stave off elimination.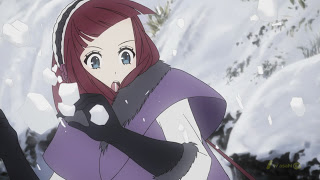 What we saw this episode is fundamentally different than what came before, and I wonder if it can be taken at face value. As horrible as what happened to Shun was, it can at least be understood (if not endorsed) in context. If he lived, he would have continued to cause the death of others. What's less clear is why someone like Mamoru – sweet, gentle and not very talented – needs to be eliminated. Indeed, why so many children who don't appear to be an imminent threat to become fiends or karma demons have been eliminated. What danger did Saki's sister pose to society, for example? What danger does Mamoru of all people pose? I know that karma demons supposedly come from the ranks of the kind and gentle, but does that mean all kind, gentle children are an imminent danger? Or is it the lack of talent with cantus that's the problem (as we saw with Reiko, seemingly)? There's no question that the latter seems to be a common cause for elimination – but why? Is this a form of selective breeding in order to intensify cantus strength over the generations, and if so why would such a thing be necessary?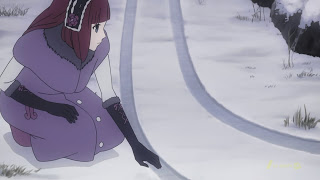 Mamoru's story makes even less sense in light of what happened with Saki in the last ep. If indeed what Mamoru says – that he's been tracked by a copycat over the last two days and was about to be eliminated – is true (and Maria's testimony seems to suggest it was) it could hardly be coincidence that it happened just after Saki was told of her special talents and of the role she's to be expected to play. Superficially this seems like a very bad time to try and kill Mamoru, but perhaps this is meant as a test of Saki's resolve – to see whether she has the stomach to allow a friend to die if she's told it's for the good of society. That may not be the case but based on current evidence it seems as likely as any scenario, and it's a pretty depressing thought that doesn't do much to endear the powers that be – including Satoru's grandmother – to me.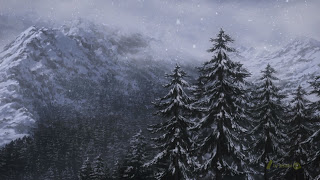 Whether that's true or not, Saki is very much caught in the middle now. What she's been told has placed a barrier between her and the others, and every decision she makes is going to be colored by that knowledge. For now she's fully on-board with the others, desperately tracking their friend though the mountains (I loved these scenes, especially the detail on Saki and Satoru's skiing as Maria opted to use her cantus for a bunny-hopping style). Maria for her part seems the most agitated over Mamoru going missing, perhaps because she seems a role for herself in pushing Mamoru to his decision – or in not doing more to stop him. Satoru again reveals himself to be at his best under pressure, showing the calmest demeanor and strongest analytical skills of the three searchers. As for Mamoru, if indeed what he says is true, it's hard to see any other option he had. He was terrified, facing death – and as he said, simply, "I didn't want to die." It's the most basic and elemental of human motivations, self-preservation – but what a violation of the soul, for a child to know that the ones his instincts tell him he should be relying on for protection are the ones trying to make him disappear. And that once he's gone, even his memory will be wiped from the minds of the friends he loved.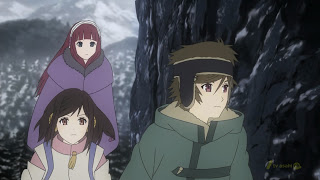 If Mamoru is in fact wrong, he and the others are going to have some serious explaining to do – but if not, it's hard to see a way out from here. He was lucky to find (or rather be found by) a sympathetic (seemingly) queerat in Squonk, but ultimately the queerats are the enforcers of the humans that run things, and word of Mamoru's escape – with orders to kill him – will certainly reach Squonk's colony. Mamoru obviously can't go back to a society that wants him dead, and that seemingly leaves only the option of trying to survive outside the holy barrier – which, with Mamoru's limited (though apparently strong enough to destroy a copycat if he's facing death) cantus and meek personality seems a long-shot. If it came to that, would the others return to the world that did that to him and leave him to face likely death on his own?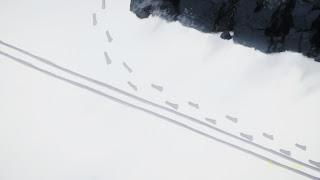 I want to call attention once again, however briefly, to the pacing and visuals in SSY. There are occasional off-model character moments – especially loss of detail at a distance – but A-1 continues to deliver some of the loveliest and most striking backgrounds of the year. When this series leaves the village and widens its focus to the larger world, it really delivers moments of ethereal beauty (in a sense that beauty almost makes things worse, because it provides such a contrast to the ugliness that society has resorted to in order to perpetuate itself) and disturbing surrealism. And it continues to have the quality of seeming to end before it should, the end credits rolling before you even realize you're deep into the episode. Shin Sekai Yori has set a high standard for itself to live up in the second cour.