Sometimes the fact that you know an event is coming does nothing to lessen the impact.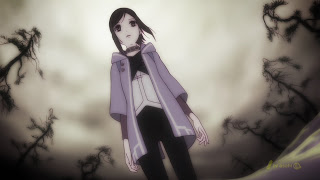 That was probably the most emotionally devastating anime episode of the year, and though I know – as always – there will be some who heap criticism on it for this that or the other reason, I think it was one of the best. Certainly it was one of the two or three best episodes of Shin Sekai Yori, which has already had a few that would surely rank as some of the best of the year in any series. It tied together many of the threads that had been laid out in the first nine episodes in an elegant and coherent way, and offered just the right emotional payoff – though it certainly wasn't an uplifting one.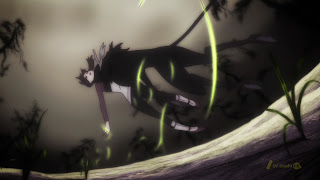 I noticed (as I'm sure many viewers did) within the first few seconds that Yamauchi Shigeyasau was back in the saddle again as episode and animation director for this episode. My first reaction was "Uh, oh", not because I wasn't expecting quality work but because of the overwhelmingly negative response to his work with episode 5. While I'd agree that not all of his choices worked and the change was rather jarring, I liked that episode a lot – but for my money there's no question Yamauchi's signature style worked better this time around. I'll be interested in seeing the reaction, but I thought the episode was gorgeous visually with it's nightmarish surreal images of Shun's bungalow and the off-center pans to Shun's masked face and Saki's crying one, and I thought the pacing was perfect. It was a slow build to a climax I knew was coming, but it was as if I were standing on the tracks watching the train approaching, and was unable to force myself to move.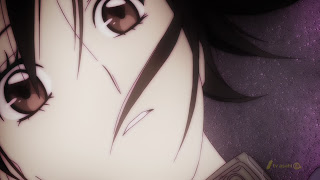 When discussing the strengths of this episode, it would be criminal not to call out Komori Shigeo's soundtrack – which has been superb from the beginning but was more front-and-center this week – and the work of Murase Ayumu and Taneda Risa as Shun and Saki. These are two relatively unknown and very young seiyuu, but they've been doing a fine job – Taneda-san since the premiere – and both were spot-on here. The only two human voices in the episode, they had to carry the entire enterprise emotionally and they did, with Murase perfectly capturing Shun's not quite successful attempt to feel detachment about what was happening to him and Taneda Saki's abject and utterly bereft heartbreak as she watched it.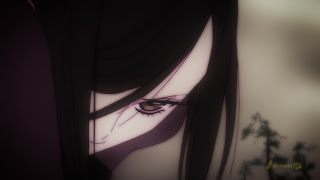 In truth, while I say I saw the ending coming it's really the case that this has been foreshadowed almost from the very beginning of the series. From the moment Shun told the story of the boy who was extremely smart but had "only one flaw" back in episode 2, his fate has been pretty clear. It was fitting that the story was recalled this week, though it's not as if anyone could easily have forgotten it. The truly sad thing is that Shun wasn't faking it – he really was a kind, generous and talented boy – and he did nothing to deserve the fate that befell him. Was it in part Saki's fault for the way in which she restored his cantus, as she suggests? I suspect not, though I doubt that will offer her much consolation. Perhaps in his final moments Shun will have taken some solace in the fact that his charm saved Saki from the first tainted cat that attacked her – one act of good even as he was unwillingly sowing death and destruction everywhere around him.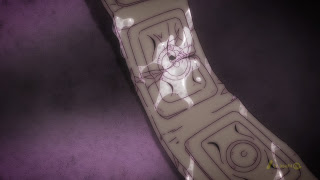 Once Saki survived the attack and ended up with Shun, the episode was a slow, painful tragedy being played out on-screen. The fact is that these two did in fact love each other, and at least they were able to communicate that at the last – but Shun had to bear up in front of Saki as he felt his last few moments of life slipping away from him, and she had to watch the tortured shell of the person she loved as his life came to to a terrible and painful end. It was brutal, and it was portrayed in unrelentingly brutal fashion, quite in line with my feeling that we haven't seen anything yet when it comes to the darkness SSY is prepared to portray for its characters. They're just children, these two, but one of the messages of this story is that there are no innocents in this world. That knowledge doesn't make the events of the episode any less heartbreaking, though.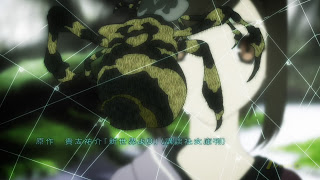 As to the revelations that Shun shared with Saki before he died, all I can say is that it all makes sense given what we've seen thus far. Effectively, this is a world where mankind – some of it, anyway – has seen its unconscious attain the power to manifest actions without the "filter" of the conscious, and directly impact the world around itself. It's a nightmare scenario, and Shun's iceberg analogy was spot-on – in the human mind, the conscious is only a tiny percentage of the brain's activity. As Shun says, there's "no time to correct" because the thoughts become actions – it's the essence of PK power, and the root of much of what we've seen in SSY – the bizarre and unnatural evolution, the barriers the remnants of society have built not to keep danger out, but to protect itself from these collective canti by sending them outside the barrier to wreak their havoc on the outside world rather than sow destruction inside the barrier.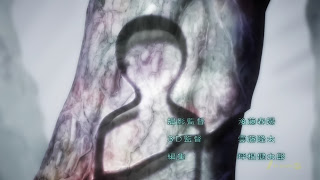 That's like dumping nuclear waste outside your window and hoping for the best, but – as with the sometimes brutal actions the elders have taken – it's not clear that there were any better alternatives. Shun's rampaging cantus has already caused the destruction of his village (kudos to those who called that – I didn't) and his karma demon condition – "Hashimoto-Appelbaum Syndrome" apparently has no cure. That seems symbolic for the society as a whole – whatever caused the barrier that held the subconscious in-check to break, everything that's being done now seems a "lesser of two evils" choice – the last twitching of a dying civilization trying to stave off the descent into savage chaos for as long as possible, knowing it's a battle they'll eventually lose. Shin Sekai Yori has been a tragedy right from the very beginning, but – as is often the case – the tragedy of the larger story becomes much more powerful when we see it played out in the fate of individuals, especially children like Saki and Shun. This was an emotional knockout punch, and I suspect that's it's going to be the first of many that SSY delivers before it's done.