I think that was an episode that pretty much speaks for itself.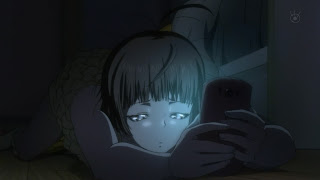 Psycho-Pass mostly set aside the philosophy and social satire this week and stayed solidly in action-thriller territory, in the process delivering a tense and exciting episode that connected on pretty much every swing. This was the product of a confident, assured series that's become very comfortable both with premise and characters – continuing a positive trend, as it was certainly trying too hard in the beginning. The first episode of the series was definitely the weakest, but that's not a bad thing when the current product is one of the best shows of the season.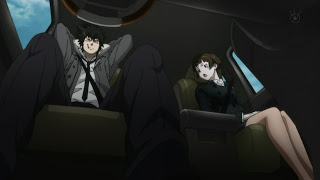 The vibe has been growing ever since Senguji showed up in episode seven, but more than ever you can definitely add "The Most Dangerous Game" to the list of influences here that already includes Minority Report, Dark City et al. That was a short story (written by Richard Connell and published way back in 1924) that was one of my favorites as a kid (I was a weird kid) and seeing that vibe show up always gives me a little thrill, remembering what it felt like to read that story. Again we see Urobuchi Gen borrowing pretty liberally from established themes, but the execution is so good that so far it hasn't become an issue – though I still think it raised the bar a bit for Gen to come up with something new to say in the end.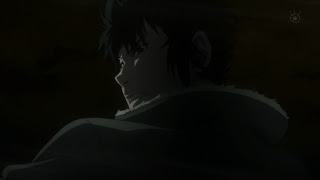 It's in the role of Makashima and the dissection of the morality of this society from which something fresh is most likely to emerge, and we saw some movement on both fronts this week. The relationship between Makashima and Senguji is an interesting one. It's pretty clear who the really dangerous one here is, and I think it's even clear to Senguji himself – based on his reactions in this episode – that he's Makashima's toy almost as much as the prey Makashima delivers up is his. But Senguji doesn't seem to mind so much, and my theory is that being inside an android body isn't so straightforward as he makes it out to be. It's likely driven him a bit mad, and he's no doubt tormented by boredom – living in an unchanging body with one day seeming pretty much like the next. Makashima is taunting Senguji a little when he says it, but he's right – it's the thrill of real danger than Senguji has been craving all along. And in Kougami, he's certainly got it.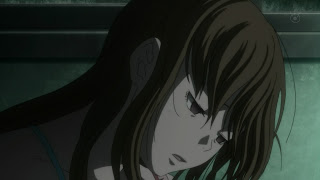 The more we learn of Kougami the more interesting he becomes. At this point he and Akane seem largely in synch on their relaxed attitude towards Bureau policy, and after Akane receives a strange text from her pal Funahara Yuki (Koiwai Kotori) they chase down the lead although he suspects it to be a trap. It's more clear what Akane gets from this relationship than what Kougami does, but he makes an interesting comment about Akane to Yuki later in the episode: "She intuitively understands what it means to be a detective. I think society needs more people like her." That last comment especially plays into the notion that Akane represents a challenge to the Sibyl system, but of a different sort than Makashima. She's a wild-card that Sibyl doesn't know what to do with, and speaking of intuition Kougami (who has it in droves himself) senses this. In much more immediate terms she also represents a link to a style of police work he clearly loves, and one which Sibyl has largely laid waste to.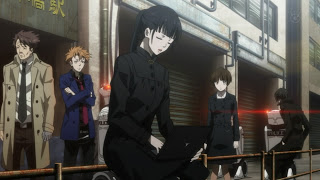 Most of the episode is taken up with what happens after Kougami is lured into the abandoned Ginza subway line beneath Tokyo, where he finds the bound and gagged Funahara on a Ginza Line train that's mysteriously running 60 years after decommissioning. It's great stuff from start to finish – tense and tight as a drum, as Kougami shows he's an incredibly resourceful man both mentally and physically. The old subway tunnels are fabulously atmospheric, and once the hunt begins in earnest, it's a high-tension thrill ride where you fear for Kougami at every moment. What becomes clear almost immediately is that Makashima has rigged the hunt to give the fox a chance this time, and this fox has teeth – Kougami doesn't miss any opportunity afforded him, and he manages to get the useless transponder Makashima plants for him working again with the help of a dead robot dog and Funahara's bra (more precisely, what Makashima has planted there for Kougami to retrieve). I can very easily see this arc ending with Kougami taking out Senguji (though that's only one possibility) – Makashima is clearly the top boss here. The interesting question would be whether Makashima feels Senguji's resources are important enough to prompt him to save Senguji, if it comes to that.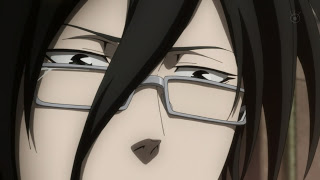 There's one other big moment at the end of the episode, and it's a doozy, one that comes as quite a surprise. Gino continues to fill the designated dumbass role (I'm really hoping we see more from him) and he seems to be slipping deeper and deeper into pure by-the-books rigidity. Here he presumes Kougami has perpetrated the entire scenario to escape, seems quite content to shoot him first and ask questions later, and lays a huge plate of guilt on Akane for being the one at fault if Kougami dies. It's here that Masaoka – still my favorite character in this strong cast – steps in with shocking ferocity, his voice calm and face in a smile as he rebukes Gino even as he lifts him like a rag doll in his robotic arm and hurls him across the room. That's surely insubordination and grounds for serious reprisal just for starters, but given the psychology of the situation it's much deeper than that. Why did Masaoka do what he did, the way he did it? Merely defending Akane from what he saw as an unjust attack, or trying to send a deeper message to Gino that he's losing himself and becoming something terrible? It makes the question of just how Masaoka and Gino are connected an even more fascinating one – the situation was defused when Kougami managed to get his distress call through, but I'd have been very interested to see what would have happened had that tense drama had the chance to play itself out.