There are a couple of currently airing series where the gap between how brilliant they are and how much discussion they get is particularly large, and Space Brothers is definitely one of them. And I confess, I'm guilty myself.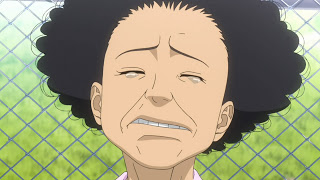 An interesting bit of trivia about this week's episode: astronaut Hoshide Akihiko (who already appeared as himself a few months ago) dubbed his lines in this episode – where he played an astronaut speaking from the International Space Station – from the International Space Station, certainly marking the first time that an anime has had lines recorded in space. The mangaka Koyama Chuuya did a live radio show with the astronauts in the ISS last month as well, giving you an idea of how much of an impact this story has had in Japan (where the live-action film was a runaway hit).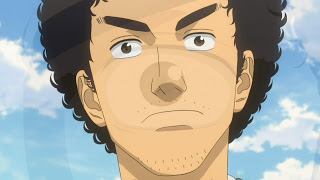 The truth of Hoshide's performance may have had something to do with it, but I found this episode highly emotional. Uchuu Kyoudai has pretty much had me on the verge of tears off and on (the BGM has something to do with it) for the last few episodes, but the scene that finally broke me down was the one where the young Hibito and Mutta were at a JAXA event and Hoshide-san was speaking to the group of kids (kids played by kids – kudos, A-1) present – not an especially sad or overplayed scene, but in the context of the moment it spoke so loudly about how much who we are as boys means to the kind of men we'll become, and about the importance of having dreams and self-belief. I was happily eating my bento as I watched and then, just like that, I was lost.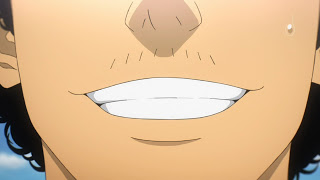 Maybe the reason I can't find more to say about a show that impacts me so powerfully is because in reality, Space Brothers is an incredibly simple story. It's about siblings, and families, and having a dream that sustains you through life. It's about a love of space and exploration too of course, something I share with the mangaka, but it's not driven by the science of that but by the love of it. The best way I can phrase it is that I find this series to be incredibly true. The relationships, the emotions, the observational humor – as an adult who's seen dreams come and go and had many complicated relationships, the essence of what drives this series speaks to me in a very direct and personal way. It's not an exaggeration to say it inspired me in my current journey – not in the initial undertaking of it, but in believing that it was the right thing to do in my life, even if logic seemed to dictate otherwise.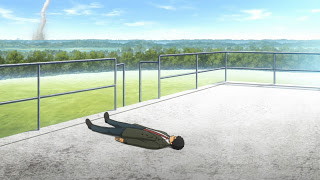 The Nanba Brothers are making a serious run for a spot at the top of my all-time list for anime siblings. What I love about these two is how their differences are so complete and run so true to life. The short scene featuring the two in college (I would guess) this week summed up their relationship simply and powerfully – Hibito is writing and Mutta is gently scolding him for his overuse of the word "definite" – as in, "I'm definitely going to space." Hibito's reaction captures him perfectly: he erases what he just wrote, and writes in pen. "With me, some things are definite." Hibito has a precious gift, the gift of certainty – whereas most of us, like Mutta, are cursed with self-doubt and caution.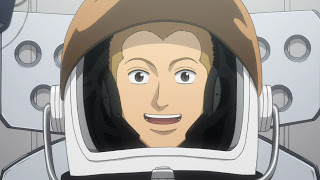 Here's what really makes this work, though, and makes this relationship so poignant. As sure of himself as he is and as impatient as he must surely get with Mutta's dithering, Hibito never leaves him behind. He's always pushing, always pulling, always trying to drag Mutta along – Hibito's never forgotten the role his brother had in shaping the dreams that guide his life. I hate to toss the word around liberally, but it's a beautiful thing – and it never feels more connected to the present – and future – than when we're watching the two of them as boys, seeing how much and how little they've changed. Many shows attempt to communicate how the past, present and future are connected in a unbroken line for all of us – but few can do it with the simplicity and grace of Uchuu Kyoudai.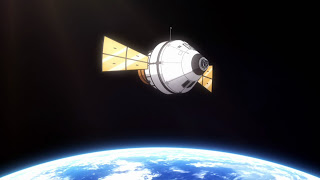 I don't know what's going to happen with the anime; I don't know whether we'll ever see Mutta follow Hibito into space at last. But I have no doubt that whether it happens on-screen or not it will happen – hell, even Hoshide Akihiko failed the JAXA exam twice before he was accepted. Hibito will never give up on his brother and because of that, Mutta will never give up on himself. Meanwhile my heart was in my throat along with everyone on-screen as that rocket carried Hibito into space and he experienced the wonder of it for the first time, because it's impossible to ever truly forget the risk that anyone who makes that journey is taking. That's another profound truth at the heart of this series – most of our regrets aren't what we did and wish we hadn't, but what we didn't and wish we had, and it's only in accepting risk that we can achieve reward.