I really only had one problem with this excellent episode, but it's a fairly big one.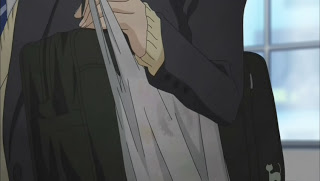 Overall, I continue to be impressed with Sukitte Ii na yo as a pretty realistic, unsentimental and sometimes brutal look at teen romance. It does something few such shows – either shoujo or harem – do well, and that's walk the middle road between melodrama and rose-colored naiveté. And in that sense I think this was not only a continuation of that, but one of the better examples of it – a very solid episode that portrayed real emotion without overplaying it.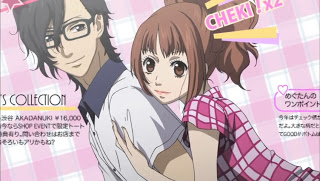 My issue is pretty simple – to me, Yamato doesn't seem worth it. It doesn't help that Sakurai Takahiro – who's a very good seiyuu, although IMHO way too overexposed at the moment – sounds a bit ridiculous playing a 17 year-old romantic lead (or this one, at least). But beyond that, I don't find him either particularly interesting or particularly likeable. He's not a bad person but I don't buy ignorance as an excuse for the cavalier way he's dealt with relationships, and that pattern is repeating with Mei – I absolutely don't buy for a minute that he doubted accepting an invitation to dinner at Megu's house was wrong. Of course he knew – he did it anyway. He's also generally a bit of a bore – it's fitting that he's modeling, because he comes off as more of a plastic model of an ideal boyfriend than a real guy.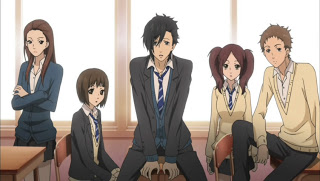 But of course, we don't get to choose why and who we fall for, and Mei being in love with him anyway is perfectly realistic. This entire episode played out like slow torture, and I mean that in a good way – much of adolescence can feel like that – as we watched Mei's slow decline into despair as Yamato slipped away from her (ah, that "A train is passing by" metaphor…). There's a fundamental unbalance in this relationship in that Mei is so convinced she's not in Yamato's league that it makes her incredibly passive most of the time. Relationships like that rarely work unless the internal balance somehow equalizes, and in a way you almost can't blame Yamato for responding when he's bombarded with affection from girls all day and the one he's dating is flat-lining most of the time.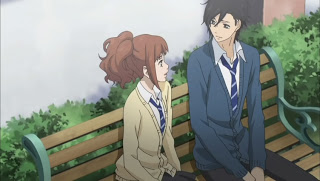 Although it's a bit of a cliché, Aiko's emergence as an ally – predictable as it was – does fit very well with the story. She's been burned herself, and by Yamato too – again he'd surely plead ignorance, that he believed they were "just having fun" while she was emotionally committed. Her speech to Mei was spot-on – the insecurity and doubt she's facing is a wall, and the mere fact that she's facing it marks progress for Mei, who was so socially isolated that such normal adolescent travails were denied her. Now she has to get past it, of course – and her bold statement at the end of the episode stands as evidence that she's at least willing to try. But honestly, it's the development of Mei's friendships with Asami and Aiko that strikes me as more important and dramatically involving than her romance with Yamato – more than anything I see Sukitte as the story of Mei's journey from a lonely outcast in self-exile to a socially functioning teenaged girl, and that's more compelling at this point than the romance angle.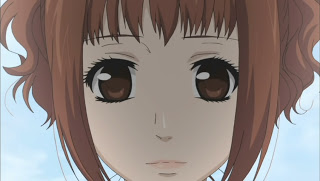 Finally, the question of jut what sort of character Megu is needs to be addressed, and I think it's one that's still very open to us anime-only viewers. There are a lot of conflicting signals here – on the one hand we're painted a picture of a hard-working girl living on her own (probably too soon) who's just lonely for some true companionship rather than idolatry. But I no more buy ignorance as an excuse on her part than Yamato's – she knows what she's doing is wrong, and she's doing it anyway. And I don't dismiss the possibility that her entire persona is an act, and that she's been scheming to wrest Yamato away from Mei all along. Partly that's because such characters are a staple of shoujo romance, but it's also because there are definitely moments where her humility and innocence ring false – like a singer hitting an off note in her performance, I seem to see calculation and machination peeking through involuntarily when she tries a little too hard to hide them. I rather hope that's not the case, as I think the series would be more interesting if it weren't – but my gut's telling me she's already surrendered to the dark side.