In the annals of underrated anime this series surely comes near the top of the list, and an episode like this one goes a long way towards proving that.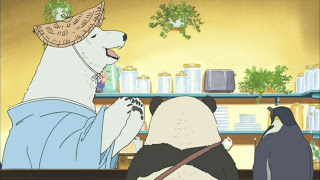 I think if you're a fan of Shirokuma Café this ep would have pretty much everything you're looking for in the series, plus some nice extras. All Shirokuma does is keep providing solid comedy week after week, and it's easy to take it for granted because it looks so easy the way this show does it. But this episode stands out even by Shirokuma standards, I think, both in terms of the volume and quality of the laughs and because it was a but experimental in terms of the style.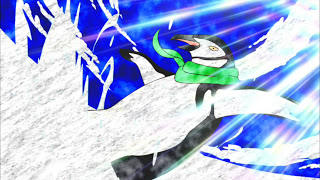 First, we lead off the story mid-pun – quite clever, I'd say – and later a pun gets derailed right in the middle when it reminds Panda-kun of why he's upset ("hot ginger" sounds too much like "Penguinger"). And Penguinger is very much at the heart of the episode this week, picking up right where we left off with the penguin action show. It's a pretty rare thing for Panda-kun to get interested enough in his work to actually be bothered by having nothing to do, but when it comes to losing his precious moments of being called cute by zoo patrons, a line in the sand has clearly been crossed. "No mas!" cries this angry young Panda, and the quest for a remedy begins.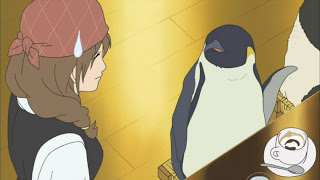 Before that though, we get another new feature – "Coffee Roasting Time with Misaki". I admit I'm biased in favor or anything promoting coffee geekery, but this segment could have been a paid advertisement for premium roasters and cafes everywhere. Misaki is still relegated to sorting out the "squeakers" from the green beans, but Tree Kangaroo-sama decides to teach him a little lesson by letting him try roasting – roasting the squeakers that is, and in a frying pan over a burner, not using the roaster. Well, that's how I learned to roast beans too and it works perfectly well – and as shown here, roasting coffee is all about timing. But if you use defective beans, it doesn't matter how good your timing is – they'll taste bad. Lesson learned, young Padewan.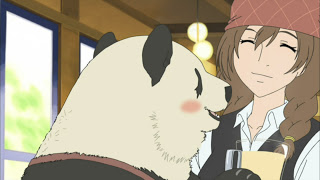 Another hilarious element in the last couple of episodes is the relentless fun being poked at Joshiraku, as Penguin-san's rakugo comedy stylings are displayed in their breathtakingly dull glory. He even talks his way into the Penguinger show as "Evil Emperor Penguin" – and if you listen to him in Joshiraku mode, you'll turn into a plushie. But even rakugo can't ruin the Penguinger show, which continues to drain away all the visitors from Panda Corner despite the best attempts of Rin-Rin, who urged Panda-kun to hold a photo contest with a prize of "A Day Playing With Panda" as a prize, so he could win it himself (creepier than Hisoka, this guy). And poor Llama-san continues to be ignored, even with a Llamaranger cape.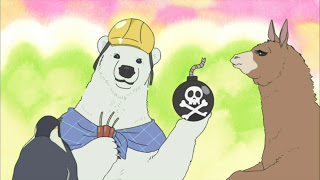 The pièce de résistance, for sure, was the "Panda Family Drama" – introduced by Penguin-san, who later appears as a baby. This was Shirokuma-san's idea so you know it's going to be weird, but this was a classic for flat-out weirdness. It's a send-up of Japanese TV drama full of Shirokuma's trolling, complete with Panda-papa's "Don't suck me up!" moment. We have the long-lost son "Stojkovic" returning home, agreeing to take up the family business (I'm not sure what CR was going for with "Flatus Patsy" in the translation, but I suspect the Japanese concept wasn't successfully captured). Then we have Stojkovic turning out to be a polar bear, then turning out to be a girl – who promptly gives birth to Penguin-san. It's all delightfully bizarre – much like the mind of the polar bear that thought it up. And finally, Rin-Rin wins the photo contest – and the prize isn't a date with the panda-shota of his dreams, but Full-time Panda-san – a day spent stuffing tissue packs for his second job (at least Rin-Rin got a neck rub out of the deal). Priceless, pure Shirokuma genius at its very best, and one of the best comedy episodes of the year.