Whatever else you may think about it, watching Sakurasou is certainly never a boring experience.

As this episode played out, I was reminded of the start of the old nursery rhyme "There Was a Little Girl" (actually a poem by Longfellow):
There was a little girl, who had a little curl
Right in the middle of her forehead,
And when she was good, she was very, very good,
But when she was bad she was horrid.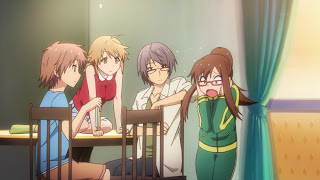 We certainly had the very, very good plenty in the first four episodes – and last week's definitely gave us the horrid. But what struck me this week is that Sakurasou is very unusual in the way it can whipsaw back and forth between very good and horrid in a heartbeat, within the same episode. There were moments this week that were almost shocking in how emotionally accurate and penetrating they were, and others that were excruciatingly tired and unfunny (I'm starting to think this is a show that's better off with the "less is more" philosophy when it comes to trying to be a comedy).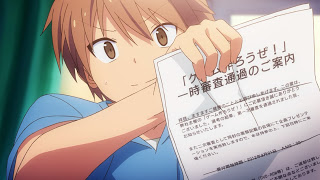 Of course, it's inescapable in reading the lines of that poem that it could just as easily apply to Okada Mari, who's the lead writer for this adaptation. She didn't write last week's disastrous episode – fascinatingly, it was the novelist himself who perpetrated that crime – but it still makes me wonder if this story fits her perfectly in ways both good and bad. It's not entirely coincidental, I don't think, that many of the problems I have with Sakurasou began when Nanami arrived on the scene, but it's not just her (we'll pretend the imouto thing never happened) – the show seems to slip into hackneyed and derivative slapstick an inexplicable amount of the time, considering how smart the writing can be. I'd also add that for whatever reason, Misaki's voice cut through me like a knife this week – maybe it was me, or maybe she was more over-the-top than usual, because she hasn't bothered me that much in the past.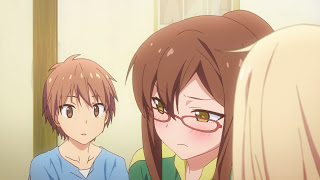 Much of the problem is Nanami, though, and I think it's as much the changes she caused in the chemistry as it is herself (though there's that too, as she's the most clichéd character in the regular cast). Formula seems to follow her everywhere – misunderstanding humor, "Pervert!" jokes, familiar osananajimi angst. I think we had a really interesting story brewing already, and it didn't need all that played-out baggage strapped to the roof like Mitt Romney's dog. Even early on I noted that there seemed to be a struggle between a series trying to be bold and original and one trying to be a well-executed anime standard, and when Nanami moved into Sakurasou those fault lines became much more pronounced.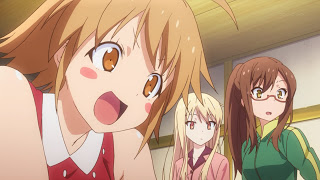 If there's a case to be made for Nanami's presence, it's as a catalyst for moving both Mashiro's character arc and her relationship with Sorata. We have seen legitimate growth with her (that was a worry for a while) in the way she's obviously playing up her own incompetence as a way to keep Sorata bonded to her, and her jealousy of Nanami's familiarity with him. Her character is a bit extreme to be believable sometimes, but in context it's believable that she's so socially inept that she doesn't actually understand what she's feeling as jealousy – just as "I don't like it". It feels to me as if the "I need to feel love to write about love" angle is way too close to the love hotel episode, but that journey for Mashiro is one of the two major plotlines in the story.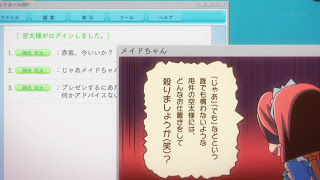 The best part of this ep for me, by far, was the way it portrayed Sorata's experience with the presentation and his feelings in the aftermath. Damn, it was harsh and unforgiving – but it communicated Sorata's nervousness and intense feeling of inadequacy beautifully. It also showed exactly what happens when you over-prepare for a presentation, as the introduction of one random element – the well-meaning question from game designing legend Fujisawa Kazuki – threw him completely off his game. Sorata has never been more sympathetic than he was here – just a 16 year-old kid woefully unprepared to face such an adult situation, someone who wanted something so badly he could taste it but lacked the confidence and experience to make his own case.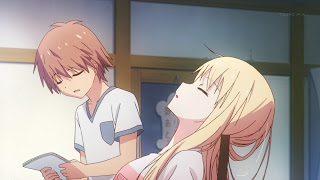 This, of course, is the other major plotline of Sakurasou – Sorata's journey of self-discovery, and one senses that the novelist is most comfortable with this material for it's here that the story achieves real originality and poignancy. As good as the presentation scene was the follow-up scene as he sat fighting back tears on the steps was just as good, especially when Mashiro showed up and told him she'd (naturally) gotten her syndication. This is the curse of the "normal" person when surrounded by people like Mashiro – and the anger and resentment he felt brewing in him at her success was spot-on. Intellectually he knew it was wrong and tried to push it away, but he knew he couldn't as long as she was there – so he pushed her away instead. At that moment, all you want is to be alone – and the last person you want to break that solitude is someone for whom success comes as easily as it does for Mashiro. Especially if you're in love with them.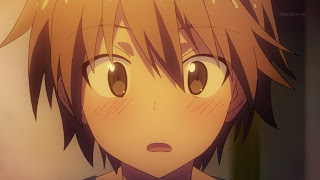 I can't help but feel that the episode would have had more of a lasting impact if it had more or less ended there, or even better with a still-depressed Sorata discovering a grim and solitary resolve never to feel that way again. But as has happened before, the series pulled its punches when it came to the ending and went for something very conventional – an uplifting fanservice sketch with everyone sneaking into the school pool and Sorata winding up upbeat and inspired. Once more I feel that there's a great series inside Sakurasou straining to get out, if only Kamoshida-sensei (and Okada-sensei, I suppose) would listen to the better angels of their nature and trust the audience to come along. In point of fact, what we're getting instead is a fascinating but frustrating study in contrasts playing out on screen every week. When Sakurasou is good, it's very, very good – and knowing that keeps me coming back for more, hoping that's what wins out in the end.