That episode didn't do much to clarify my uncertainty over what sort of series Sakurasou intends to be over the next few months.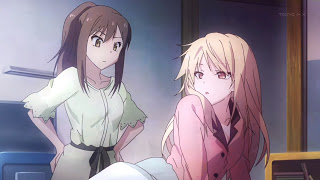 I might be swimming upstream on this, but the Nanami arc felt like a step backwards to me. It's not so much that the last couple of episodes were more serious than the first four, which dealt with some pretty dark emotional baggage, but these felt heavier somehow. There was an air of predictability to Nanami's situation that was largely – though not totally – absent from the episodes centered on Mashiro's adaptation to life in Japan and Jin and Misaki's dysfunctional non-romance. No series has an obligation to present material that hasn't been done before, but for me at least Sakurasou certainly felt fresher and more compelling when it was doing so.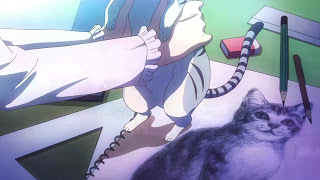 I suppose the most practical question would be this: do we have a triangle centered around the main character, or don't we? It's certainly beyond doubt that Nanami is interested, as illustrated in her pal Torajirou's admonition to "get him on the bed already". But so far, she's the only corner of the triangle that's expressed an overt interest in anyone – Sorata and Mashiro are still in the anime self-denial stage. I don't think there can be any question that Mashiro has strong romantic feelings for Sorata – though I very much doubt she has the emotional vocabulary to frame that verbally – and he seems to reciprocate. Neither one of them are expressing their feelings very well, but Mashiro has the better excuse – she's patently helpless in any and all practical affairs. Sorata's is simply that he's an anime character.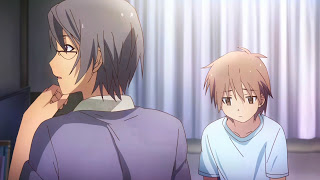 Personally I hope the series doesn't go in the traingular direction, because there won't be a whole lot of suspense about how things are going to end up. Chronicling Sorata and Mashiro's relationship once they start dating seems a much more fruitful path to follow, and even better would be to focus on the odds and ends of the odds and sods in Sakurasou rather than a main character romance at all. Jin and Misaki are already quite an interesting pair, and Ryuunosuke has the virtues of being a virtual unknown, a confirmed oddball and the voice of Horie Yui (eventually). It's that question that nags at me just about constantly with this show – how much is it going to think outside the box, and how much will it remain trapped inside it?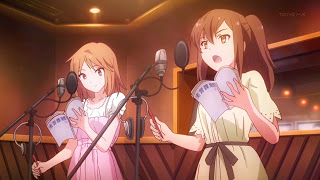 I think the real acid test for Sakurasou is going to be quite straightforward – what kind of growth will we see from Sorata and Mashiro, whether as a couple or as individuals and friends? Nanami isn't my favorite but she's not so bad that she presents a real obstacle – she's just the most conventional anime character in the cast. With Sorata at least we're seeing a growing focus on trying to better himself and find a path in life. Mashiro is a bigger problem, I think. Right now she's cute, completely brilliant at a couple of things and hopeless at everything else. Her personality is a bit of a suspend-disbelief affair but at least it's interesting – now I want to see her actually learning how to function as a member of society (or at least one small, very weird piece of it) rather than relying on others to do everything for her. I'll withhold judgment on Yuuko (Ogata Yui), who was introduced after the credits and who I assume is Sorata's sister. The waters the series is sailing into with that character are riddled with some very obvious mines, but I'm not going to assume the worst – Sakurasou is certainly well-written enough at its best to avoid most of them.