The waters the series is sailing into with that character are riddled with some very obvious mines, but I'm not going to assume the worst – Sakurasou is certainly well-written enough at its best to avoid most of them.
Well, it was a nice dream, anyway.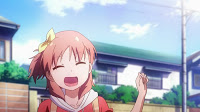 I'm going to disappoint anyone who expects a long rant about the shortcomings of this episode, because I don't see much point in it. If you thought it was great, nothing I say is going to convince you otherwise. If you thought it sucked the paint off a trailer, you don't need me to reinforce your opinion. I'll just say my favorite part was the bit when the train doors closed and the ED started, and offer a couple of brief observations.
First, what surprises me is the lack of imagination. Whatever else you might say about Okada Mari, she's rarely this derivative – when she pisses me off, she does so in interesting ways. This was very tired, played-out and derivative stuff. I haven't seen a writing credit yet but I'm hoping this episodes wasn't written by her personally.
Second – no, I can't justify why this was fingernails on a blackboard and I mostly like Little Busters!. But if I were to try in the fuzzy manner which is the only possible way I could, I'd say that LB, for all it's excess of moe, feels natural about it – as if that were the only way LB could possibly be. What we saw this week – the scene-wipes being a perfect example – felt very forced and calculating to me.
Finally – what really puzzles me about Sakurasou is just what kind of series this is. Is this schizoid behavior the source material or the adaptation? What we saw this week bore little relation to the subtle, character-driven, genre-bending creativity of the first four episodes.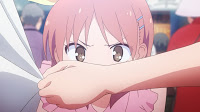 I'm not giving up on Sakurasou based on this admittedly harrowing turn – though if Yuuko had been added as a regular it might have been a different story – because good bands have bad albums and good shows have bad episodes. The Nanami arc was a definite step down and her presence at Sakurasou hasn't helped matters, but they weren't bad episodes. I would be lying if I said I wasn't pessimistic, but a show capable of surprising you with a disastrous misstep can surprise you by righting itself, too. As always in life, hope for the best and prepare for the rest.
Oh, and the bit where Mashiro stuck rice all over her face was cute, and some of the stuff with Misaki and the driving instructor was fairly funny.