I know a government conspiracy couldn't be too far off…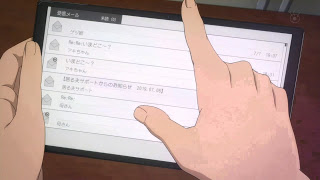 It's looking like a pretty darn good season on NoitaminA after all. Psycho-Pass is rounding into form nicely, and I've loved Robotics;Notes right from the beginning. The thing about this show is that even when things get heavy (and the destruction of the solar system is pretty darn heavy) there's a laid-back quality to it that's totally working for me. It makes a nice bookend with P-P, which is all bombast and flair, and both for NoitaminA and Production I.G. these are series that seem to complement each other perfectly.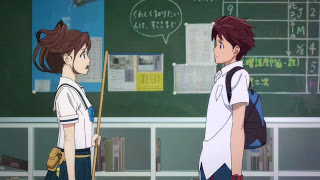 Central to the success of the show is the development of Kaito as the main character, and we're seeing plenty of that. Kaito is a very different sort of lead than Okarin (let me get this straight, Nitroplus: these guys are both supposed to be 18?) as befits the fact that R;N is a very different sort of show than Steins;Gate. Kaito is proving to be very much more than he appears: smarter, tougher, more feeling and more involved, and carrying more painful baggage. He fulfills the first requirement of a lead, which is that he's someone you don't mind spending time with every week, but he's proving to be genuinely interesting in his own right, and suited to be the catalyst for the story.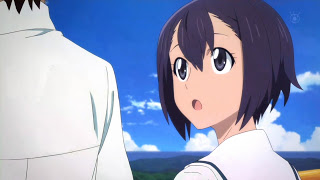 As with S;G, we have the story developing on two fronts, the personal and the conspiratorial – and each are critical to the success of the overall product. I'll repeat my observation of last week that the character interaction on this show feels very natural, because it definitely does. We had a new element introduced into that mix this week with Daitouku Junna (Tokui Sora), classmate and failed martial artist, who finds she shares a common interest with Kaito regarding the urban legend of a mysterious ghost who appears at the old launch site. Her interest in Kaito is obvious but nicely underplayed, her reluctance to visit the robotics club being one obvious clue. Likewise Akiho reveals her own feelings when Kaito tells her about the outing later – "You can date her all you want" huh? – but the nature of her relationship with Kaito is exemplified by the fact that he walked into her room casually. And by his "Yeah, yeah" response to her order to knock. She's in the friendzone big-time for now, and in Nitroplus/5pb's world that can be a hard place to break free from.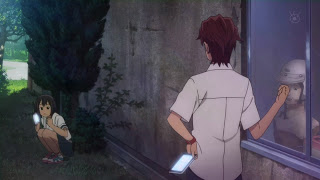 Of course as the interpersonal side of the story continues apace with an appealingly innocent quality, so too does the conspiracy – and that took another huge but low-key leap forward this week. Daitouku gives a name to the incident that changed Aki and Kaito's lives forever, "The Anemone accident", though it's clear she has no idea Kaito was involved. Much more information comes when Kaito is finally able to make contact with the ghost in the machine, and it turns out she's been trying to contact him for 8 years (29 times). Her name is Airi (Rie Kugimiya) but when she tap her, she turns into "Sister Centipede" – and she has a lot of answers that raise more questions.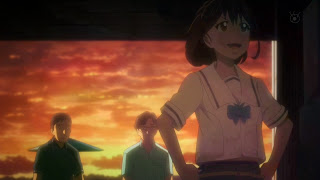 There's a lot to speculate on here. Is the date that Airi was created – 12/24/2008 – important? Is the password that's been assigned to Kaito, "Hiddenhand"? What's the story with "The Buzzer", which has been broadcasting from Russia since 19990 (as with S;G, we have real-world conspiracy elements seeded into the plot). Most importantly, what's up with Kimijima Report #1, the hidden file Sister Centipede reveals on Kaito's game console? What Kimijima says in the report is that NASA discovered the existence of magnetic monopoles in 2000, and along with it the proof that the sun would explode soon (no date given) and then launched a massive misinformation plan to hide it from the public (perhaps the final episode of "Gunvarrel" was going to reveal the truth). As Daitouku points out – and it's interesting that Kaito went to her with this news and not Aki – is that if there's a "Report #1", there's likely at least one more…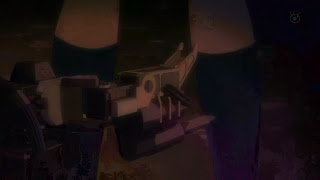 What's clear is that this world is seriously messed up – the constant geographically anomalous Aurora Borealis, sweltering Russian winters and frigid California summers, and beached whales – and that the solar flares Kimijima predicted are responsible. When Kaito mentions Kimijima's name to Irie she reacts with what can only be described as shock and fear, and Misaki and her boss have suddenly taken a keen interest in Kaito's activities. Kimjijima also says in his report that he expected to be killed, and it circumstantially appears likely that's what happened. I'm not sure how all this is going to tie specifically into robotics but it clearly will, and it's going to be fascinating to watch the disparate story elements slowly come together, just as they did in Steins;Gate.