The world of Psycho-Pass continues to get darker, stranger and more interesting every week.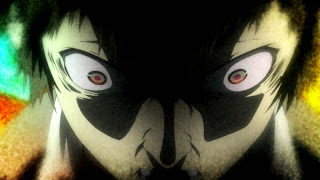 Considering the somewhat reflective way in which this episode started, it certainly managed to pack an awful lot into its 22 minutes. It ended up being one of the creepiest episodes yet, and also one of the most informative – we learned some interesting things about several members of the main cast, and about the man who appears to be clearing space for himself as the antagonist in the story. I'm not going to call him a villain yet, because this is Urobuchi Gen and there's plenty of evidence that the system the good guys are fighting to protect may not be worth protecting.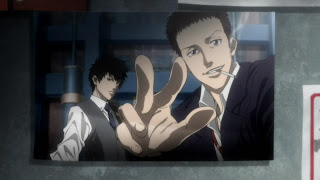 Let's start with Ginoza, who's been more or less the dedicated flatus patsy (I don't know what it means either, but I wanted to use it in a sentence) of the series thus far. What we knew already is that he used to be Kougami's partner, before the case that sent Kougami's psycho-pass through the roof and his career track into the ditch. What we didn't know – and still don't have the details on – is that he's been cautioned repeatedly "not to make the same mistake his father did" by Karanomori. Between that and Kougami's cautionary downfall it's easier to see why Ginoza is so tentative as a detective, preferring to let the enforcers make the leaps of intuition that solve cases so he can avoid the dark places of the mind. But given what we saw a few episodes ago, Karanomori's words can't help but make me wonder what the connection between Masaoka and Ginoza is, and why there's' no much tension between them. It's certainly possible that Ginoza could be Masaoka's son – it fits both the calendar and the plot – but I haven't decided yet if that's someplace Gen would be inclined to go.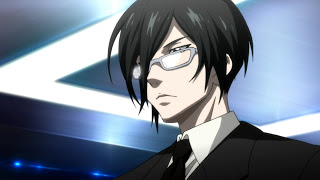 As for Kougami, he remains the dark, simmering presence at the fulcrum of the series. He still has nightmares about the case that led to his downfall, the one he's still trying to solve three years after the fact. It's revealing that Kougami was close enough to his enforcers as an investigator that the death of one of them – Sasayama – could have unhinged him so completely. It's something he can and Akane have in common, though he's nominally on the other end of the relationship now. As for the case itself, it was a hideous one – bodies dismembered and preserved through plastination, including Sasayama's, and the murderer was never caught, though the disappearance of a suspect did coincide with the end of the serial killings.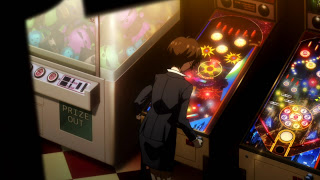 Cue the present, and some very strange goings-on a an all-girls high school. Oryo Rikako (the peerless Sakamoto Maaya, as always fantastic) is a campus Goddess – smart, beautiful, extremely popular. She's also a serial killer inspired by her favorite Shakespeare play, the gruesome "Titus Andronicus", especially the fate of Lavinia. But like last week's perp and the murderous drone worker, Oryo is only the symptom, not the disease – she's a tool in the hands of Makishima Shougo. Nevertheless the setting and manner of her crimes are especially unsettling, full of that quiet and savage brutality that Urobuchi Gen is so good at capturing. He equates serial murder and beauty so often in his fiction that it's impossible for me to believe that Gen doesn't see a sort of beauty in horrible violence himself – at the very least, he's fascinated by the way it tempts humanity with its siren song, and about what makes most of us able to resist the urge while others cannot.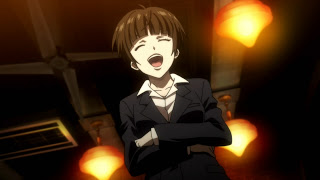 The notion of a criminal mastermind who's modus operandi is to find those with a motive to kill and give them the means to act on it is a very interesting one, and looks to be the hook that will allow Psycho-Pass to find some new trails to blaze in this well-worn territory. The ultimate question is one of motive, of course – what motivates a man to help others kill simply because they want to, and he can? The setting and the nature of the crimes suggest to me that Makishima's motives may very well be political – he may be a simple psychopath but it doesn't feel that way now. This is a society where free will is under constant threat from the system that nominally protects it, and this could very well be Makishima's way of making a statement about the moral and practical bankruptcy of Sybil itself. We heard many times this week about the lack of choice in this world, and Karanomori specifically mentioned (in the context of Ginoza's father) that there's no proven link between genetics and latent criminality as Sybil defines it. Each succeeding revelation seems to punch another hole in the rationale that (barely) holds this society together.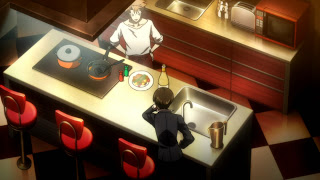 In the context of all this big exposition, there were a lot of nice quiet character moments here too, among them a scene between Akane and the relatively unexplored Kagari. It was interesting to see the two of them engaged in time-wasting behavior in the detectives lounge – she playing pinball and arcade games, he cooking – and in addition to humanizing the characters it also makes the artificial divide between inspector and enforcer seem even more absurd. It's also apparent that in spite of the fact that few people in this world drink actual booze for fear of addiction (though synthahol is apparently popular) Akane can hold her Montrachet quite well – better than Kagari in fact. She continues to distance herself from the bumbling naïf of the premiere – so much so that it might cross the border into unrealistic, but it's undeniably more interesting this way. I still see Akane as the wolf in sheep's clothing, the one who's sort of fooled the Sybil system already with her faculties escaping categorization. I never would have expected I'd be this close to calling her "formidable" by now, but at the very least she's full of surprises and not to be trifled with.