As many epic fights as this series has shown us so far, I get the sense that the big dogs haven't even started to hunt yet.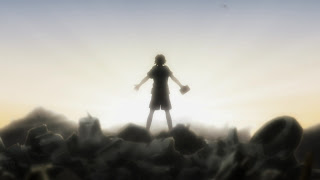 This episode was certainly a bit of an emotional roller-coaster, though that was to be expected under the circumstances. It started out feeling like a coda and ended up feeling like a prologue, with a whole bunch of really interesting stuff in between (much of it involving Hisoka). We also got a very interesting pre-open from the character who's seemingly done the impossible and come to rival Hisoka as a badass and fascinating anti-hero, and some background information that I suspect is going to turn out to be crucial long after the York Shin arc has run its course.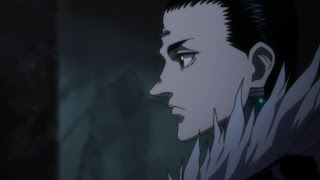 First things first, and that's the long-anticipated reunion between Kurapika and his friends. I can't help but notice that for one of the first times in many, many episodes Kurapika actually smiled and meant it – and it was the antics of Gon and Killua that brought that smile to his face. There's no doubt that Kurapika is a different person when he's with his trio of allies than when he's alone (and even with people like Melody and Bassho, he's effectively alone). This is an isolation Kurapika inflicted upon himself intentionally but it's an isolation nonetheless, and these two sides of his nature are always battling for supremacy.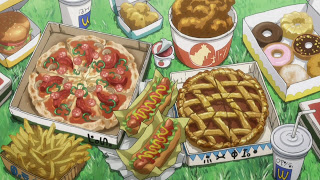 The change in Kurapika becomes obvious quickly enough – when he spills the beans to the others about his Nen abilities and the oath he swore to obtain them. It's the ever-practical Killua who asks the obvious question of why he shared that info, and Kurapika can only say "I don't Know". But two things are obvious – first that he trusts his friends implicitly, and second that he's been longing to unburden himself. But Killua's concerns are certainly valid, given that anything someone knows can be used against them – and that would be true even if the Spiders didn't have Pakunoda on their side. Friends are a weakness, but also a strength – it seems like Gon and Killua would fall on different sides of this debate, as on many things, but the die is cast now and what the others know can't be unlearned.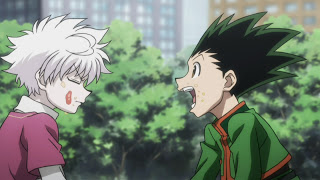 A call from Melody brings the news that the hunt for the remaining Spiders has been called off, and Leorio theorizes that it's because of the relationship between the mafia and Meteor City, where the Troupe has been revealed to originate – an officially uninhabited place where the 10 million residents "share a bond that's weaker than strangers, and tighter than family". Killua suggests an attack against the remaining Spiders to preempt any revenge attack by Nobunaga, but Kurapika decides to follow Gon's course and leave the surviving Spiders to fate and go searching for the eyes of his clansmen.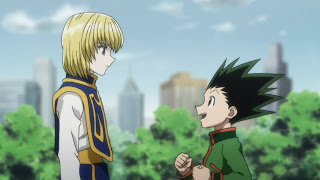 As so often is the case, it's Hisoka who shakes things up – with a simple text message of "The bodies were fakes" (with an adorable Hisoka emoticon signature). Chrollo has shared the news of his newfound ability to tell fortunes with the Troupe, and proposes that everyone return to Meteor City immediately to avoid the prophecy in Neon's fortune. Nobunaga challenges him – obviously a rare and significant moment with the Spiders – believing that only after Uvo has been avenged by the death of the Chain User should they go home. With the information Hisoka provides him we see Kurapika's world crumble around him yet again, yet there's a fundamental difference this time – his friends are with him, and they're not about to allow him to face the Troupe by himself this time whether he wants to or not.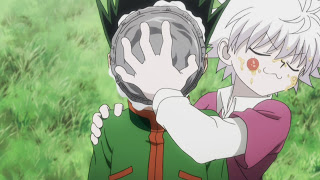 The sequences amongst the Spiders are even more fascinating than the ones with main foursome, starting with Chrollo telling Nobunaga's fortune, and Shizuku asking him to tell hers too. She casually declares that she's going to die next week because she's only got two verses instead of four, and solves the Chrysanthemum riddle for us – it refers to Shalnark and Paukunoda as well as herself and Uvo (Chrollo has, of course, already figured this out). Shalnark similarly greets his own predicted demise calmly – declaring himself expendable but bemoaning that Shizuku and Pakunoda are too valuable to lose (there's a fierce loyalty among these killers, that can't be denied).
But, as ever, it's Hisoka's actions that prove the most puzzling and interesting. He insists that Chrollo should tell everyone's fortune, in the hope of gleaning more intel about how to avoid the doom they predict. In his own he receives the following verses:
A red-eyed customer will visit your shop,
Half-angel, half-Shinigami
You would do well to sell the calendar's secrets
He will be especially pleased to learn the eleventh moon's secret
The customer will return on a hot day,
Leaving you alone with a man bearing St. Peter's cross
The false fourth moon will be torn away from the calendar
Only six pages remain.
But when he passes it to Pokunoda, it says the following:
A red-eyed customer will visit your shop,
Seeking to make a trade
The customer will use the sword of law upon you,
Taking the calendar's secrets with him.
The eleven-legged spider grows homesick,
Losing five more legs
Do not leave your temporary shelter,
For you are one of the remaining legs.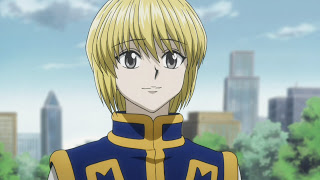 I hardly know where to start, but this seems like a good place. Why would Hisoka – a man already betraying his colleagues and holding his intentions secret – encourage Chrollo to tell his fortune, knowing how revealing it would be? As to the matter of the fortune – the first one anyway – it seems clear enough. "Half angel, half Shinigami" is a poetically perfect description of Kurapika, and the man Hisoka will be alone with is clearly Chrollo. He'll be torn away from the Spiders, leaving the six remaining. But why did the fortune change when he passed it to Pakunoda? I can only assume this is Transmuter sleight-of-hand from the master magician Hisoka – and that means the fortune he passed to Pakunoda was exactly what he wanted the others to see. If you're going to fake a fortune, why pass one that still makes it sound as if you're going to betray the others?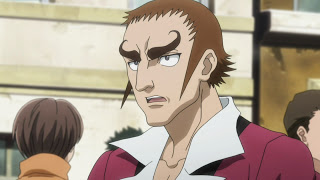 I don't know the answer, but my theory is simple – Hisoka is a boss. He's a stone-cold, fearless and shameless son-of-a-bitch, and he's doing this to set the stage for the fight he (and this audience member) so desperately wants to see. But he changed the fortune just enough to make it so he betrays the rest of the Spiders involuntarily, because he's not ready for the big moment just yet. It's clear from his reactions throughout the episode that even amongst this group of brilliant bastards,, Hisoka is never off his game and always the one pulling the strings. He sits, he smiles, he plays with his cards – damn, he's one cold motherfucker. But Chrollo is not a man to be taken lightly – he sees a long way even without Neon's ability, and his ability to manipulate rivals Hisoka's though his methods could hardly be more different. What a pair they are – two utterly captivating scoundrels whose eventual confrontation is going to shake the very Earth itself with its epicness.
Gon & Killua's Hunterpedia: "Bonolenov"