If you've been impatient for me to criticize the Madhouse Hunter X Hunter, your long wait is finally over.

There's no new episode next week. How could you do that to me after such a great episode, and that cliffhanger? There – never let it be said that I'm not hard on this show.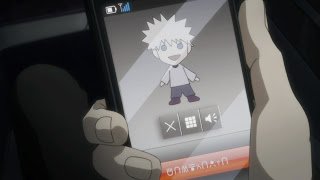 As is the norm with this series, there are any number of places I could start in laying on the praise. That may be even more true this week than usual, because rather than one character or one element standing out, it was a sort of all-purpose classic. If I were to pick one thing out that I loved that would be it – we got a chance to see just about every character on both sides in action, in just about equal parts (though Gon had the best moments both dramatically and comedically in his verbal battle with Chrollo and his reaction when Killua told him "Topknot" was nearby), and the show was a balance of grim violence, suspense, humor and character development.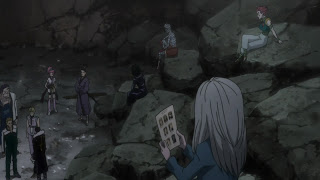 Let's focus in on a couple of key points. It was almost possible for a while there to forget we're not supposed to be rooting for the Phantom Troupe, because over the last few episodes we saw them at their most brilliant and their most internally loyal (especially Chrollo). What we got this week was a very firm reminder – these are evil people pursuing evil ends, and however self-destructive Kurapika's quest is he's absolutely right to want to stop them – and Gon's motives are even more pure, because his desire to stop them is not based on revenge, but a simple conviction that the good of the universe requires that such people be stopped. It's his duty, plain and simple – just as its his duty to help a friend in need. Whatever else happens, nothing is going to stop Gon from involving himself in this fight.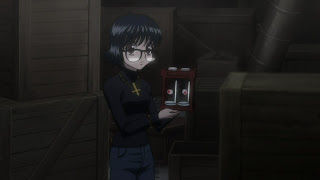 Chrollo remains an astonishingly smart and charismatic anti-hero, turning his brilliance towards solving the riddle of Neon's connection to the Chain User. There were some very revealing moments surrounding him this week, especially during the scene where Gon and Killua were captured. When Gon asked him how the Troupe could kill those who had no involvement with them, he seemed unsure of himself for one of the few times in the series, as if Gon had asked exactly the right question to vex him. He finally ends with "To verbally explain our motives – I'm not fond of it. But oddly enough… Or perhaps it's not that odd… Is that the key to understanding myself?" Here, for once, Gon and Killua are simply 12 year-olds without the experience to understand the nature of Chrollo's answer – how can a simple question be met with such a puzzling response? Just as revealing is his "I trust your instincts" to Machi when she suggests it'd be easier to kill the boys, and she said "I wouldn't trust my instincts." That's the key to Chrollo's leadership right there – he knows his people better than they know themselves, and he's more sure of them than they are of themselves.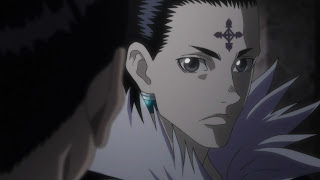 In the end, though, this was Chrollo and the Spiders at their most cold and vicious. The death of Squala, a fairly secondary character, was beautifully set-up in the way he was humanized by his desire to settle down with Eliza and the dogs and leave the bodyguarding life behind, and by his thoughts in the moments leading up to his demise. Of course his death was telegraphed the moment that happened – the moment Kotolpi tracked him down via the En in the fake eyes, in fact – but knowing the end of a tragedy doesn't diminish its power. Here we see that Nobunaga's loyalty to Uvogin isn't something admirable or noble – it's simply another premise for killing, and his comparatively likable personality doesn't mean a thing in the face of the man he is. The Spiders are killers of innocents (though Squala chose this path himself – sadly, he didn't leave the eyes behind) and it's Gon, with his innocent and straightforward view of the world, that sees through all the gloss that surrounds them and instantly captures their nature in a very different way than Kurapika does.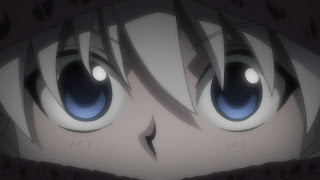 Speaking of Kurapika (in drag at last, just to reinforce the skeptics), he can thank his lucky stars that he has friends still willing to risk their lives for him despite the black road he's chosen. It's a small measure of humility, at least, that he finally calls Melody in to help – the final impetus, I think, being the realization of just how much danger he'd put a small boy in by sending Killua to spy on the Spiders. Melody's hearing proves most effective (she compliments Killiua's estinto step) and as the Spiders chase down Squala and the bogus scarlet eyes, Kurapika, Gon and eventually Killua chose down the Spiders. Here it's Killua whose assassin's caution sees most clearly, and he's furious at Kurpika's decision to go barreling after them despite being outnumbers three-to-two. But just as Gon goes after Kurapika because someone has to (I don't know whether his "good idea" was anything more than an attempt to get Kurapika to stop his charge), Killua swallows his bile and chases after the both of them – because he's not about to let his friends, especially Gon, face that danger without him.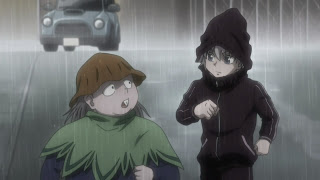 That whole showdown with Gon, Killua and Chrollo pretty much stands in stark brilliance without me having to say much about it. As Leorio sits stuck in traffic (I love the way mundane elements like traffic and trains were important plot elements here – and it's probably for the best that Leorio couldn't get any closer) and Kurapika and Melody hide, Gon and Killua surrender themselves to Chrollo. Simply put, they do it to protect Kurapika, just as Melody says – they realize that Kurapika has made himself the one indispensable figure in fighting the Spiders, and there's at least a small chance that Nobunaga's affection for Gon will keep them alive long enough to be rescued. In an episode full of darkness and death, this is a purely noble act by Gon – and a purely noble act for Killua, who does it to try and protect the friend that he cares about more than anyone in the world. The whole scene – the lightning, the way Chrollo's face is framed in darkness, the look in Gon's eyes – is another feather in the cap for Madhouse in this adaptation.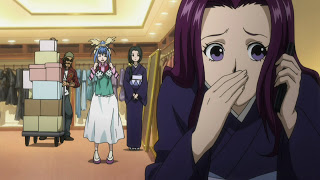 With Pakunoda revealing the true nature of her "Memory Bomb" ability, there's nothing to keep the final battle from taking place (though Squala never voluntarily turned on his friend, right up until the final moment). Nobunaga and Kurapika were always destined to face off, I suppose – being as how both are primarily on a quest for revenge now – and Kurapika has more or less no choice but to confront the Spiders directly now that his recklessness and hate have gotten Gon and Killua captured. Neon's verses are hanging heavily in the air as we look ahead to next week's December 2nd's episode, when all of the mammoth plot threads in the York Shin Arc look as if they're finally going to be tied together.
Gon & Killua's Hunterpedia: "Nobunaga"