With this many iconic characters running around, the hard part with H x H sometimes is figuring out who the star of the episode was.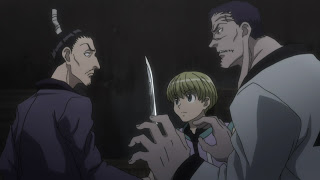 As always with this series, it's a mark of its greatness that it can offer an episode with no action in the middle of an action-based arc and not miss a beat, and this one was dripping with tension and the sense of the many bombs waiting to explode. It's hard to say who made the greatest impact here, because Gon, Hisoka and Killua all had many signature moments, but that's not doing justice to Chrollo – and in fact, Kurapika had one of his most interesting episodes yet (more fine work from Sawashiro Miyuki, making we wish she'd play against type more often).
Let's start with the magnificent bastard, Hisoka. I think he gets more out of his screen time than anyone in anime – my God, the man has presence. Hisoka is arguably Togashi's most unique literary creation, an anti-hero quite unlike any other in manga, and hearing Namikawa Daisuke (who's also playing Squealer in SSY and was Waver in F/Z – talk about range!) go toe-to-toe with Mamoru Miyano's Chrollo is one of the most interesting face-offs in recent anime history. As brought to life by Madhouse Hisoka's facial expressions tell more story than entire episodes of some series, and his internal monologues this week were especially great – proving that it's not just scrappy little boys that get him excited, but debonair criminal geniuses too.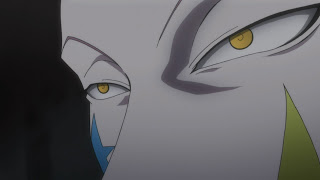 It's easy to see why Hisoka wants so badly to fight Chrollo, and as speculated here last week he did indeed use his Nen ability to write a fake fortune specifically for the purpose of setting up a possible fight with his obsession. That he was able to think quickly enough to craft the exact verses he wanted in perhaps the most remarkable thing, but Hisoka has ice water in his veins at all times. Chrollo is probably the only one clever enough to have figured out the riddle that Hisoka laid out for him – but by appearances he still doesn't realize he was set up, and doesn't that make Hisoka even cleverer than he is?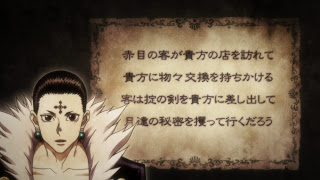 On the opposite side of the spectrum we have Gon and Killua, each of whom were very much in their element this week. Gon's straightforward nature leads him to want to fight the Spiders despite the lack of potential gain, which Killua finds illogical. For Gon it's about helping out a friend, and trying to bring a little justice to a world sorely in need of it. He professes to have a plan to procure a copy of Greed Island that doesn't involve making six billion Jenny in two days, though he won't share just what the plan is – and Killua is rightfully skeptical. Gon estimates his chances at "seventy percent", which falls to sixty when Kil presses him, and Kil figures is really 50-50 (and that might still be generous).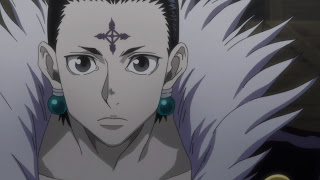 If I had to pick though, I'd have to say Killua was the star of the episode – because he made me laugh hard on more than one occasion, and because the nature of his relationship with Gon has never been more proudly on display. From the start his irritation at Gon for wanting to take on the Troupe was both amusing and touching, but surely the best part was when Gon was trying to talk Kurpika into accepting their help, and Kil's internal monologue kept repeating "Turn him down!" And of course his silent "That's exactly what he wants to hear!" when Kurapika warns Gon he'll be risking his life is spot-on. And this was my favorite moment of the episode. In addition to the pure comedy gold, though, it's quite touching to see the extent to which Killua has taken Gon's protection on as his life's mission. They're the same age and Gon is arguably already stronger in terms of Nen, but Killua clearly sees himself as the wiser big brother here, and protecting Gon – both physically and spiritually – is obviously the first thing he's found in his life that's a positive goal, and not a negative one. Everyone indeed proved the strength of their friendship with Kurapika here, but Killua's bond with Gon is clearly the strongest in the series.
As they were shared fully this week, here are the prophecies for the remaining "doomed" Spiders:
Pakunoda:
"On a dark night with very little light,
You will face two choices within a very small room
You must choose between pride and betrayal
While the death-bringer hovers near.
Shalnark:
"Do not make any phone calls
When it matters most, you will be unable to reach anyone
It would be unwise to answer the phone,
For the death-bringer will come calling one time in three."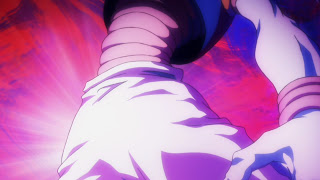 The battle lines have emerged now, with many different parties pursuing different goals. Chrollo has decided to stay in York Shin as the best way of foiling Neon's prophecy, which is exactly what Hisoka – who will be staying put in the hideout – wanted. Kurapika has laid the nature of his abilities out to the others, and staked his plan on capturing Pakunoda quickly, for obvious reasons – refusing Gon's offer to have a Nen blade pointed at his heart to protect Kurapika's identity. We finally see – and hear – from Koltopi, whose ability is revealed when Chrollo orders him to create more fake hideouts to foil those who might be watching (as Killua is about to start doing). And there's the matter of Greed Island too, which is after all the main character's main goal here – and the name of the next arc – and let's not forget about Nobunaga, who still wants to try and recruit Gon to the Spiders. Machi is nervous about this and senses that the boys are more than they seem – and Chrollo again proves his worth as a leader by recognizing that her intuition is the strongest in the Troupe. All in all, the pieces are in place for a wildly unpredictable climax over the next several episodes.
Gon & Killua's Hunterpedia: "Feitan"