This ep was definitely a gift for the soccer geeks in the audience.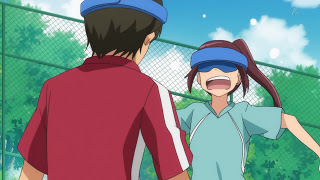 I'm going to risk repeating myself now that we're 28 episodes into Ginga e Kickoff, but for a serious fan of sports anime, what it offers is so rare that it's hard not to keep talking about all the things it's doing right. Sports anime that get the sports right are relatively rare, and so are those that offer strong characters with real development. One that manages to get both sides of the ledger down pat is almost unheard of, and that's what we have here. Fans of this sort of series are a definitely minority – especially among English speakers – but we're very lucky to have a series like this come along once in a while.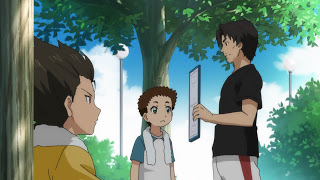 We've had a few episodes now that focus strongly on the character side of the series, but this one was solidly back in action mode. The thing is, of course, that with Ginga the character development is directly represented in what happens on the pitch – they're two halves of the same whole. We've been building towards this moment – with Tagi and Aoto on-board and Reika finally getting herself into playing condition – pretty much since the OP of episode 1, so this ep represents rather a watershed moment for this series. It was a recipe for a letdown, but I think it lived up to expectations by delivering an exciting episode that rewarded the buildup and stayed true to what the series has been all along.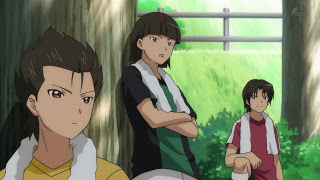 We've seen soccer in three distinct forms in this show – four, if you count blind soccer, which made a brief appearance this week as the rest of the team was introduced to it as a training tool – but this one might have been the Goldilocks moment. We've had the frantic hockey-like frenzy of futsal, the traditional chess match of 11-on-11 football, and now 8 vs. 8, and I think for the Predators this might just be the best fit. I like it very much as a viewer, too – more space and fewer players means more passing, more transition, more scoring opportunities and everyone playing more of a "total football" role. It's an exciting brand of soccer and gives the cast of Ginga a chance to show off their skills in new and interesting ways.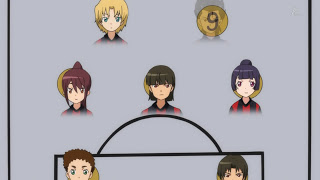 Everything that happens with Momayama Predators on the pitch – Reika's crisis of confidence, the rivalry between Aoto and Kota, all of it – always comes back to Shou. He proves again here that he might just be the greatest Captain ever, because not only is he razor-sharp as a tactician but completely selfless as a player (and having played a little soccer and watched a lot more, that second quality is extremely rare). The Golden Future Cup is a World-Cup style round-robin, except with 16 teams instead of 32 and only the 4 group winners advancing. The round-robin proves easy enough for the club – Tagi keeps a clean sheet for all three matches, Kota and Aoto tie with four goals each, and Ryuji has time to berate Reika for a mistake that didn't even cost the team.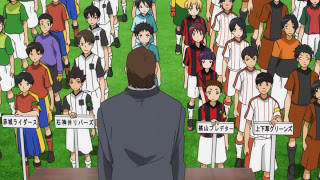 In that kind of environment Shou's skills aren't really on display, but when things get difficult it's clear that the team relies on him to show them the way – and that's especially true because Masaru-san-chan again shows he's an outstanding youth coach by letting his players take the lead in deciding how they're going to play. The opponent in the semi-finals is Shakuji Rivers, an 8-on-8 specialist team that relies on a custom 1-2-1-2-1 triangle formation. The Preds know it's coming thanks to Furuya-papa's video camera, but it still flummoxes them – they trail 2-1 at halftime, and much like the opponents of teams that effectively use total football and "taka-taka", they're exhausted from chasing the ball, while the other side relies on short passes and retaining possession.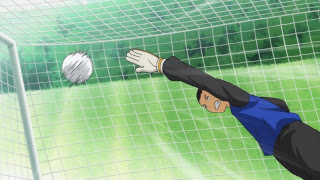 Exhausted, that is, except for Reika-chan – who has, after all, been working out harder than anyone and is carrying about 25% less weight than she's used to. Here Shou's soccer genius shines through again – on his own volition he restructures the side, putting Reika up front with Aoto as a "trash collector" and moving Kota to the midfield, where his threatening shot will draw out the defense. It's testament to Shou's ability as a leader both that he thought of the strategy, and that his teammates – even Kota – were willing to set their egos aside and trust him enough to try it. It took a lot of courage to invest that much faith in Reika when she didn't even have it herself – and Shou manages to get her to believe by sheer, relentless force of will. And indeed, it's a smashing success – Reika proves that she has real ball-hawking skills by scoring two goals (one on a header off a brilliant "blind soccer" inspired pass from Shun) and Erika gets into the tally sheet too. Though one suspects she'd have been happier scoring a smile from Aoto than scoring a goal. The second half is a 5-0 whitewash for Momayama, and it's on to the finals.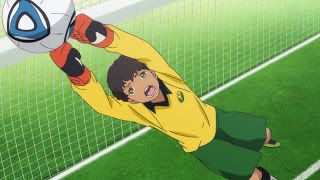 The finals opponent is Nenotoko Guts ("Guts!") who appear to be a hard-core physical team with a hard-ass coach, which will provide a nice contrast with Masaru and the Predators. With 11 episodes to go it seems very, very likely that the Preds are going to Spain for the Galaxia Cup, and that's what will provide the concluding arc of the series – so their isn't as much suspense as their might be for the finals match with Guts. But with this series there's a lot of pleasure to be had by watching these kids grow as players and people, and seeing them (mostly Shou) figure out how to get to the next level. It sounds as if it may be a while before the next ep is subbed – and that's going to be an agonizing wait.