This was a very effective follow-up to last week's game-changer episode, and I can offer Chuunibyou no more straightforward compliment than that.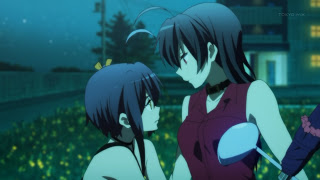 I still find the writing with this show a little clumsy at times – and given the experience of the anime staff I assume that's a function of the source material – but it's become clear that there is a beating heart at the center of it that transcends the shameless pandering and screwball comedy. In short, Chuunibyou is actually about something after all and not just that, but something interesting – and it was what I hoped it might be from the beginning. I can't escape the feeling that this is a great idea with execution that's only good, and in other hands it might have been a classic – but if the last four eps are as good as the last two, it still has a chance to be a keeper.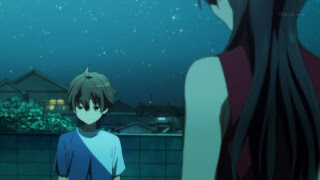 What's interesting about Yuuta and Rikka as a potential pairing is that despite their age they're in such different places in their lives. What I think Yuuta started to see this week is that while he was so proud of having left his childish fantasy life behind, in reality he was only playing to begin with – there was nothing in his life that drove him to become the Dark Flame Master except boredom and a desire for attention. For Rikka chuunibyou is a survival mechanism – the merits of which are a different debate – and he's really in no position to lecture her on her lifestyle because he can't understand what she's feeling. I think that's why he's been a little easier on her than he might have been – that, and the fact that it's obvious there's a 14 year-old inside him that still find things like this really cool. And 16 really isn't nearly as far from 14 as 16 would like to believe.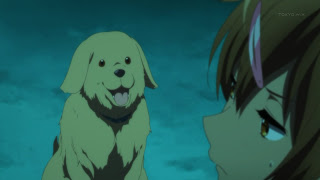 If anything the very distinct – I won't say abrupt or jarring, because the transition was quite well-done – shift in the show's focus has left the supporting cast of Chuunibyou out in the cold to a certain extent. In particular Nibutani and Dekomori seem to have little role to play now apart from that of comic relief, which is a shame as I still think Nibutani is potentially the most interesting character in the cast. That's why it's interesting that Isshiki and Kumin, who were almost invisible for six episodes, have been written into a major supporting role now, It actually helps to have another pairing to shift the focus off of Yuuta and Rikka towards for a few minutes here and there, and both characters have proved fairly enjoyable. I especially liked the exchange where Nibutani told Kumin "the innocent act will only get you so far" before realizing it was all an act, and declaring "I haven't met a real airhead for quite some time." I doubt we'll see much real progress between Kumin and Isshiki but they're fun to watch together.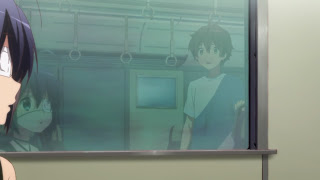 As for the chance of real progress between Yuuta and Rikka, I think it has to take a back seat to the question of chuunibyou and the role it should have in our lives as young adults. It's not so simple as Touka says when she tells Yuuta "That's reality. That's what it means to be an adult." That's a gross oversimplification and a bit of a straw man, and I hope the show does better in presenting that argument – but on the flipside, there's no question that Yuuta is romanticizing (for what reason, fill in the blank as you see fit – a couple of obvious possibilities present themselves) Rikka's position here. She is using her fantasy world as an escape from the pain of her life, and she is running away from reality – to an extent that's ultimately unhealthy for her. The real question is whether that's necessarily something that should be discouraged.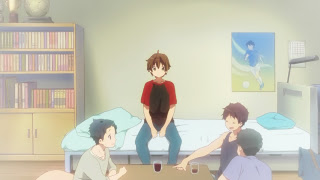 I'm quite curious to see where the show comes down on this issue in the end – I hope we don't have an ending where Yuuta happily embraces the Dark Flame Master and brings all his geek bling out of storage, but I'm curious to see the position Chuunibyou takes on escapism and its rightful use a… well – escape. I don't think the romance can be ignored, not when we have Rikka wearing Yuuta's shirts and commenting on his smell, and playing with his hair while he sleeps – and it's clear that he's opened himself up to the possibility that she and he might do things together (though I don't know whether it's more the idea of he and anyone doing those things that excites him). Their scenes alone together on the train, in his house and at the konbini are quite charming and some of the most low-key and unforced in the series, and I'd like to see more of them over the last few episodes. It doesn't necessarily have to be about romance or even chuunibyou – maybe it's enough that he understands her, and gives her a path back to reality that isn't too scary for her to walk.