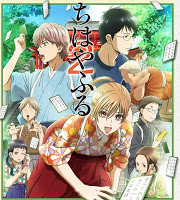 Irino Miyu and Han Megumi in Chihayafuru? That thud you just heard was me hitting the floor.

Just a couple of tidbits to report, but damn, they're good ones. Some S2 concept art is out, showing the two new Mizusawa Karuta Club members. And the really exciting news was that Irino Miyu (who's sadly absent from anime these last couple of seasons – college demands?) and Han Megumi will be playing them. I shouldn't have to explain why Miyu-Miyu being added is great news, but I'm excited about Megumi Han too – she's doing a fantastic job as Gon and I'm excited to see her get more work.
Equally good news is the fact that I see Asaka Morio's Kanji on the staff list on the website, though I haven't seen his return as director officially announced yet. No reason why Madhouse should have changed directors, but Asaka-san seemed unsure himself a few months ago, so it's good to see he's back.