OK, that was officially my favorite H x H episode that didn't feature my two favorite characters…

You know the drill – episode was awesome, blah blah blah. Well, sorry, but it was – with a beautifully creepy and almost sentimental buildup that led to one of the all time-sucker punches to finish the episode, with a final artful flourish for the cherry on top. Only really great shounen can be epic and intimate at the same time – the Kyoto Arc of Rurouni Kenshin is my favorite example – and we're really seeing it in York Shin, as the forces of evil, more evil, sort of evil and who the hell knows gather for what's sure to be one of the epic battles of all-time.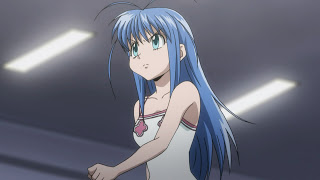 New spices are being added to this pot all the time, and a lot of the focus was on Chrollo Lucilfer this time around. Chrollo has been something of an enigma so far – mostly sitting quietly by reading a book, always restrained, but at the same time the man who's the unquestioned leader of the most powerful criminal gang around – and the man who Hisoka actually recognizes as a worthwhile opponent. Up to know we've seen little of what makes him so terrifyingly strong, but that pretty much all changed this week. His encounter with Neon was fascinating, even before she told his fortune – very low-key, touching on the afterlife and Neon's past (Galactic Grandma?). Chrollo blended in seamlessly in his suit and tie, an completely disarmed Neon (who, frankly, deserved what she got for being stupid enough to ditch her bodyguards after all that had happened).
Them there was that fortune – cryptic but tantalizing. Chrollo was curious enough to handle Neon himself rather than delegate it, and his reaction showed an almost spiritual side. It's very clear that the first part refers to Uvo:
"The calendar looses a precious component.
The remaining months gather to mourn.
The mourners play a melody,
while the eleventh moon quietly rises."
"The chrysanthemum withers and falls,
to lie on the ground beside bloody scarlet eyes.
But you will remain supreme.
Even after losing half your limbs."
"Enjoy the interlude.
Search out new allies.
East is the direction to go.
You will find one who awaits you."

I almost don't want to try and decipher it, because I'd rather be surprised by what happens – but it's obviously predictive, given what we know of Neon (and Togashi). Is Hisoka the eleventh moon – and is he "the one who awaits you", perhaps for the fight Hisoka craves? The implication seems to be that Chrollo will continue to lead the troupe, but will lose many members (half). What really interests me is the chrysanthemum, and the "bloody scarlet eyes" – why are they on the ground?

It was almost possible to believe that Chrollo was going to let Neon go – he, like Nobunaga, clearly felt sentimental about the loss of Uvogin (more of those tears that infuriated Gon so much) and seems to be genuinely involved in her story. But no, she was merely a useful tool to him – to get to the upper floors of the cemetery building, and perhaps in other ways – and his method of expressing his sentimental mood is to order the Spiders to "go absolutely crazy" and turn the auction site into a gargantuan bloodbath to honor their fallen comrade. Very, very twisted – and given that what we've seen of the Spiders up to now is pretty much second gear at best, terrifying to contemplate.

The sheer invincibility of the Spiders – tainted only by Kurapika's defeat of Uvo – makes their upcoming battle with Silva and Zeno Zoldyck all the more fascinating. It almost seems as if we're gearing up for a fight with two opponents too strong to ever lose – so what the hell is going to happen? The Zoldyck's are clearly in a different league than the other hired guns the mafia has brought in, one of whom is dispatched by Chrollo and his "indoor fish" in one of the most unsettling scenes of the entire series. What's more, Kurapika is involved, and determined to act as the lone wolf – and he's made the connection between Zeno and Silva and his little friend Killua. The long-awaited intersection of his path with the boys must surely be close now, as we near zero hour for the great battle at-hand, and all of them have a stake in it.

It's pretty remarkable that an episode can go from being so reflective to being an orgy of violence and gore without a missed step, but this one did. The short conversation between Melody and Bassho at the beginning, where the poet asked the very pointed question as regards Kurpika – "What's the point in living a life where you're basically killing yourself?" – led to a quiet and somber calm before the storm, but what a storm it was. The Spiders with their leashes off are a terrible thing to behold, too terrible for the likes of Kurpika, Gon and Killua to let roam free in the world without at least attempting to stop them. Killua might just have had the cunning and detachment to stand down, but Gon never would – and with his father and grandfather involved, Killua is a part of this whether he'd otherwise choose to be or not. Capping off the episode with the normal ED replaced by Chrollo's requiem was a beautiful touch, exactly the right mood on which to bring the episode to a close.
Gon & Killua's Hunterpedia: "Phinks"