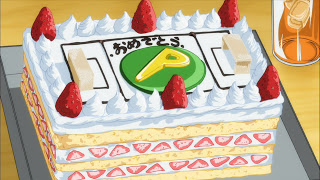 It had to happen sooner or later, with a show this good – it's in the bloodstream, like a virus. We have a second subbing group at last, Reika – and like Oyatsu, their work is high-quality. So feel confident in grabbing these new episodes – as for me, I'll take my Ginga any way I can get it and it's awesome to get a big infusion of the show after so long. Since this is arguably the most consistent show of the last two seasons (along with Tsuritama) you should have a good idea what to expect.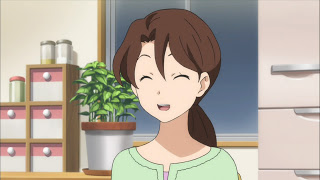 As for these two episodes, it's pretty much an all-out avalanche of pubescent GAR – the male pride (plus Erika and Reika, of course) flies through the air like missiles (or Aoto-Gonzalez free kicks). The episode gets off to a low-key start with Shou-kun's mom and sister treating him to cake in honor of his first goal, which I thought was a nice touch, given that they didn't seem to be present to see it live. We also get some very funny stuff with Kyouko-san being persuaded by the Furuyas Dad (who I should haven mentioned earlier is played by the excellent Morikawa Toshiyuki) to try and cook for Masaru-san-chan, with predictably disastrous results (so horrific, the mess she made of the kitchen was pixelated).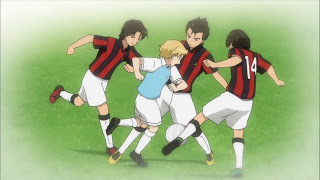 Really though, these two eps are all about Takuma Aoto-Gonzalez, the pint-sized soccer genius who blows through the series like a typhoon, leaving no one unaffected. Blonde, blue-eyed, angelic and petite, Aoto-kun's looks are deceiving – he has moves than put even Kouta to shame. The triplets are all worked up, obviously – even the normally implacable Ouzou – but Aoto's influence is profound. If Shou's not careful he's going to lose Erika, whose head has definitely been turned, and even Masaru-san can only watch slack-jawed as the tiny terror unleashes his Maradona-like arsenal in easing past seven defenders, and be put in mind of how much he misses being a young phenom himself.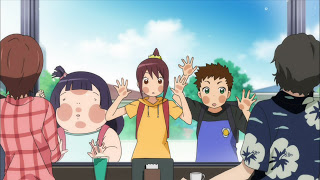 Ouzou and Masaru-san both figure prominently in the first of these episodes. Ouzou is the most interesting of the Furuyas most of the time, and here he bemoans sharing the same DNA as his hot-headed brothers, who obsess about besting Aoto in single combat (especially Kouta). But even Ouzou, the best defender of the three, can't stop Aoto by man-marking (turns out the only way the Predators defeated the Heavens last year was by triplet-teaming him) and this failure clearly lights a fire under him, though he tries not to let his displeasure show. As for Masaru, I'm reminded once again of just what a great youth coach he is – maybe my favorite in all of anime. He has a great talent for keeping the focus positive without dismissing the importance of winning, and he's always finding a way to make the game fun for his kids. Last time it was "The Hunt", this time it's a scoring war – recognizing (thanks to Furuya-san's DVD) that the weakness of Heavens is defense, especially given that Aoto-kun has no interest in playing any (or passing).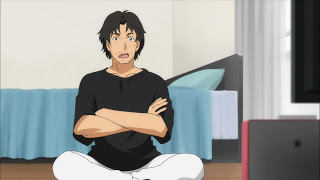 It's not just on the characters that Aoto impacts Ginga, but the tone of the show itself. These episodes feel more like a pure shounen than ever – albeit a very smart and uncommonly subtle one – what with the intense personal battles and Aoto's super-powered moves. And Heavens clearly know what they have in Aoto – they built their team around his selfish genius. He even has a pair of enforcers who spring to his defense like Gretzky's bodyguards when the Furuyas approach the little superstar before the game. The Achilles heel though, spotted by both Shou and Masaru, is the goalkeeper – Shou sees him as much weaker than the one Predators faced the year before. And that one can only be Aoto's best friend Tagi, who agonizes over every blown save by his replacement. Presumably he's still playing basketball, but at some point the OP tells us that he and Aoto both will succumb to the Tireless Terrier's persuasion and become his football acolytes. Maybe this game is what pushes them over the edge?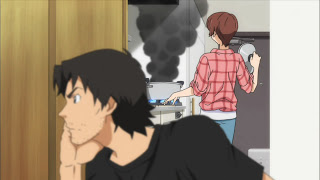 As Momoyama-san leads the Predators faithful in cheers like a high-school girl, something very interesting happens on the field – something we haven't seen once in 20 episodes. Kouta-kun mans up – he recognizes not just that Aoto is a beast, but that he's the better player – and volunteers to switch back to a defensive position and man-mark Aoto himself, using his striker instincts to decode the minute Maradona's moves. This is an eye-opener – Kouta was really the last holdout for selfish play, and outshining Aoto seemed to be his greatest desire. It seems to reflect a turning point in Ginga e Kickoff, where Shou's persistent unselfishness has finally won over the last of the holdouts, and everyone has bought into the team concept (just as Masaru's old coach preached).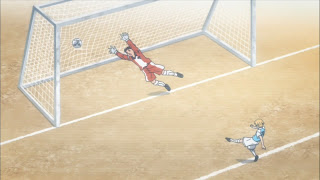 Mind you, the first half is still a rough road – even after Kouta switches onto him Aoto still does some damage, Shou scores an own goal (the "defender's fate" as Erika so rightly calls it – there was nothing he could have done) and Heavens lead 4-3 at halftime. But Masaru has drafted a plan, and it means sending Erika forward to utilize her speed, putting Ouzou in the striker position and moving Ryuji back to midfield (among other changes) – and Ouzou has used his time away from marking Aoto to spot a few trends he can put to use. Presumably the second half is going to be an even more wide-open attacking battle, with even Reika given the go-ahead to attack. And was that Shou I saw taking a corner in the preview?