I move that today is officially Brains Base and Tomatsu Haruka Appreciation Day.


OP: "Q & A Recital" by Tomatsu Haruka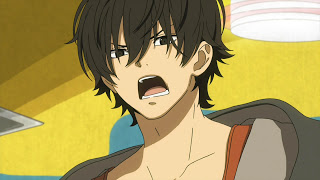 I've waxed poetic before about what a stellar studio Brains Base is, but it really bears repeating. There are studios that made more anime, and those that have more lavish production values. But when you look at the Brains Base catalogue one thing really stands out: almost everything they make is really good. It's perhaps not coincidental then that a high percentage of their series are Josei or Seinen – genres we don't see enough of in anime generally – but regardless of genre, it's pretty remarkable that the studio is able to maintain such a high batting average. It's also remarkable how good Tomatsu Haruka is, role after role, and how she manages to do so without every developing a "persona" (and she's an amazing singer, too). More than any seiyuu I can think of, she completely disappears into a role – you always have a sense of who the character is, and not of listening to an actor do their shtick.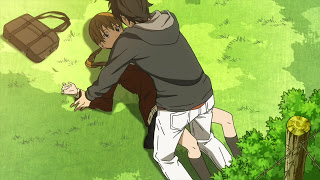 Put the two of them together and you'd expect something good – and so far, that's what we have with Tonari no Kaibutsu-kun. Adapted from a manga by Robico, this is shoujo through and through, something we haven't seen quite as much of on anime schedules lately as we used to – though this season is rather flush with it. Director Kaburaki Hiro is best known for Kimi ni Todoke, another shoujo chestnut. It's a show I frankly found rather boring, though it was certainly competently made (at Production I.G.). Series composition is from Takagi Noboru, who's often been associated with very smart and creative series such as Baccanno! and Durarara.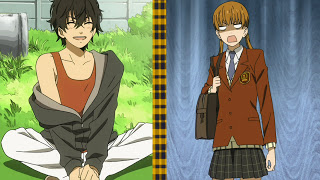 Really, the ultimate measure of this show is going to be the source material, as history suggests it's going to be a faithful adaptation. And it's immediately clear that this show is nothing like Kimi no Todoke in that it's willing to take some chances with its characters right out of the gate, and that it's very, very funny. In fact I can't recall having laughed so many times during the opening ep of any romance series in ages. A big chunk of that comes from the extremely witty direction from Kaburaki-sensei, full of weird camera angles and strange movements and distorted faces. The look of the series is altogether terrific, with the soft color-palette and sketchbook art style Brains Base excels at. The characters are distinct and expressive and the backgrounds quite lovely. Production-wise, this is a very strong effort so far.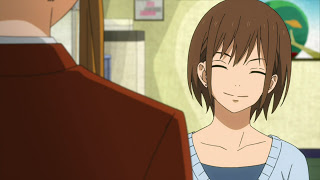 A lot of the humor also comes from the situations, most of which are instigated by Yoshida Haru (Suzuki Tatsuhisa) presumably the "monster" of the title. He's an extremely odd first-year high schooler who's managed to get himself suspended for beating up several upperclassmen, then refused to return to school after his suspension was lifted. This being shoujo we have to have an odd couple, and the other half is Mizutani Shizuku (Tomatsu), a studious and somewhat humorless girl with no friends who strives to reach the top of her class and one day have earnings in the one percent. Her destiny is linked to Haru's when their teacher Saeko-sensei (Sasaki Nozomi) bribes her to drop off handouts at Haru's house (actually a gaming center, which I'm assuming is run by his older brother Yuuzan (note – apparently that dude is Misawa Mitsuyoshi (Higuchi Tomoyuki)) and thus our madcap adventure begins.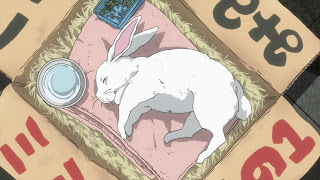 On paper this pairing sounds pretty formulaic and maybe it is, but it feels pretty fresh. Haru is such a complete oddball – tops in his class on test scores, but as socially awkward as any character I've seen in a mainstream anime. Haru seems to have no sense of boundaries and no clue about relating to other people, and Shizuku seems an odd choice as a life coach – she's obsessive and self-serious and almost as isolated as he is, and so outwardly impassive her grade-school classmates nicknamed her "Dry Ice". But what she is that Haru isn't is observant, and she immediately (and against her better judgment) sees what's really going on with Haru – he's lonely in the isolation his awkwardness has created around him, and resorts to violence because he's never known any other way to relate to others. He's also an easy mark for others who prey on his naiveté, and seeing this seems to spark a sense of rage against injustice in Shizuku that she didn't previously know she had.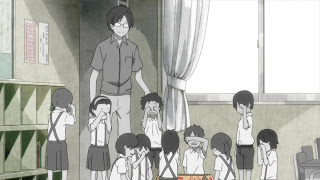 As Shizuku is the only person who ever seemed to show any interest whatsoever in Haru-kun as a person – tinged with sarcasm and scorn though it is – he gloms onto her like a puppy (which is better than kidnapping one) and decides (with the help of what looks like a social guide for elementary schoolers Saeko-sensei gives him) that he's madly in love with her. In short, Haru makes Shizuku's life a lot more complicated – and that seems the basis of the premise, at least so far. They have great comedic chemistry, though their relationship is anything but easy and some of Haru's behavior is pretty edgy – he even accidentally punches her in the nose. The only downside for me, really, is Suzuki-san's overly mannered, showy performance as Haru. I don't really buy him in the role, and his shortcomings are pretty glaring next to the superb Tomatsu, who completely owns Shizuku-san from the opening lines of the show. I don't think that'll be a deal-breaker, especially as the story expands to encompass the supporting cast and Haru (presumably) starts to level off some of his more extreme behavior. There's also a rooster, and of course that's a good precedent for anime romances. So far, so good – looks like Brains Base has picked another winner.