Fall 2012 kicks off properly with the first big premiere the show I was most anticipating – and it doesn't disappoint.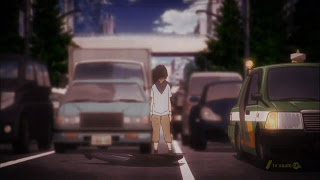 I'll freely admit that a lot happened in the first episode of Shin Sekai Yori that I didn't fully understand – and I'm absolutely fine with that, because I don't think I was supposed to. It's pretty easy to tell these days when an anime isn't adapted from a manga or LN or even a VN, because the structural rules we've become used to just don't apply. There wasn't a lot of standard scene-setting and character introduction here – just a very surreal and dark pre-open and a fairly quick succession of events, each cleverly contributing possible clues as to the nature of what we were looking at. Shin Sekai Yori hit the ground running hard, and I think it served the larger purpose of establishing a tone before zeroing in on character and setting exposition.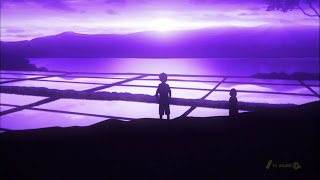 This series is adapted from a highly-acclaimed series of novels by Kishi Yuusuke, and while it does bear some similarity to the way other novel-based anime have opened, the two shows I was most reminded of were anime-originals – Noein and Ghost Hound. Original or adapted from full novels, either way a story is free from the constraints of the Manga and LN formats, and it really shows. This first episode is extremely atmospheric in a creepy way, setting off some of same sense of disorientation and unease that GH did, and some of the art has a similar look too – very cute character designs and images from the dark side of Buddhism and Shinto. As for Noein, that's more of a general feel for me – the way the kids interact, and the sense that this is going to be a story with some real scope. Given my feelings about those two series, I consider the comparison a big compliment to Shin Sekai Yori.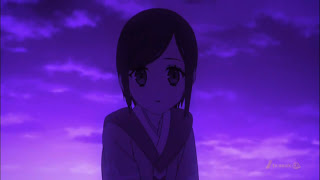 We know the show is going to have two major time skips, but for now the focus is on the core cast as 12 year-olds. After a short introduction set in what looks like our time, where a series of gruesome acts of violence are perpetrated seemingly by a telekinetic young boy, we jump 1000 years into the future, and what looks like an idyllic rural country where five children are at play. The first sign that something sinister may be afoot comes when the evening chime (actually Dvorak's "New World" symphony, fittingly) sounds, and one of the girls suggests the kids need to get back home before the "Cat God" comes out. It rapidly becomes obvious that this world is very different from our own when young Saki (Taneda Risa) visits a temple where the local Priest leads a fire ceremony to burn away her Earthly desires, including her "power of gravity" – and later, she has what seems to be a powerful telekinetic episode in the middle of the night, and her parents inform her that the "Spirit of Adulthood" had visited her.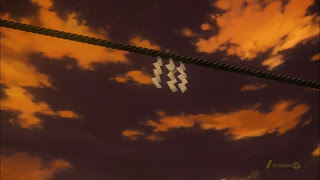 Spirit of Adulthood apparently means that she gets to move on to the next stage in this society's social structure, which is a kind of school of magical mental powers called Zenjin. Her childhood friends have already arrived, having been visited by the Spirit earlier. Asahina Satoru (Tojo Kanoko) is brash and snarky, while ginger Akizuki Maria (Hanazawa Kana) is genki, and appears to be close to Saki, and Amano Reiko (Horie Yui) is the runt of the litter, falling behind the others in practicing her powers. Little Itou Mamoru (Kudou Haruka) is a shy and timid boy, and then there's Aonuma Shun (Todou Mai). He seems to be the key figure in the group – the acknowledged leader, peacemaker, and strongest at practicing the powers the children study every day at Zenjin – things like building houses of cards with telekinesis and painting sand pictures with their mind.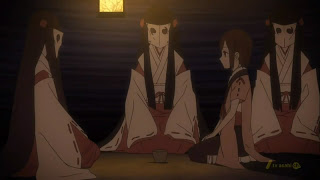 Again, it's not exactly clear what's happening here – but it is clear that something dark is lingering under the surface of this world. The notion of a sinister Buddhist-Shinto cabal running society is an unusual take for anime, and rather creepy. There are strong indications that the Cat God (or something perceived as such) "takes away" (fill in the blanks yourself) children who don't show special powers – or more likely, strong enough powers – by a certain age. Among the kids it's the subject of "Seven Mysteries" style ghost stories, but children really do disappear – and Saki's mother is clearly worried about that, and given that Saki overheard her mother fretting about "losing children" (older siblings of Saki?) to her father, she's extremely worried about it herself. This worries come to fruition when Reiko disappears from Zenjin.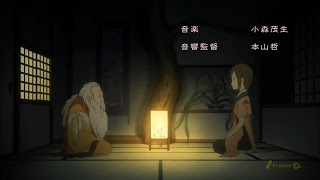 What we lack in clarity, we make up in atmosphere – which this premiere has in spades. The BGM and sound direction are especially excellent (another link to Ghost Hound), the BGM a mix of drum-based ritual music and a variety of string pieces that convey mood wonderfully. Again I think freedom from structural constraint is huge in why all this works – a novel can take more time to get where it's going than a manga or LN, which too often jump right into the details and in the process lose the color and richness that comes from slowly drawing us into the world on the page. A-1 Pictures and director Ishihama Masashi have two cours to work with here, and I'm very, very excited at the prospect of seeing this world created over the next six months. You can't tell too much from a premiere, but my sense is that Shin Sekai Yori has at least a chance to be great – and there aren't many shows I feel comfortable saying that about, even after one episode.
OP: "Wareta Ringo" (Cracked Apple) by Risa Taneda