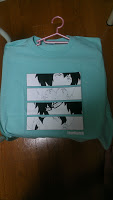 First major purchase since arrival:
I passed through Ochanomizu on my way to Akiba last night, and had a moment I'm rather proud of. I thought to myself, hmmm – "Ocha" is tea, and "Mizu" is water. "No" is the possessive of course – so I wondered if the name of the neighborhood has something to do with water used to make tea and, lo and behold, it turns out that Ochanomizu was the place where water was extracted from the Kanda river to make the Shogun's tea during the Edo period. Progress!
I definitely find myself reading the signs and ads much more carefully now, now just the Katakana but trying to puzzle out the Kanji too. I also noticed that periodically when I'm in Shibuya-Eki they're playing some kind of creepy chorale music featuring a child's choir. I can offer no explanation for this whatsoever, but that's often the case for me over here.