There are times when a lack of major surprises is a very good thing, and this is one of them.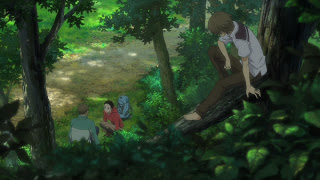 Natsuyuki Rendezvous has been a difficult series right from the beginning – slow to work its way into my consciousness, never eager to make its characters easy to love, always reluctant to choose the easy path that rarely exists in life. In the end, though, it satisfied every expectation I had for it. If you think of NoitaminA as "anime for grown-ups" then this series fits nicely into the sweet spot, because this was about as far from a starry-eyed teen romance as anime ever gets.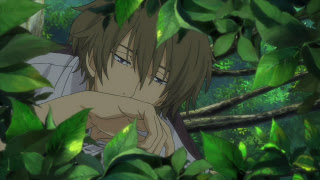 I said last week that the ending was going to be as important to my overall take-away from Natsuyuki as for any series in years, and I'm happy to report that for me, it passed the test. The ending felt internally consistent, everyone's actions were true to themselves, and there was no deathbed conversion to unbridled romantic idealism. Yet the ending also embraced hope, and ultimately redeemed the idea that love can be stronger than pain, and that the power of regret can be overcome by empathy. I'm still hard-pressed to think of a word that sums up this series better than empathy, because everything was about the characters trying to understand each other's feelings despite the fact that, ultimately, it's quite impossible – all we can feel is what we feel. Yet still we try, and somehow, sometimes, we manage to form a connection. That's the sort of small miracle that Natsuyuki Rendezvous celebrates, the kind that we sometimes don't notice because we're too preoccupied with the minutiae of our lives.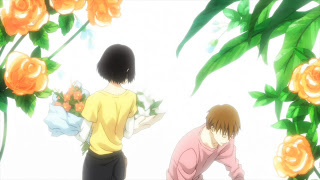 In the final analysis I was correct in my guess that the key moment that spawned the events of the series was when Rokka said "Please don't leave me!" on Shimao's deathbed. That tied him to the wrong side, and it was as she said herself, a selfish act. She says to herself "I knew I'd be left behind" and that's the final proof that even when Rokka and Shimao married, there was no question that he wouldn't live for long. That selfish act spawned a selfish existence on the part of Shimao, trapped between life and death, unseen and unheard until Hazuki came along. Yet I can't really blame either of them because in each instance, those selfish acts were borne of their love for each other.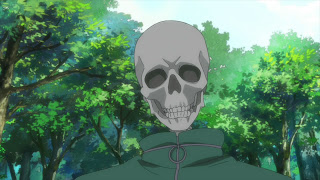 This was the fundamental dilemma of Shimao as a character. Even as his actions grew more and more selfish, I could never shake the sense of just what a tragedy his life had been, and how even death didn't provide him relief from the body he'd always felt like a hostage inside. All three main cast members were excellent characters, but it was Shimao who proved to be the main character here after all. "When it's time for the flowers to bloom, they'll bloom." In the context he originally uttered that line it was about his floral designs, which were created not just with the image of they flowers as they were in mind, but of how they would be – how their scent would change, and their color, and eventually, how they would wilt away. That's the nature of life: nothing is permanent. And that applies to Rokka, who's feelings for Shimao never faded, but who developed feelings for Hazuki anyway.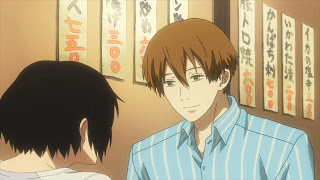 I never doubted for a moment that Rokka would demand that Shimao give Hazuki his body back, but it was still a critical moment when she told Shimao that it was the "first thing they needed to do". Rokka would have done that whether she was in love with Hazuki or not, but the fact that she was certainly complicated things for Shimao. Again, it's not a surprise that things came down to Rokka offering to go with Shimao to the other side, and Shimao having to make a decision – but I'm glad it did, because to end the series any other way simply wouldn't have felt right. Ultimately Rokka offered herself to Shimao not because she wanted to go (she clearly wanted to stay and live with Hazuki at her side) but because she felt responsible for Shimao's predicament, and his loneliness. And he, finally, transcended his "hungry ghost" existence and did something selfless – realizing that Rokka needed to live, even if it meant doing so with another man at her side. "I want Rokka to be happy."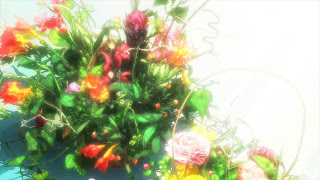 The one element of the finale that came as quite a surprise was the epilogue – a forty-two year time skip (cleverly disguised at first by the absence of futuristic cars and such). Rokka and Hazuki have had a long life together – not long enough, perhaps, but long – and a child, and grandchild. Hazuki did, as he predicted, outlive Rokka – but not by much, and Miho and their daughter are speaking after Hazuki's funeral. I'm not quite sure what to make of Shimao's continued presence on Earth, to be honest, or of his newfound ability to manipulate objects. What's clear is that he's found someone else to talk to – Hazuki and Rokka's little grandson (Sanpei Yuuko). I suppose I see it this way – it's as Hazuki said when he reclaimed his body, that Shimao is now no longer just a part of Rokka but of both of them. And as such, as long as either of them were on Earth, he was still bound there – and when Hazuki died, at last he was free. But before he went, he asked the boy to dispose of his things, and to call him Grandpa just once (that really got me) and showed him a little glimpse of the beautiful world he could always see in his soul, even when he was trapped in a world of pain.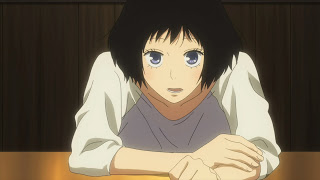 That was plenty poetic for me. With the flower shop in good hands (Rokka and Hazuki's son-in-law) Hazuki and Shimao both are free to move on at last and leave behind the concerns of the living to the living. Bittersweet, yes, but it wouldn't have felt right for Natsuyuki Rendezvous to end without a little bitter with the sweet. This was definitely a romance aimed at people who've been hurt, people who have lost things that are dear to them (and the older we get, the more familiar we are with that experience). Shimao was someone who experienced too much of that too early in his life, but ultimately his life wasn't a tragedy because he met Rokka – for all the pain their eventual parting brought both of them, the joy they shared between them was more than worth it.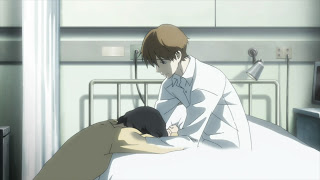 There's a fundamental truth in that which I've commented on here before (most recently with Mashifony, if I recall correctly). In life, the only way to avoid emotional pain is to be emotionally isolated. When we open ourselves up to loving someone else, we invite the inevitable pain that comes from losing them (even if it's a long-deferred pain, as it ended up being for Hazuki). I think this was a show squarely aimed at viewers that have felt that first-hand, and for this one at least is succeeded splendidly. My emotional investment with the series was a slow build, but by the end it was comprehensive. After Jinrui (a more different show that this one could hardly imagine) I think it's been the best new series of the Summer.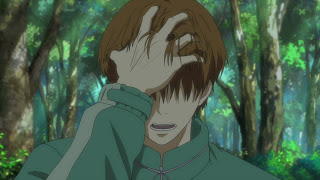 One thing I especially want to call attention to is the work by the cast. It's a small group (I quite enjoyed Touma Yumi as Miho, and would have liked to have seen more of her) and the three leads were really asked to carry the entire series. Ohara Sayaka and Nakamura Yuuichi were excellent, but for me this represents the finest work of Fukuyama Jun's career. He's obviously adept at comedy, but I've never heard him this good in a dramatic role. Playing a fundamentally unlikeable character at the center of a series and making him sympathetic is enormously difficult, and Fukuyama-san never lost me for a moment. Yes Shimao was fascinating, but more than that his pain was so tangible that no matter how angry I became at him (and that's a lot) I never disliked him. The unfairness of his existence – but in life and after – was a constant presence, and Fukuyama deserves a ton of credit for that.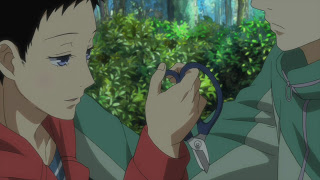 Ultimately, this was a very simple story of three people – what made it complex were the emotions involved. The artwork was tasteful and did its job without getting in the way, but effectively showed us in its occasional wild outbursts of color and storybook beauty just what Shimao could see, no matter how much pain he was in. Hazuki may have seemed like he was ill-served by the plot in the second half of the series, but ultimately it worked because Hazuki's role was to be a contrast with Shimao in many respects. Hazuki still possesses an innocence that Shimao never did – age has nothing to do with that – and it was his empathy that was the key to everything. He was open to falling in love with Rokka despite her not being a conventional beauty, and somehow I believe it was this empathetic quality that drew Shimao to him. Hazuki is a simpler person than Shimao or Rokka, but I like that about him – he's like a seed that's been waiting to flower, and it was exposure to Rokka and Shimao – like sunshine and water – that allowed it to happen.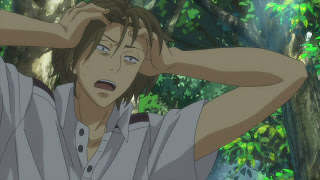 I've said it many times, but thank goodness for NoitaminA – we would surely never see a manga like Natsuyuki Rendezvous adapted if it didn't exist. I'll always believe there's a place in the world for anime which aren't primarily concerned with commercial appeal, but with the goal of enlightening the human condition for its own sake. In that respect this was one of the more ambitious anime of the year, and the emotional reactions it inspired will stick with me for a long time.