There are plenty of things I could say to try and explain what's so magical about Hyouka, but I'll start with this – it makes me feel things no other anime ever has.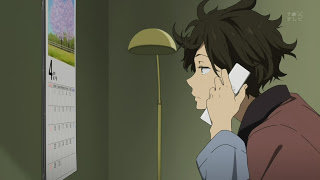 Simply put, this was a superb and completely satisfying end to a series that wound up captivating me in a way I never would have thought possible. It's one of my most overused catch phrases, but this episode – and series – fits the bill – "simple and profound at the same time". If you can pull that off, you've really created something special – and special is one of the better words to describe Hyouka. There's no other anime quite like it, and I'm not sure there ever has been.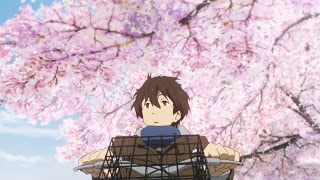 You have to start with the love and care that Kyoto Animation put into the making of this series, and this episode was no exception. "Spare no expense" is an obvious mantra, and it starts with things like getting top-rate seiyuu like Ishizuka Unshou (as Hanai) and Suwabe Junichi (Konari) to play relatively minor one-off roles – something KyoAni has done for the entire series. But as it is with the visuals, it's not just about throwing money at the show – these aren't just famous seiyuu, but phenomenal actors (Ishizuka-san especially is as good as they come). Likewise the animation isn't just lavish and detailed – it's art. It has style, and grace, and whimsy, and acts almost as a kind of second narrative running alongside the written script like a stream running next to a mountain road.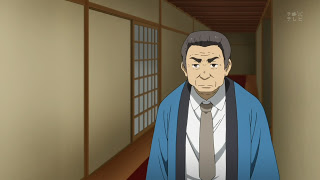 If "special" is one of the most fitting keywords, then "beautiful" is surely another. More so than with any other series except perhaps Seirei no Moribito I often myself dumbstruck by an image in Hyouka – so much so that I have to stop and play the moment back. Sometimes it's a capture of one of the faces – all four of the leads are beautiful in their way, like Platonic ideals of ephemeral youth – and sometimes it's something simple like the residue on the bottom of a coffee cup, or a construction sign on an old wooden bridge. Nothing in animation can equal Shinkai Makoto's films in terms of visual artistry, but Hyouka is as good as any TV anime since Moribito in this way, showing a "more real than real" world that doesn't impress you with it's photographic detail – though that's impressive – but with the way it captures the essential beauty of people and objects, even "mundane" ones.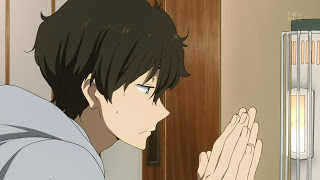 I wasn't necessarily expecting a definitive finale here, but KyoAni delivered an ending that made the series feel complete. It demonstrated how far the characters have come over the course of 22 episodes, and how far they still have to go in their lives. When you're 16 life is rich with endless possibility, yet you sometimes feel as if the weight of the world is pressing down on you, forcing a certain path on you whether you might wish it or not. More in this episode than any other – though generally much more in the last few episodes than all the ones before – we've seen a different side to Chitanda, and the burdens she needs to bear as a part of an old Japan that's slowly dying, yet still holds a great power over the consciousness of the people, especially in rural areas like Takayama (the region in Chubu where the series is set). In this episode KyoAni showed us both the great beauty of that old Japan, and the difficulty it sometimes has when butting up against the modern world.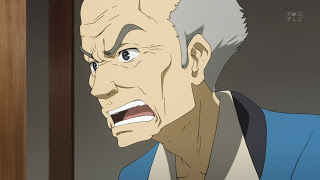 I think it goes without saying that Houtarou (at some point it was clearly decided to show us his bed-head every week) wouldn't have accepted Chitanda's invitation to "hold her umbrella" at the Living Doll festival at the local shrine. This seems to be a variation on Girls Day, held in April as the shrine is using the lunisolar calendar, a very ancient system still used in some Shinto rituals. Houtarou's relaxation of his normal "no work" policy where Chitanda is concerned has become old hat by now, but as is often the way with Hyouka, we take baby steps forward without realizing we're taking them. As is also often the case, the mystery is rather beside the point – more of a structural device than anything else. Hyouka is about the mood it portrays and the atmosphere it creates, and the mystery is merely a tool to help in the process. It's a means, not an end.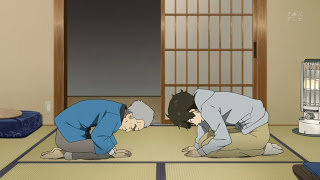 The end, here, is to see a Shinto ritual depicted in heartbreakingly beautiful fashion, complete with out-of-season sakura blossoms and the usual Hyouka visual flair (I especially loved the soft-focus perspective during the procession, and the 360 degree slow pan as Houtarou and Chitanda were walking together after the festival). The end was also to show Chitanda at her most ceremonial, dutiful and serious – effectively brokering a deal between two old rival villages now joined in all but ceremonial matters – and to give her a chance to give Houtarou a kind of declaration of purpose. In a sense I think Chitanda was confessing to Houtarou here, showing him everything that she was and will be, and letting him know that while she might dream other dreams, she's fiercely proud of her legacy and means to do her duty to delay the demise of the old way of life for as long as possible. If Oreki was to decide to be with her, Eru wanted him to understand exactly what he was getting.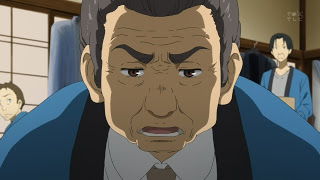 I never really expected Houtarou to definitively respond here, and he didn't. But the moment in his mind's eye when he did so by asking if he might be by her side to help her in her task was beautifully executed – believable, powerful and beautifully drawn. The mere fact that he thought what he did is a huge leap forward, and a sense that Oreki finally has some purpose. As for Fukube and Mayaka, we have no firm resolution there either. But we do get a sincere expression of gratitude from Mayaka to Houtarou for his help with the Valentine's incident, and a new sense from Houtarou of just what Satoshi was going through – it's not so easy to make that kind of commitment when the chips are down. If the ending left things open-ended, that's as it should be – life isn't definitive when you're 16. It's an endless array of possibilities that are both exciting and terrifying, and for a series that depicted what it feels like to be 16 as well as any anime has, it was a perfect mood on which to close.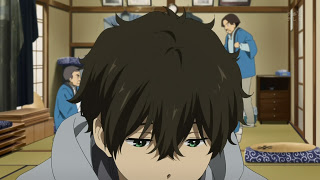 Hyouka is going to be a hard series to grade when it comes time for the rash of "Best of" lists at the end of the year. There's absolutely no doubt in my mind – when this series was at its best, it was astonishingly good. But compared to many of the truly great series, it wasn't actually on top of its game all that often. The second cour was far better than the first, but of the 22 episodes I'd probably rank only the entire Kanya Festa arc and the last two as truly great – and the gap between Hyouka at its best and an average episode was also wider than with most great series. Taken as a whole it's a lock for my Top 10, because those great eps were as good as it gets, and the show was always gorgeous to look at and smartly written – I'm just not sure how to weigh all of those considerations when considering it against the other top series of the year.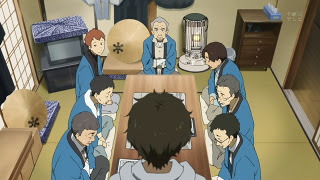 It must be said that I would never have believed after the first few episodes that I would have written the above paragraph. Hyouka was the classic slow build, a series that showed more patience than about any anime I can recall – sometimes too much, in fact. Because so much of the series is about atmosphere, it wormed its way into the consciousness rather than overwhelmed – and it was only in hindsight, sometimes, where I realized just how amazing what I'd just seen truly was. Like its protagonist it seemed that Hyouka wasn't trying all that hard sometimes, but it's not as if I disliked those times – there was a great sense of fun, and no series has done a better job of capturing what it's like to be a bright teenager desperately trying to avoid being bored. But when the pedal went to the metal with Kanya Festa, Hyouka soared to heights few anime dare attempt to reach.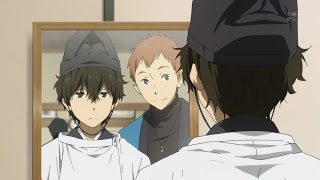 One last word I'm going to label Hyouka with, and it's one not everyone might view as a compliment – though I do – and it's "sophisticated". It was apparent almost immediately that Hyouka was operating on a different level than most anime based on manga or LNs, not concerning itself with traditional structure but rather following its muse wherever it led, almost as if the stories were written as a stream of consciousness. Character development was happening, but it wasn't being explained to us in unnatural monologues – it just happened, and we only noticed when it manifested in the way the kids behaved. That's how people change in real life, but very few anime (or any other works of fiction, for that matter) are patient enough and trust the audience enough to allow the characters to grow in this natural fashion. Satoshi was the standout for me, the most conflicted and complicated cast member, but all four of the leads had very satisfying and substantial characters arcs by the end.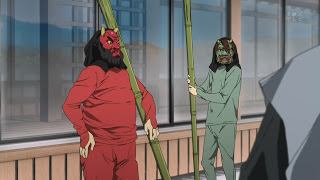 I'm neither a fanboy or a critic of KyoAni. I've liked some of their series very much (Kanon being a personal favorite) while there have been others – hugely popular others – that I've found unwatchable. I confess that I've found most of KyoAni's recent works to be trapped in a box of their own creation, and I was skeptical of whether Hyouka would be able to break out of that box – even after several episodes. That it did so in such resounding fashion is a reason this is one of the real surprises of 2012 for me, and while I expect tremendous production values from the studio Hyouka exceeded even those much higher expectations – it may be the most beautiful series KyoAni has produced to date. Whether we see additional anime produced in connection to the novels is an open question, though sales have been excellent – if we don't, I'm more than satisfied with the elegiac way the series was brought to a conclusion. Hyouka is a series of tremendous style, intelligence and wit – a series that indulges its own creativity and treats the audience with respect. It's a series that I've come to admire greatly, and an achievement of which Kyoto Animation should be tremendously proud.