There are times when Hyouka makes almost every one of its contemporaries look positively amateurish by comparison.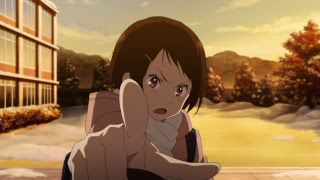 There are certain things this show is all the time. It's slick, it's sophisticated, it's clever, it's astonishingly well-made from a technical standpoint (and I apply that to the writing, too). Even if it isn't always riveting or especially adept at spinning a mystery, Hyouka is clearly operating on a different level than most of the competition. But when the show sets its mind to it, it can really make it look like the rest of the field is still on training wheels – "stay in the shallow end of the pool where you can't get yourself in trouble." In a funny way you could even say Hyouka is a lot like Houtarou himself – not always motivated to do its best, but capable of greatness when it is.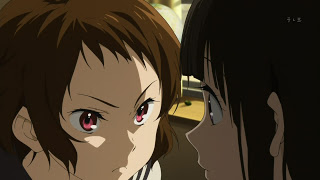 Apart from the Kanya Festa arc, this probably goes down as my favorite ep of the series (and one of the best of the season). Sometimes my jaw drops at the level of the writing – I don't know whether to credit the novelist or the anime staff, but with subtlety such a rare beast in anime I really appreciate the layers upon layers of detail you get with Hyouka, and how it doesn't beat you over the head with the character development but lets it slowly percolate to the surface and reflect itself in the characters' actions, not in speeches. There were a lot of things touched on in this ep, and it went to some pretty dark places – and a fascinating exercise it was.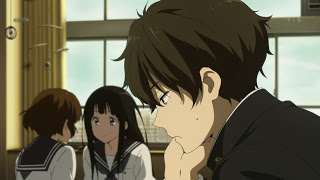 As you know if you've been following my posts on Hyouka, I've argued from the moment he gave his "shining bright" speech that Satoshi was the most interesting character here, so it's hardly surprising an episode that mostly focuses on the inside of his head should be so compelling. It's been clear for a long time that far more than with the others, Satoshi's exterior is in sharp conflict with his inner self. The nature of that conflict hasn't been fully explored (more's the pity) but it's a credit to the way the character is written that it's always been detectable beneath the surface, like one slightly off note in a symphony orchestra's performance. As I said once, Satoshi's nice guy isn't an act – he really is a nice guy – but there's more to him than that. There's more to all of us than just one thing or two things – we're complicated beings, often at odds with ourselves, and no one in this cast more than Satoshi.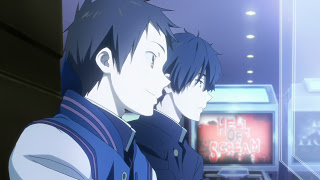 In the Kanya Festa arc, the element of that which came to the surface was Fukube's frustration at being a "database" – really, at being a sidekick, Watson to Oreki's Holmes. That's symbolic of a much greater syndrome he feels dominates his life – the inability to be the best at anything, "jack of all trades, master of none". Satoshi even rejects Houtarou's attempts to call him a "hobbyist" because hobbyists, after all, can devote themselves to one thing and become great at it – something Satoshi feels that's beyond him. In his own mind (though not mine) he's a dilettante, a lightweight, a poser – and his only route to happiness is admitting that to himself.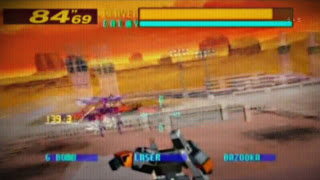 I'm quite certain the fans of the series who view Hyouka through a traditional anime lens will rip Satoshi to shreds for daring to be mean to the cute girl and for being a spineless dickhead, and probably Houtarou for helping cover for him. I'm not going to say Satoshi's actions in this ep were admirable, but with apologies to those fans I think they'd be missing the point. Hyouka isn't a conventional anime by any means and I think it needs to be judged with as much nuance as it's presented. One reason I think this ep works so well is that the "mystery" isn't remotely the point – it's made obvious from the start that Satoshi was the one who stole the Valentine's chocolate. Hyouka is always as its best when it focuses on atmosphere and subtle character dynamics, and this ep was loaded with both – especially the latter.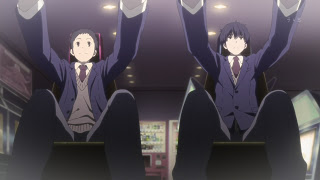 Houtarou, whip-smart lad that he is, deduced from the beginning what really happened. But even at the end, he still didn't know the why – he had to ask Satoshi straight-out. That says as much about Houtarou as anything, though it's not trumpeted to the skies and could easily be overlooked at the expense of the flashier stuff happening. I think it's really fascinating that in the end, it's Oreki who apologizes to Fukube (though not aloud) and not the reverse – in his own words, "I'm sorry – I didn't know anything about you." Even Satoshi's best friend didn't truly understand him – a testament to how complicated Satoshi is, and how Oreki's social acumen lags behind his detective skills. And it also says something that Houtarou has grown enough as a person to chide himself for not being a better friend. In many ways Hyouka is a reversal of the anime convention where the boys are plot drivers and the girls have the deep inner conflicts and big character arcs – here, Chitanda and Mayaka both are really quite direct and straightforward compared to the boys and its their actions which often move the plot forward, while the character exploration comes in watching the guys react.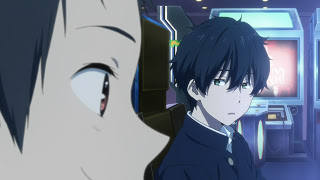 Of course, major bones of contention will be Satoshi's reasoning for stealing the chocolate, and whether Houtarou was right to keep the information from the girls. I thought Satoshi's logic was quite in character – he simply deduced that he was unable to be great at anything and was miserable for the effort, so if he stopped trying he could be happy. And he convinced himself he was, seemingly, and certainly acts the part most of the time. Fear of commitment is certainly not a new charge to be leveled at a male in a relationship context, but it was done so in a very original way here. I could see him being legitimately concerned that by dedicating himself to Mayaka he'd slip back into his old patterns, but in the big picture I think he's just running away from himself. You're either someone who cares or you aren't, and I don't think it's possible to turn it on and off like a switch – only sublimate it.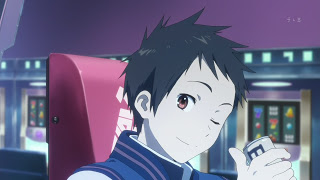 Houtarou's decision not to tell Chitanda what he knew is a complicated one. Certainly part of it is out of loyalty to Satoshi, and there's a calculation that Chitanda and Mayaka would be happier not knowing. Of course Mayaka, with her back-story with Satoshi, has already figured out what happened – but Houtarou doesn't know that. The fact is, Houtarou is out of his depth here – the mere fact that he stayed behind to help is something that would have been unthinkable when the series started, and interpersonal relationships are as far from his comfort zone as it's possible to be. There were no easy answers for him – he was winging it, and made a judgment call, rightly or wrongly. And if he was angry at Fukube for anything, it was for getting Chitanda caught up in his dysfunction and upsetting her – further proof that the two of them are entangled now beyond a doubt.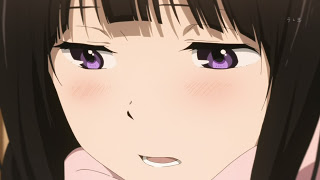 So what will Satoshi do, in the end – what does his "We need to talk" really mean? I still think there are things about his feelings we don't know, things he didn't share with Houtarou – but I do think it's obvious that he hurt Mayaka and that he did so knowingly, though he would have preferred not to and feels remorse for doing so. Oreki for all his apologies about not knowing his friend actually sums up Fukube quite well – "You're pretty stupid for somebody so smart." I don't know how Satoshi truly feels about Mayaka or girls in general, no matter what he says – but Mayaka isn't the problem, he is. Satoshi needs to stop selling himself short and realize that he's actually considerably smarter than Houtarou when it comes to many things, including people, and has a personality that does indeed shine bright, as he said himself way back in the first month of the series. Teenagers dealing with self-esteem issues are certainly not a new topic in anime, but you won't often see an example as fascinating and layered as this one is. If you were to tell me there was to be a second season of Hyouka, canon or anime-original, I'd be thrilled – because it really seems as if we've just barely scratched the surface.