Hyouka – love it or hate it (it's mostly the former with me) there's sure as hell nothing like it.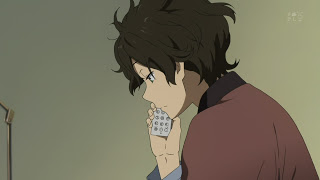 I'm really not able to measure this series using any of the guideposts I normally do, because not only doesn't it measure up against them, but it doesn't even try. There's something almost perverse about a show that can stage an episode like this one and have it be one of the more conventionally plot-driven narratives of the series. Ultimately all Hyouka really tries to do is create a world that seems like it'd be interesting to inhabit for a while, and characters you wouldn't mind sharing that world with. And I don't think there can be much of an argument against the idea that is succeeds on that front.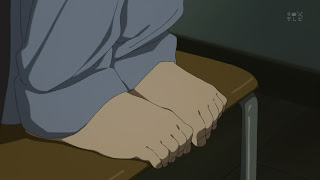 As is often the case, there's not much in Hyouka that lends itself to writing about – apart from the Kanya Festa arc, this has been a very tough show to blog even as it's been a blast to watch. This episode could hardly have been simpler – New Year's (the holiday most instrumental to the Japanese psyche, I've always thought), Houtarou and Chitanda trapped in a shed, and some subtle but significant forward movement in their relationship. Oh, and Miko – never forget the Miko. For Hyouka, that's practically an explosion of plot.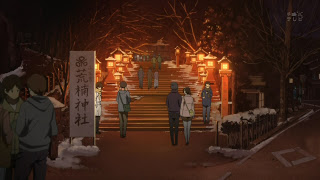 Here's what I'm seeing with Houtarou and Chitanda at this point. When she calls, he goes. She probably didn't need to mention she'd be wearing a kimono (though it certainly didn't hurt) to get him to join her in the New Year's shrine visit. The interesting element here is that Houtarou – who is a very smart lad, after all – gets a crash course in just what it means to be from an "old family" in a mountain town in Japan. While he spends his day "pretending to be a hermit crab" she deals with visiting members of the extended family, and when they visit the shrine it isn't just for Amazake and fortunes – she has to deliver a gift, pay respects to the Head Priest, and at all times be mindful of the fact that she's representing her family. This social gulf between them has never been lost on Houtarou, but I don't think it was ever impressed on him in such a stark fashion as it was here.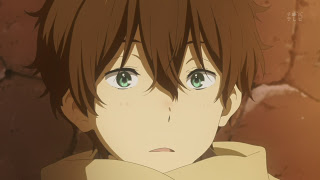 There's nothing overtly sexual between them, either before or after they get locked in a storage shed when on an errand to fetch sake lees. But there's an ease to their interaction – shy as they both are – and an implied flirtation in her words and movements that weren't there several episodes ago. It's very subtle – few series can do subtle like this one – and hard to quantify, but there's a pheromonal quality to their relationship that's unmistakable now. And her heavy burden as a representative of the Chitandas comes to bear as she doesn't want Houtarou to call out for help, because of what it would look like to be caught inside a shed with a boy.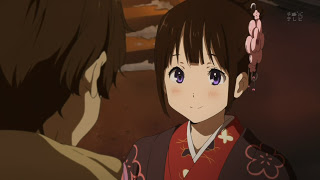 That's a bit of a stretch for me, and there are elements of coincidence to the episode that seem a bit of a stretch too – like Mayaka conveniently working at the lost and found window at the Shrine (though she's an adorable part-time Miko I admit) and Houtarou and Fukube having watched the same Sengoku action flick that very day, and that flick containing the trick that Houtarou eventually uses to tip off Satoshi as to their location. Still, it works quite well as a dramatic device – and I think it's fascinating that Houtarou can drop items on the ground and never doubt for a moment that they'd be found and turned in immediately. Can you imagine trying that trick in New York or London? Lest anyone think this is an exaggeration it's not – stories of lost items (some of incredible value) being returned to their owner are legend among travelers to Japan, and this sort of thing is intrinsic to the Japanese social contract.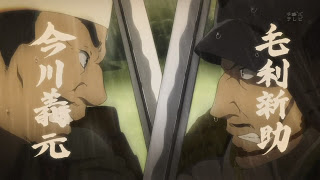 While I know it's dangerously close to using a conventional yardstick, with two eps left I really am hoping we see some more development for Satoshi and Mayaka – I'd hate to see no follow-up on the very interesting conclusion of the Kanya Festa arc . It was nice to see Satoshi be the one to solve the mini-mystery here for a change, certainly, but I'd like more – I'd like those feelings that the festival arc brought to the surface to be explored further, as proof that those two characters have truly advanced just as Houtarou and Chitanda have. At the moment it feels as if the two of them have hit a sort of reset button and could be anywhere in the series timeline, and I'd hate to see it end up that way.