Maybe Kurapika should have listened to his Nen master a little better…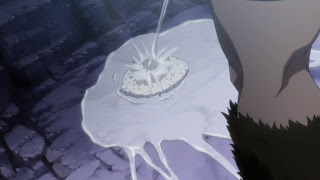 This episode reunited the team who gave us the monstrously epic Gon x Hisoka fight (part I) from episode 35, director Matsumura Masaki and animation director Mori Tomoko, and it's easy to see the results. #35 remains the pinnacle of this series for me (along with #16), both for the emotional intensity of the Gon-Hisoka conflict and the sheer artistic majesty of that fight (and I include the BGM in that). While this episode equaled that one in terms of intensity, the tone and mood were altogether different – while #35 was dark as hell, this one was on another level of sheer emotional bleakness and desolation.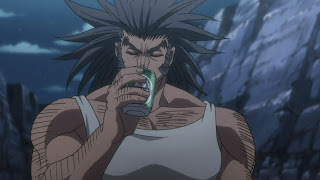 We didn't spend nearly as much time with Mizuken as we did with Wing, who taught Gon and Killua their Nen. In fact, most of what we've seen of Mizuken's interaction with Kurapika has come in flashback – and there was one moment from his brief appearance this week that really stuck with me. That was when he told Kurpika, "Seems to me like you're only chaining yourself." That's pretty much what I've been thinking since this arc started, and I certainly didn't see anything this week that made me feel differently. There have been times when I've thought that Hisoka, Gon and Killua were the scariest person in the cast, but now I'm not so sure it isn't Kurapika.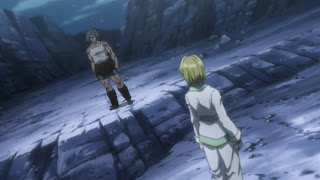 I don't think anyone would deny Kurpika the right to his anger. There could hardly be anything more personal than having your entire race wiped out and being the only survivor, and seeing it done for the most shallow of reasons at that. If Mizuken's line was the most telling of the episode, the runner-up was surely when Kurpika asked Uvogin what the Phantom Troupe felt when they killed innocent bystanders. "Nothing" was not the answer he wanted to hear, but I don't doubt that in Uvogin's case it was true. Kurapika can't grasp the notion of killing the innocent and feeling nothing – yet, he proves himself capable of killing a helpless opponent in the name of his revenge. Is it worse to feel nothing when killing someone – or to know it's wrong, and do it anyway?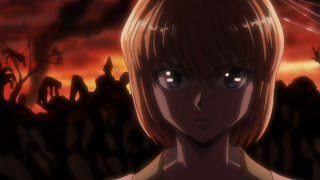 I really worry for Kurapika – he seems very close to being lost to the dark side here. Who is he, really – the kind person who cooperated with the boys and Leorio to survive the Hunter exam and the loyal colleague, or the seething mass of rage that seeks to extract blood for blood? I don't think he can be both, no matter how many conditions he puts on his Nen. He's undeniably freaky powerful, and possessed of a great intuitive mind as well. The former is manifested in his terrifying array of Nen skills – not just a Specialist (the scariest class to begin with) but one who can master all the skills equally when he's in a state of red-eyed frenzy (which I can only assume takes a toll on him every time it happens). The latter is evident in the meticulous planning he puts into his revenge, starting with using real chains to make opponents think he's a Manipulator (thus effectively hiding his Nen chains) to the careful selection of Uvogin as the ideal first victim (after that fight I can't really say opponent) and test case.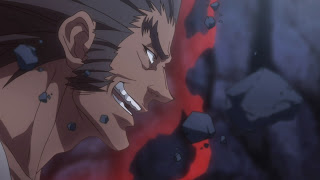 As amazingly animated as this epic battle was, I was shocked at how one-sided it was in the end. Uvogin never really had much of a chance – Kurpika effectively channeled all of his Nen into creating a combat package that was ideally suited to take him down. Uvogin was really just about power – unbelievably massive amounts of power, but even in terms of physical speed he was no match for Kurapika. Heck, Kurapika even had the audacity to heal his arm after Uvo shattered it in the one real blow he landed. Kurpika is almost like a little Phantom Troupe rolled into one androgynous body – he has so many abilities that he can, as his class suggests, specialize his attacks to suit almost any eventuality. But none has the potency of the one he staked his very life on, Chain Jail.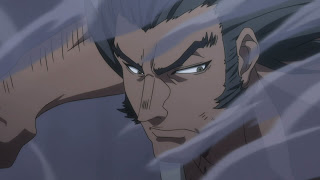 I don't have much to say about the way the fight ended except that it was one of the darkest and most depressing scenes I've watched in anime. Uvogin knew he was a dead man, and Kurpika went about methodically and slowly killing him. I can't imagine Kurapika ever thought Uvo would rat out his colleagues (he didn't), and it was truly gruesome watching what he became as he savaged his prisoner. Lacking anything like Mr. Blinky, he quietly buried Uvogin in a businesslike matter after killing him – which was possibly more disturbing than the killing itself. I'm not sure I see a way back from this road for Kurpika – not until his actions have rained down much greater despair on himself, at the very least.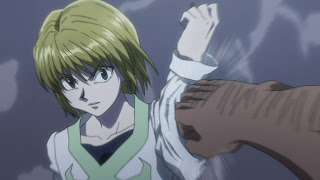 There was one last gem of a moment in the episode, and that was very brief final scene featuring the other Phantom Troupers in their hideout. It was beautifully staged, but my favorite moment was the last close-up of Hisoka (his only appearance of the episode) – it was an absolutely bloody fantastic piece of animation and a tremendous way to end the episode. When we got around to the Hunterpedia (with Gon and Killua back to their normal skin tone) it was naturally Uvogin who was featured. Next week the story pivots, I sense in a significant way, with Gon, Killua and Leorio and their manhunt/moneymaking quest taking center stage.
Gon & Killua's Hunterpedia: "Uvogin"