One thing really jumps out at me with this episode of H x H – Kurapika's soul is really hanging in the balance.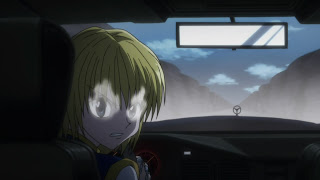 As long as this series runs for a long time and we keep getting episodes of this quality from Madhouse, I can live with the occasional hiatus week. But damn, a week without Hunter X Hunter really sucks – this is a series that really fills a niche nothing else can fill for me. We've covered such a sliver of the manga, really – well under a quarter – but the depth and richness Togashi crams into the setting and characters in just 80 chapters is really amazing. It's easy to see why this is one of the most popular manga in Shounen Jump history, despite a tradition of rage-inducing hiatuses of considerable length (including the one currently happening, though Togashi did at least take the time to write the upcoming theatrical H x H film).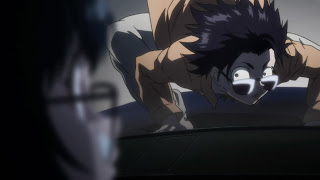 There was a little of everything this week (apart from Leorio, Gon and Killua, who should appear next week if the anime follows the manga, though they don't make the preview). What there wasn't much of was the Shadow Beasts, because if you thought the Phantom Troupe made easy work of the first four, the next six weren't even a bump in the road. The message is clear – the Troupe is the most formidable bunch of badasses in the land (even if they do "philanthropic work" – which I'm now insanely curious about – when they aren't busy stealing and killing), and even the best Nen users the mafia can throw at them are chum. Owl at least manages to snare Nobunaga in his "Fun Fun Cloth" before he's captured and tortured (they need him alive to retrieve the treasure he's shrunk down) but the others don't even make it that far. We see glimpses of a few more individual abilities – Feitan (deliciously performed by Kappei Yamaguchi) is a master torturer, Shalnark's expertise seems to be computer/mechanical – but several of the Troupe (including their leader) remain a mystery.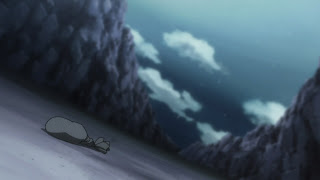 While there was plenty of action, blood and death (though less graphically than #44) there are two scenes that stand out for me. The first is when Kurapika is standing in the hallway outside the room where Uvogin is being held, trying to contain his rage. As the BGM plays Melody's soothing… well, melody from the last episode, she comes out and silently stares at him as he leans back against the wall. After closing his eyes and breathing deeply, Kurapika offers what I can only describe as a heartbreaking smile in response to hers. There's no dialogue for a good minute here, but it's a beautiful sequence – especially that smile, which seems to communicate that somewhere, buried under all the hate that threatens to consume him, the kind soul of the Kurapika we know is still alive – barely. It takes the warmth of a friend to bring it to the surface, but it's always there – which gives me hope that he can still be redeemed in the end.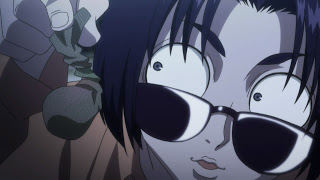 After that smile Kurapika gets a text message that leads into the other memorable scene – or rather, pair of scenes – from the episode. It's from Hisoka, telling him to meet at the agreed place. There's more unspoken communication between Kurapika and Melody, and off he goes. Hisoka, meanwhile, returns to the series in all his creepy, perverted and glorious splendor. There just a short exchange between he and Chrollo:
H: "Ah! I just remembered – I was supposed to meet someone today. I'll be heading out."
C: "Sure, go ahead – just be back by 6 PM tomorrow. Up to some mischief, Hisoka?"
H: "But of course."
That's it – Chrollo doesn't even look up from his ever-present book – but if the scene between Kurapika and Melody is a marvel of unspoken communication, this is a marvel of subtext. We can imagine everything about the relationship of these two horrifying men just from those simple words. Hisoka indeed meets Kurapika in the agreed place, and what a fitting setting it is – a derelict amusement park, that old horror staple, brought to gloriously creepy life by the artists at Madhouse. Hisoka is deliciously Hisoka here: "I love idle chat." And he does, too – that's one of the things I love about him. He's totally forthcoming with Kurapika – about the Troupe, about the powers he knows and the ones he doesn't, and about his ultimate goal. That, very simply, is to fight Chrollo – it's his motivation for joining the Troupe in the first place, the pure, animal thrill he gets at the notion of fighting someone so strong. And in this, he sees common ground in his purpose with Kurpika's – and offers the latter an alliance.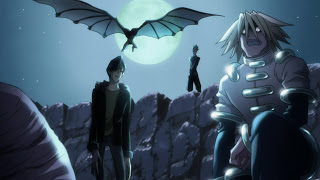 Yet another temptation for Kurpika to choose the dark path. I have no doubt that Hisoka would follow through on his proposed terms with Kurapika – not only does he have no loyalty to the Troupe whatsoever, but to the best of my knowledge I can't recall Hisoka ever being dishonest or even withholding information – apart from with the other members of the Troupe. The whole notion of a sneak attack or subterfuge runs contrary to his nature – if his prey doesn't have an opportunity to savor the terror of what's coming, where's the thrill in that? Yet it's hard to see any good coming to Kurapika from an alliance with him, no matter how tempting. Given that Kurpika's all-consuming goal is revenge and that Hisoka was uninvolved with his clan's destruction, there's nothing theoretically stopping Kurapika from accepting – but I can't help feel this is a crucial moment for him.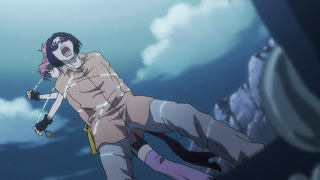 Things are far from settled with the Phantom Troupe in any case, though they've retrieved the treasure they sought. Poor Dalzollene has been killed by the disguised Troupe members who intercepted his message about Uvogin's whereabouts, and Uvogin has been freed and had his poison sucked out by Mr. Blinky (a beer binge will surely follow next episode). Uvogin wants revenge himself – revenge against the chain user who subdued and humiliated him where four Shadow Beasts failed miserably. Melody and the others have fled, courtesy of the early warning Uvogin's enrage roar provided, though they're surely still in mortal danger. I expect the narrative to splinter a bit soon, with battle lines forming on multiple fronts – and one thing's for certain, this fight has barely gotten started.
As to the Hunterpedia, it's now officially a trend – characters end up there after they get offed in the episode. But what was up with that skin-tone with Gon and Killua?
Gon & Killua's Hunterpedia: "Dalzollene"