At last the main relationship in Sword Art Online takes center stage.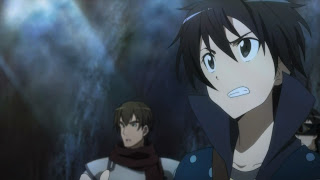 SAO has a funny sort of narrative style to it – the anime anyway – where it seems as if things keep happening whether we're watching or not, and we just happen to check in on them from time to time. As such, there's no "continuity" between episodes per se. There's an obvious passage of time in that things seem to be happening sequentially, but no firm indications of just how much time has passed until someone tosses off a random "six months" comment, or an aside about the seasons. The effect is that how things got to be the way they are seems relatively unimportant – it's how things are at any given moment that matters. Maybe that's intentional – it does add a layer to the realism when it comes to the scenario of players being trapped inside a simulation they can't escape from.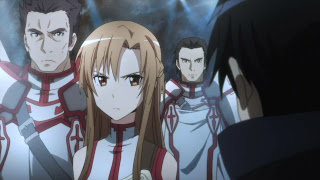 For me Tomatsu Haruka is about as good as it gets when it comes to female seiyuu, so any Asuna screen time is a good development. While she's a better chameleon than Nagase from Kokoro Connect – there seems no style or character type beyond her – if Haruka-san does have a "sweet spot" as an actor, Asuna is right in the middle of it. This is not a stretch for her but she still imbues Asuna with a good deal of humanity. The character as written seems (and I admit it's too early for a new viewer like me to make the call) like she might be dangerously close to a tsundere stereotype, so I'm glad Haruka-san is there to give the character extra subtlety and depth.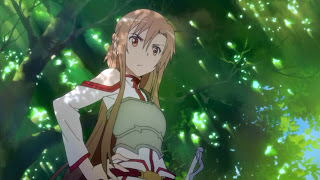 What does seem clear is that both Asuna (The Lightning Flash) and Kirito are both now legends in SAO, especially the former – and she's become a vice-commander in the guild that's trying to clear floors for the common good. They also seem to have a bit of a strained relationship, here exemplified by their disagreement over the treatment of NPCs (which is an interesting train of thought that could have been the subject of an entire ep, I think). Another element that separates them is how they view their time in SAO. Kirito reasons that whether this is "real" or not, a day is a day – and spending a beautiful day enjoying the weather instead of wasting it in a dungeon isn't "wasting" the day. Alive is alive, and where you perceive yourself to be alive doesn't matter. Asuna (at least initially) disagrees – and this is about as deep and philosophical as SAO has gotten so far.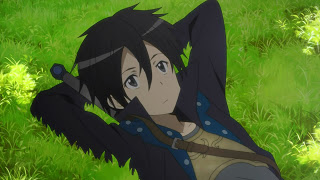 We're still basically dealing with the "movie of the week" format, and this time the subject at hand is yet another guild that's been destroyed. A man named Kains has been murdered in the supposedly safe zone of a town, where no attacks are allowed (only duels). His former guild-mate, Yoruko (Yamamoto Nozomi), tells Kirito and Asuna that their guild's leader Griselda was killed while attempting to sell a powerful magic ring, and the lance found inside Kain's body turns out to have been made by Grimrock – who was the husband of the murdered leader. She and Kains were two of the three guild members who voted against selling the ring, and she speculates that it might be Grimrock taking his revenge – or even worse, the ghost of Griselda herself – which would explain how the murder took place when no duel apparently happened. During a meeting with the other survivor, Schmidt (Katou Masayuki), Yuroko herself meets a mysterious end – with a knife in her back.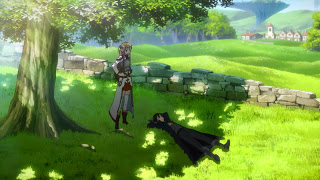 While these side stories are interesting enough, it seems as if their primary purpose is to teach us the ins and outs of Sword Art Online – and perhaps, increasingly, to give Asuna and Kirito a chance to bond. They also serve to remind us of the finality of death here, and death seems to pay a visit nearly every episode. While there are those who would do the despicable and challenge a sleeping player in order to kill them in a safe zone, that doesn't seem to be the case here – though perhaps the most important element is Kirito's insistence that SAO is fair, if nothing else – that the rules are what they are, and that whatever's happening now is happening somehow outside the intentions of the MMO's creator. He'll kill you – but he'll play by the rules in doing so. That way when you die, it's your own fault.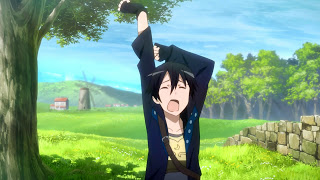 I have no idea whether Kirito is right that Kayaba Akihiko is such a conscientious psychopath, but it seems as if the answer is very important when it comes to deciding just what sort of world this is. In essence, from a dramatic standpoint, the impact of the structure of the series is that all of the characters apart from Kirito and Asuna (and perhaps Klein) seem to be disposable – that's not to say they can't be interesting or likable, but they're there to help build the world and develop the main pair. In any such series the entertainment value is going to fluctuate a lot depending on how good those stand-alone stories and characters are – and I would judge this is a good one so far, perhaps the best since the premiere. It asks some very interesting questions about SAO, and the story is possibly the most interesting so far. At some point I'm assuming this structure will give way and the series will be tied together in a more cohesive fashion, but as long as we get episodes of this quality I have no issues with the model the anime is using for now.