Even if it had never done or will do anything else of consequence, Hyouka would go down as a worthwhile series based on the strength of the Kanya Festa arc alone.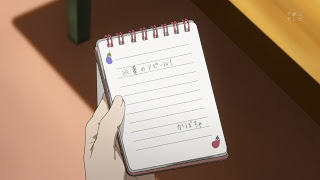 Hyouka is a good show, and pretty much has been from the beginning apart from a couple of hiccups. But I'm sure glad I stuck around for this arc, because it completely justifies the series as a whole. Adjectives spring to mind that I don't normally throw around with anime – words like "elegant" and "perfect". The genius of this arc sneaked up on me, only really becoming apparent in the last couple of episodes. It was a great arc from the beginning, but I didn't realize how successfully it was operating on so many different levels. And this episode wrapped it up beautifully – I really don't think it set a foot wrong.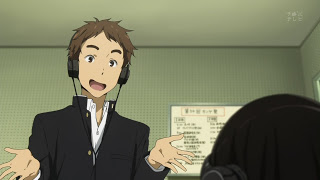 The list of things I love about Kanya Festa is a long one. It started out as something close to the Platonic ideal of a school slice-of-life story, with a pair of episodes that for all practical purposes appeared to be trying to do nothing more than set the scene at the culture festival and create an entertaining atmosphere. It succeeded unreservedly on those counts – those were some of the best anime eps I've seen in years in terms of pure fun, and they made the festival a place I really wanted to be. They were hilarious in that slightly-bent Hyouka way, too. But while this was happening, the scene was being set to take the arc to another level entirely, and I barely noticed it. In short, Kanya Festa started as something really good and built from there.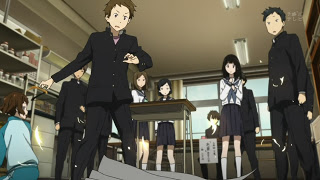 The way this story came together represents the first time that all the elements that make up Hyouka worked for me. We've had other stretches where the pure time-wasting idyll of high school was successfully portrayed (though not to this degree) but Kanya Festa managed to score big both in terms of crafting an interesting mystery and going to some very clever places with character development. Those haven't been the strengths of Hyouka and it didn't seem at first as if this arc would change all that – and the thing is, I'd have been perfectly happy to have it stay that way with as much fun as I was having. But the last three episodes tweaked the character dynamic in a much more compelling way than it had been before, and in the process crafted a mystery that was directly linked with the character side of things. If that isn't elegant writing I don't know what it is.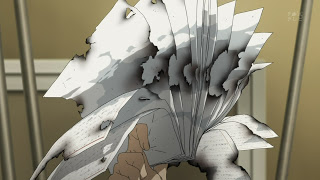 Another thing I can't help rave about is the way multiple character threads turned out to revolve around the same theme. When a writer tries to tie everything together neatly it can often seem contrived, but it was very believable here. There was a definite recurring theme running through this arc finale, and that was expectations. Expectations were critical to the argument Mayaka was having with Kouchi about whether objective masterpieces exist. They were central to the inner conflict Satoshi was dealing with in terms of his relationship with Houtarou. And they turned out to be at the heart of the entire Juumoji mystery itself.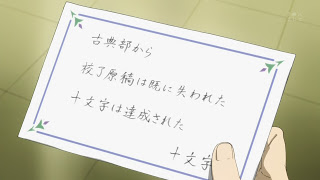 It turns out that Satoshi, Kouchi and Tanaba Jirou were all basically feeling the same thing. They all saw friends less knowledgeable and less hard-working outstrip them in something they were passionate about. Kouchi's resistance to Mayaka's argument was grounded in her resentment of Anjou Haruna, author or "A Corpse at Midnight" – a non-manga fan who wrote a far better manga than she (a manga otaku) could write (though that itself is much better than Mayaka is capable of). Satoshi, of course, longed to transcend his self-imposed database role and solve the puzzle himself, and while he pounded the pavement trying to do so Houtarou managed to win the game barely having to get off his ass. And Juumoji turns out to be Tanaba Jirou – who turns out to be the lowly backgrounds artist who wrote the afterword for "Corpse". The Juumoji incidents were all an attempt to send a message to President Kugayama Muneyoshi, who tossed off "Corpse" for fun and hasn't even bothered to read the manuscript for "Kudryavka's Order" than the now transferred Haruna left behind. All three of these kids are dealing with the curse of expectations – which, as Satoshi says, is a word really meant for after you've already given up.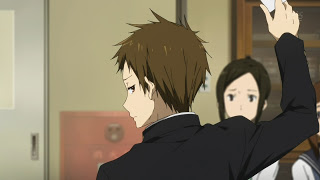 Beautiful, the way all that ties together. Elegant. Maybe even perfect. Houtarou's deduction is pretty elegant too (especially the riddle of the nom de plume "Ajimu Takuha") as is his scheme to blackmail Tanaba-kun to buy 30 copies of Hyouka to sell on the school's website and stage an attack on the Classics Club to drum up interest. Houtarou isn't exempt from interesting character development here either – I find it very interesting that he took the trouble to pull off the blackmail scheme (he actually had to stand up, walk outside and carry a bunch of anthologies). He's still dense – he doesn't seem to have really grasped just how wounded Satoshi is (Mayaka seems to, for reasons Satoshi is unaware of but we know) – but he's fully crossed the bridge to giving a damn, and that's pretty much a one-way trip.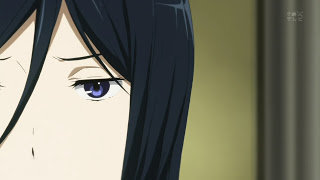 If there are quibbles to be made, one might point out that Chitanda's arc feels pretty one-note and predictable compared to the other characters, and her role never really transcends its usual comic relief (it's very good comic relief) and plot driver functions. As well, Tomoe's introduction of a copy of "Corpse" into the narrative has a bit of a Deus ex machina quality to it. But those are minor points when measured against all the very, very good things this arc does. And the arc leaves the characters in a very interesting place going forward – each of them (well, three of them) are better-defined and more human than before. I like the fact that Satoshi's crisis isn't neatly tied up– he's got his game face back on and resumed his role as the unsung hero of the group, but clearly he's still hurting inside. In the end, he didn't come close to changing the dynamic – Houtarou was still the one who untied the knot, and he was still the one carrying the bag and not the one hitting the shots. Satoshi is all smiles again, but the larger issue still looms between he and Houtarou, and it'll be interesting to see if the adaptation returns to that theme before it wraps up.