You know character deaths are happening fast and furious when they can't even get them into the Hunterpedia while they're still alive…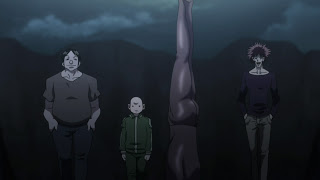 All I can say is, thank goodness Madhouse got Ishizuka Unshou Akio Ōtsuka to play Uvogin, because with that voice I can very much believe he's the sort of guy to bite half a man's head off and spit it out through another man's head. I wonder if this episode will finally extinguish concerns about excessive censorship in this version (concerns that should already have been allayed, truth be told) because it was one of the most gloriously disgusting anime episodes I've seen in a while.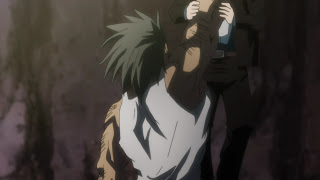 Well, the Shadow Beasts were certainly made short work of, weren't they? I certainly figured they were dead meat at some point, but frankly I expected the battle to last a little longer. True, there are remaining members (I'm guessing six – ten Shadow Beasts for ten Dons) – but unless they're a great deal stronger than Leech, Porcupine, Rabid Dog and Worm, it's hard to give them much of a chance – just one member of the Phantom Troupe was able to dispatch these four with relative ease. His "Big Bang Impact" – though Machi dismisses it as nothing more than a Nen-assisted right cross – is awesomely powerful, quite a fitting weapon for someone hailing from Meteor City.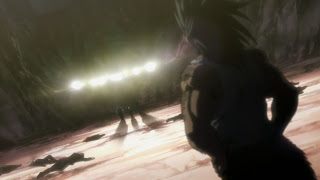 You knew things were getting serious when Rabid Dog started quite graphically biting off pieces of Uvogin's flesh and spitting them out, but the "yuck" factor really hadn't even left the starting blocks yet. Porcupine was innocuous enough, but then we had Leech regurgitating spotted leeches into Uvogin's wounds, with play-by-play about how they'd migrate to his bladder and then lay eggs. The pièce de résistance though was surely the aforementioned moment when Uvogin bit off half of Leech's head, then a few moments later spit out a chunk of skull that ran through Dog's own skull. Comparatively speaking, liquefying Porky's brain with his GAR-shout was a walk in the park on Sunday, though it did piss off his fellow Troupers a bit.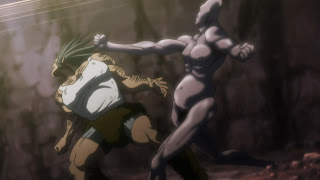 We still have Owl out there somewhere – presumably with the auction swag – and whatever other Shadow Beasts exist, but victory against the Troupe isn't coming from there. If anything I wonder if Uvogin isn't just a little bit too strong to be a top-notch dramatic device – killing with his vocal chords on top of everything else? – but there's no denying the Troupe is a monster. Again, the worst part is how casual they are about everything – playing cards, chilling out – it's just another day punching the clock for them. They don't seem to especially like each other or hate their victims – they just kill because they can, and better than anyone else. And we haven't even seen their leader – and Hisoka – get off their butts yet.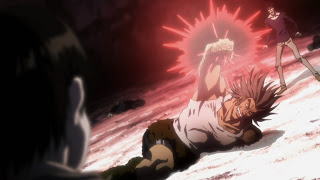 For me, the best moment in the entire episode was the reveal of the #11 spider tattoo on Uvogin's back. Everyone's reaction when they saw it – the surviving Beasts, and especially Kurapika – along with the BGM provided a sense of great significance. At the bare minimum, of course, it seems as if no one sees that tattoo and lives to tell the tale – but for Kurapika it goes much deeper than that. As much as anything I see his role in this not so much as a war with the Phantom Troupe, but with himself. Kurapika's hatred of them has caused him to lose himself, and the red eyes are only symbolic of something deeper. He's consumed by hatred, walking a path to damnation – and I don't know if his time with the boys and Leorio was a brief detour from that path, or the calm before the storm.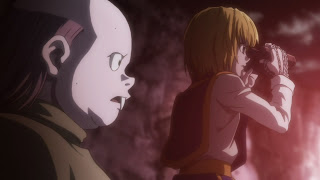 It seems that only by contact with others who care for him can Kurapika be redeemed – through the loyalty and humor of Gon and Killua, and through the caring (and music, which indeed hath charms to soothe the savage breast) of Melody. Again, though – once the contact ends, it seems as if Kurapika loses himself again. The irony of those chains is that they're a symbol of the way he's imprisoned himself with his consumption by hate (pardon me for waxing poetic), and he's even (here we get yet another lesson in Nen) given himself a special "Chain Jail" ability that allows him to imprison Phantom Troupe members with his chains, but with a self-imposed restriction that his heart will stop if he uses it against anyone else. I can see that being quite a troubling thing later on – most especially since Hisoka is a counterfeit member. What happens if Kurapika tries to use the chains against him, assuming he belongs to the Troupe (perhaps even having seen the press-on tattoo)?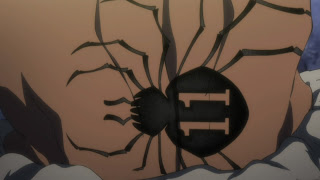 In any event, Chain Jail certainly comes in useful here as Kurapika is able to capture Uvogin – though only with the aftereffects of Rabid Dog's paralyzing poison still in his system. Uvogin is the picture of bravado here, urging Kurapika to kill him while he has the chance, but he doesn't understand the special ability that Kurapika has crafted just for this moment. Given that Kurapika captured him before Mister Blinky could suck the poison out and he still has those leeches headed towards his bladder with no access to the beer he needs to dilute the ammonia level in his urine so the leeches won't hatch, and kill him from sheer agony as they pass through his urethra (thanks so much for sharing the grim details there, Togashi-sensei), time would seem to be of the essence – and thanks to Machi's Nen thread, the other members of the Troupe (minus Franklin, on a beer run) are sure to catch up to the Nostrade bodyguards and their prisoner soon enough. Given the constantly rising trajectory of the epicness in this arc, I expect things to really go up to eleven next week.
Gon & Killua's Hunterpedia: "Shadow Beasts"