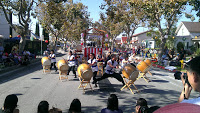 Gardena Buddhist Temple in California held their Obon Festival and Bon Odori this weekend, and I stopped by today. More pics and video below the fold.

This first video is Jodaiko, the UC Irvine taiko group celebrating their 20th anniversary this year.
If you've never been to an Obon festival, I highly recommend you try and attend one. This is one of the most important festivals on the Buddhist calendar, and temples all over the US hold festivals every summer. In Japan, it's traditionally a time when extended families return to their hometowns, which makes sense given that the basic idea of the holiday is to celebrate the gift of life and the lives of your ancestors, and express your gratitude to them for making your life possible. Lanterns are lit to guide the spirits home, and the climax of the event is a Bon Odori – the communal dance.
Next up is the Bon Odori. I was a spectator, not a participant. Maybe someday…
In the US, Gardena Buddhist Temple holds the largest Obon event in California – the Bon Odori was especially impressive. I was also amazed to find out that SoCal has branches of Book Off, a chain I grew to know in Japan and had no idea was in the US at all. They have a humungous selection of used manga from $1-3 and one of the best collections of anime art books I've seen. Alas, the Gardena branch didn't have a doujin section, my favorite part of the Japanese version – but it was still a nearly orgiastic place to visit for an American anime/manga fanatic.