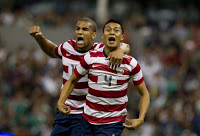 No, the game didn't count. But believe me, it counts.

A huge round of congratulations to Team USA for a 1-0 victory tonight in Azteca Stadium in Mexico City. Yes, this was a "friendly" – but there's an old saying, "There's no such thing as a friendly between the USA and Mexico". The numbers are staggering – zero wins on Mexican soil in 24 chances (and only 2 ties). Outscored 45-4 in the last 17. To get a win in that environment – with every bodily fluid you can imagine being tossed on them, laser pointers shined in the keeper's eyes – against a team with eight starters from Mexico's World Cup qualifying squad is huge, friendly or no.
As for the game itself, Mexico certainly controlled the possession – but just ask Barca and Bayern how that worked for them. The US back four was as good as I've seen them, with Geoff Cameron especially stamping himself as a future stalwart of the US squad. Tim Howard made two incredible saves in the second half. And the goal itself, against the run of play, was a thing of beauty involving three young substitutes. Brek Shea (struggling badly in MLS) put a beautiful nutmeg through the legs of the Mexican right back, crossed to Terrence Boyd, who back-heeled the ball blindly to young Mexican-American defender Michael Orozco Fiscal – who'd just entered the game – who steered the ball home.
You certainly don't want to make too much of an international friendly, but this was the second huge road win this year for the US, who earlier beat Italy 1-0 on their own turf. The US finally has a substantial figure in world soccer as their coach, Jurgen Klinsmann, and while I don't always agree with his strategic decisions, he may just be changing the mindset of US Soccer at last.