There were a few surprises for me in this week's SAO.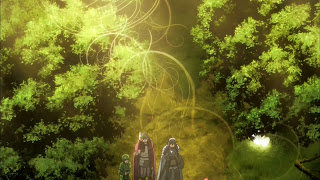 That was another pretty solid ep of Sword Art Online, though it had an odd sort of stand-alone quality. I also find it interesting that the series so far doesn't have an especially linear feel to it. Maybe this is a result of chapters being adapted out of sequence, but it feels very much as if the story continues to move in-between episodes, and we happen to be looking in on it at t point somewhat removed from where it left off. That isn't a bad thing, necessarily – just different from what I expected going in.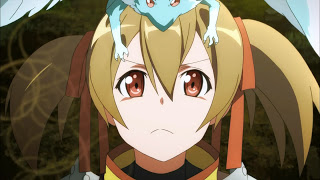 This tale of Silica-chan (Hidaka Rina) the loli beast-tamer and her pet dragon was certainly somewhat less depressing than last week's rather grisly tale of death, though there were dark moments. I'm not especially enamored of loli service and Silica came off about as close to a textbook moeblob as you can get, so that part of the ep really didn't do a whole bunch for me. But there were some nice world-building elements, as well as some revealing moments about Kirito – enough so that I can get a little sense of why some fans of the LN see him as a little too perfect. I don't personally share that view based on what I've seen so far, but there's no question an awful lot of ground seems to have been covered between the end of the last episode and the start of this one.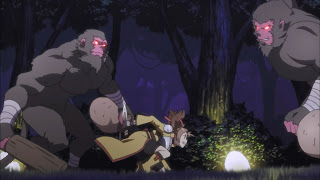 So what did we learn here? A little bit about Kirito, and about the world of SAO as well. As he tells Silica, people's personalities tend to change when they slip into online personas. Some of them like to play as rogues (their indicators turn orange after attacking other players) and even those who become "Reds" – players who kill other players. As for Kirito, he reveals a little about his past. His "sister" is actually a younger cousin, who took of martial arts training as a way to rescue Kirito from the abuses of their overbearing grandfather after he flamed out himself. It's a bit of an odd story and the exposition a bit clumsy, but it does add a little texture to Kirito's character and perhaps offer a partial explanation of why he seems so cautious socially – and why he may have chosen to pursue a life in MMO's, perceiving himself to have failed at his real one. It's certainly understandable that he'd feel self-conscious around Suguha, for fear that his weakness forced her to live a life that wasn't what she would have chosen for herself.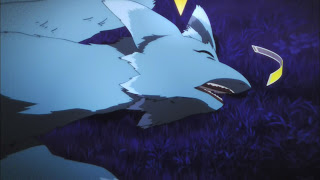 Of course, of more immediate concern is that Kirito has already reached 78th level, and earned himself a fearsome reputation and the nickname "The Black Swordsman". I was a little taken aback at such a dramatic change since the last episode, though I suppose it was never likely that the events in SAO would be shown in anything close to real time. The whole side story with Silica – Kirito says she reminds him of Suguha, so he rescues her and takes her to Hill of Memories on the 47th level to retrieve the artifact that will revive her pet – was cute and pleasant, but honestly didn't pack a whole lot of weight on its own terms for me. I was more interested in the way it reflected on Kirito – on what drives him and on how SAO has changed him – and on the world itself. It's a place where dangerous criminals are a threat just like in RL (and there are even prisons to house them), where bullying and social climbing are part of the fabric of society and where there are still those who believe the whole life-and-death aspect of SAO to be a bad joke.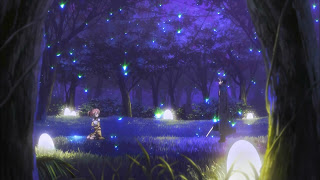 That's assuming, of course, that Rosaria (Toyoguchi Megumi) and her band of villains really believe that SAO's supposed fatal realism is a scam – maybe that's just a convenient lie they tell themselves so they don't feel too guilty about the lives they've taken. In addition to all the other off-screen developments, I find is a bit disconcerting that Kirito has apparently gotten so strong that Rosaria and her entire party – not exactly weaklings – can't do enough damage to him to even keep pace with his healing powers. Kirito basically made the claim that he's immortal and undefeatable, and we have no direct evidence that he's wrong – but I can't imagine he isn't wrong. If the hero is infallible fur episodes into a two-cour show, that's going to get boring pretty quickly. Plot armor is one thing – omnipotence something else entirely. As has been pointed out he's likely only infalliable vs. those of a lower level than him (though this isn't expressly stated) so I imagine he's going to be reminded of his vulnerabilities at some point, and fairly soon – I'll be interested to see how that plays out.